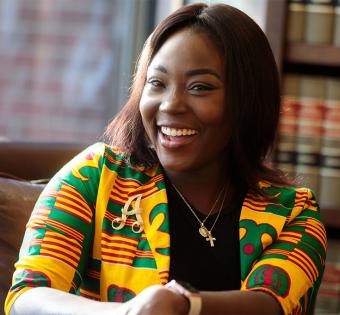 Akendita Amoro, JD`20 never imagined herself living in a country other than her native Ghana. But when it came to her in prayer to attend law school at Ohio Northern University, the deeply faithful Amoro could not ignore it. Despite her fear of the unknown and the well-intentioned concerns of her family, she took a leap of faith.
When she arrived in Ada, Ohio, she knew she had an uphill battle ahead of her. Law school is no endeavor for the faint of heart, and she had the added challenge of attending law school in a foreign country. That meant adjusting not only to the rigors and demands of law school, but also new surroundings, a new culture and a different educational system.
WHEN I GOT CALLED ON IN CLASS, I WENT INTO PANIC MODE. NOT BECAUSE I WAS TIMID, BUT IT'S DIFFERENT WHEN YOU HAVE TO STAND IN FRONT OF PEOPLE WHO ARE NOT LIKE YOU, WHO DON'T THINK LIKE YOU, AND EXPRESS YOUR THOUGHTS WITHOUT GOING THROUGH A THOUGHT PROCESS OF 'AM I MAKING SENSE? DO THEY UNDERSTAND ME? DO THEY GET MY ACCENT? AM I AUDIBLE ENOUGH? IS THIS DIFFERENT? AM I WRONG?'
She knew she was different than most of those around her at ONU Law, but what she soon discovered was that diversity was something Ohio Northern fervently embraced.
She found a support system at ONU Law that she didn't expect. Upperclassman students like Veve Monfort, JD '17, took her under their wing and assured her that what she was going through was normal and that she would get through it. Faculty members left their doors open for her, always ready and willing to help her understand difficult concepts. Members of the Ada community took her in, inviting her over to their homes for dinner and fellowship.
As she grew more comfortable in her new surroundings, Amoro's confidence swelled. The idea of "fitting in" seemed less and less important to her success. If anything, feeling welcomed to feel like herself empowered her to thrive, both personally and professionally.
Amoro is recognized around campus for her bright and colorful attire. In a profession where monochrome is all the rage, Amoro's jackets feature vibrant Ghanian prints. Handmade by her mother and shipped to Ada, Ohio, they've become Amoro's brand. "[My clothes] reflect my upbeat personality," she says. "And, it brings a little life to the legal circle."
She is excelling in her coursework as well. After taking Real Property Law, she fell in love with real estate law and forged a close bond with associate dean and professor of law Deidre Keller, whom she now works alongside as a research assistant. She's made the dean's list and received a certificate of achievement for distinction in exceptional pro bono service at Ohio Northern from the Supreme Court of Ohio and the Ohio Legal Assistance Foundation. She's also proud to be president of the Christian Legal Society at ONU this year and is very involved in the Ada community through Our Lady of Lourdes Church, serving as a lector every Saturday.
Amoro's next venture will be participating in the Corporate Transactional Clinic through the ONU Legal Clinic this spring semester. Then, she will literally put her ONU Law education to the test by preparing to take the Ohio Bar Exam. From there, she plans to pursue a career in real estate law.
I TOOK A RISK TO DO SOMETHING AS CHALLENGING AS LAW SCHOOL, AND EVERY DAY HAS BEEN A LEARNING EXPERIENCE BECAUSE IT HAS PUSHED ME BEYOND MY LIMITS," SHE SAYS. "EVERY SINGLE DAY SHAPES MY LIFE IN A DIFFERENT WAY. MOVING AWAY FROM FAMILY AND EVERYTHING I KNOW WAS A HUGE RISK, BUT IT WAS A RISK WORTH TAKING.