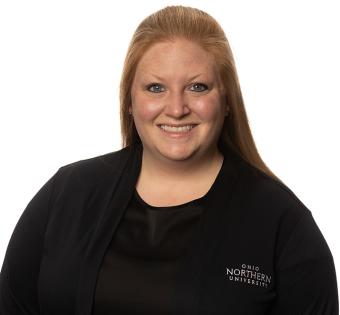 While some law students take a direct path from college to law school, others like ONU Law's Alyssa Waite take a more indirect one.
Waite, now a third-year student, feels taking time off before enrolling in law school gave her the maturity needed to successfully balance all the demands the program requires. "I always knew I wanted to help others," she explains. "But it took me years to solidify that it wasn't as a veterinarian, or a law enforcement officer, it was through law." 
Waite attended the University of Akron for her undergraduate studies and enjoyed her experience. However, since it's a much larger school, she wasn't always able to get the individualized attention she needed. So, finding a university where that was part of the culture was important.
"I wanted a close working relationship with my professors and peers because I knew law school would be very difficult," explains Waite. "I knew for me to cope I needed support from the top down. That's exactly what I got at ONU Law. The Dean, faculty and staff are inspiring. We're just one big family," says Waite.
Like so many others, the late Nancy Sabol, former director of the Academic Success program, served as Waite's first true role model. "Nancy was an incredible woman and helped me realize all my career aspirations lead me to ONU Law," says Waite.
Waite's college GPA was strong, but her LSAT score wasn't, so she enrolled in the Summer Starter program, which proved to be invaluable. "The law school keeps program enrollment small for a reason. You receive so much individualized attention. They are patient and kind and take the time to help me understand concepts I am struggling with," says Waite. "Law school is a completely different animal. Your undergraduate habits may not work effectively. The professors help you find what works for you and they do everything they can to help you succeed."
Waite is the first in her family to study law and the first one to attain a graduate degree. It's not an easy process to navigate and she's relieved she hasn't had to do it alone. She's taking full advantage of all the opportunities available to her through the law school. Not only is she the Moot Court administrative justice, she's on the Trial Team for Moot Court; competing nationally this year. She's the vice president of the Icelandic Legal Exchange program, a peer mentor and law ambassador. If that's not enough she recently worked as a law clerk at the Cuyahoga County Prosecutor Office and a judicial extern for the Sixth District Court of Appeals in Toledo.
Heading into her final year, Waite is looking forward to seeing everything come full circle. "This has been a seven-and-a-half-year process for me to find my path. I have every intention to be actively involved with first and second-year law students to help them find the success that others helped me find. I want to have a positive and lasting impact on the University," says Waite.
"I enjoy helping others. It's what makes me tick," says Waite. While she believes she wants to become a prosecutor, she says no matter what the future holds, she will make a difference by helping those who can't help themselves.