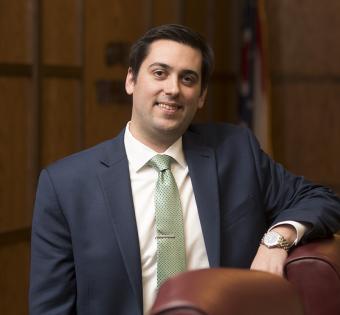 For Chris Calpin, JD '18, his ONU Law education was the springboard to a promising career in tax law. After graduating from ONU Law, he attended New York University School of Law to receive his Master of Laws (LLM) in taxation. Now, he is an associate at Squire Patton Boggs in Columbus, Ohio, focusing his practice on community development and real estate tax credit finance.
At ONU Law, Chris took advantage of an array of real-world learning opportunities. In just his second year of law school, he delivered an amicus curiae brief before a session of the U.S. Court of Appeals for the Armed Forces that was hosted at ONU. He also competed at the national level with ONU's ABA Moot Court team.
Later in his law school career, he was able to extern for a District 6 appellate judge in Toledo, Ohio, which in turn led to a summer associate position at another firm in the same city. These key experiences, as well as ONU Law's Office of Career Services, were instrumental in him launching a successful career in law.
"ONU is really hands-on," he says. "There was a time when I think I was in the Office of Career Services every day. They did everything they could to guide me through the summer association hiring process trying to get me a job at a firm, so I feel like they really care about you succeeding. I think you get out of it what you put in."
What Chris put into his law school experience was good, old-fashioned hard work and relationship-building, and what he got out of it was a formational experience that not only impacted his career, but his life for years to come.