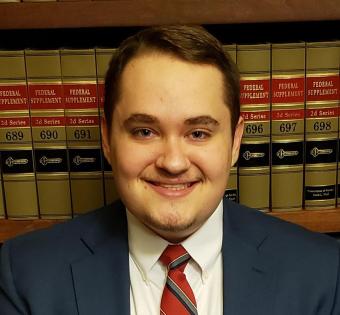 Evan Thorstad first learned about ONU Law when he was still an undergraduate at Ball State University, and after applying and being accepted, his first visit to campus made it clear that the path to his future led to Ada, Ohio.
"I chose to come to ONU Law because of the small, close-knit community that ONU and Ada, Ohio, had to offer. Coming from Ball State, I knew that in law school I would need to be in an environment that would promote my ability to learn without too many distractions, which is exactly what ONU had to offer," he says. 
Evan entered ONU Law through the Summer Starter Program, allowing him to get a jump start on law school. He learned how to properly take law exams and how to succeed in his law classes. He notes, "The Summer Starter Program allowed me to be prepared for the fall semester and helped the transition from being an undergraduate at Ball State to becoming a Juris Doctor candidate at ONU Law."
The small school and low student-to-faculty ratio allows Evan to focus more on classes, compared to the very large classes of Ball State. But in no way does the size of ONU Law affect his ability to get involved with multiple student organizations, go to events put on by ONU Law, or meet new people and be social.
"ONU Law is not Ball State, but ONU Law is where you want to go if you know that you want to succeed in the stressful environment that is law school."