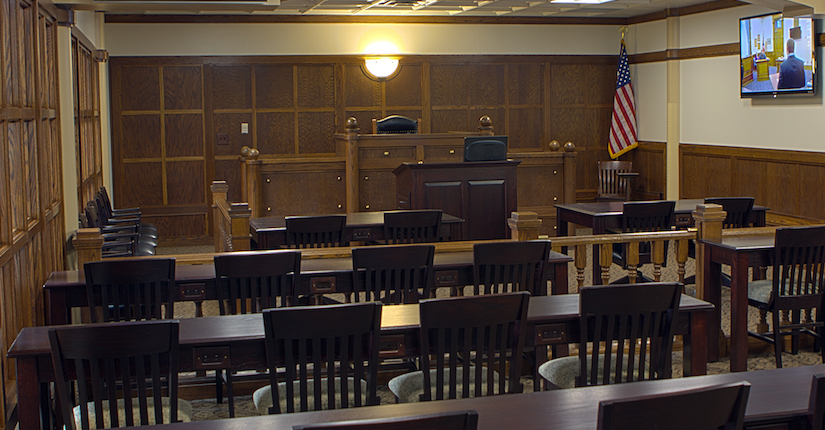 Start Date
Friday, March 19, 2021 - 9:00 am
End Date
Friday, March 19, 2021 - 2:30 pm
Event Contact Phone #
419-772-3051
Event Contact E-mail
lawdean@onu.edu
Event Description
"The Impact of Race on a Criminal Case" - Virtual Event
Sponsored by the Ohio Northern University Law Review and the Carhart Program in Legal Ethics
Schedule
Friday, March 19, 2021
8:45 a.m. – 9 a.m. Registration
9 a.m. – 9:15 a.m. Introductory Remarks
9:15 a.m. – 10 a.m. Dr. Shaun L. Gabbidon, Penn State Harrisburg
Race, Crime, and the Law: A Sociohistorical Analysis
Synopsis: This presentation examines the sociohistorical connections of race, crime, and the law.  By examining select cases from the Colonial Period to the present, the paper shows how race has always mattered in criminal law and justice system outcomes. The paper concludes with some general thoughts on how the current Black Lives Matter movement has the potential to influence change.
10 a.m. – 10:05 a.m. Break
10:05 a.m. – 10:50 a.m. Prof. Elayne E. Greenberg, St. John's University School of Law
When Public Defenders and Prosecutors Plea Bargain Race - A More Truthful Narrative
Synopsis: Much of the criminal justice reform discussions focus on how the racial bias towards criminal defendants contaminate justice outcomes. Taking a different perspective, Professor Greenberg refocuses the discussion on the biases that exist about public defenders and prosecutors and how these biases stymy criminal justice reform in plea bargaining. She will replace these biases with a more truthful narrative supported by updated research on plea bargaining and successful social activism spearheaded by prosecutors and public defenders. The goal is to show how public defenders and prosecutors, individually and collaboratively, can yield fairer and less racialized justice outcomes in plea bargaining.
10:55 a.m. – 11:05 a.m. Break
11:05 a.m. – 11:50 a.m. Judge James L. Kimbler (Retired)                           
Representing Diverse Defendants in a Non-Diverse Courtroom
Synopsis: While many counties in Ohio have diverse populations, many others do not. A lawyer can be hired to represent a defendant who is a member of a minority community only to find that the county has no or very few people who are members of that community. Judge Kimbler will discuss the problems and the opportunities in representing such litigants.
11:50 a.m. – 12:20 p.m. Lunch
12:20 p.m. – 1:05 p.m. Prof. Jelani Jefferson Exum, University of Detroit Mercy School of Law
Addressing Racial Inequities Through a Reconstruction Approach to Criminal Justice Reform
Synopsis: Racial inequities pervade every aspect of the US criminal justice system - from arrests to prosecutions to convictions to sentencing.  This presentation will discuss Prof. Exum's "Reconstruction Approach" to criminal justice reform, which draws on the lessons and pitfalls of the Reconstruction Era, and uses that time period as a model for addressing the racism embedded in the criminal justice system.  In a previous article, Reconstruction Sentencing: Imagining Drug Sentencing in the Aftermath of the War on Drugs, Prof. Exum introduced "Reconstruction Sentencing" as a model to facilitate ending and healing from the devastating effects of the drug war through intentional reinterpretation of key Constitutional provisions.  In this presentation, Prof. Exum will discuss ways in which this Reconstruction approach can be applied to other aspects of the criminal justice system to begin unraveling the effects of race on criminal justice outcomes.
1:05 p.m. – 1:15 p.m. Break  
1:15 p.m. – 2:15 p.m. Panel
Featuring Dr. Gabbidon, Prof. Greenberg, Judge Kimbler, Prof. Exum, and Ray Grogan, Marion County Prosecutor. Moderated by Prof. Bryan Ward.
2:15 p.m. Closing Remarks
Registration
Pending approval for 4.0 CLE hours by the Supreme Court of Ohio
Individual Attorney: $85
ONU Law Alumni: $65
Lehr Society, Law Alumni: $40
Non-Seeking CLE Attendee: Free
Join us on Zoom on March 19, 2021 >>
About the Speakers
Dr. Shaun L. Gabbidon, Distinguished Professor of Criminal Justice, Penn State Harrisburg
Dr. Shaun L. Gabbidon is Distinguished Professor of Criminal Justice at Penn State Harrisburg. He has served as a fellow at Harvard University's W. E. B. Du Bois Institute for African and African American Research.  The author of more than 100 scholarly publications including more than 70 peer-reviewed articles and 13 books. His most recent books include the co-authored book, Shopping While Black: Consumer Racial Profiling in America (2020; Routledge), Criminological Perspectives on Race and Crime (5th edition; 2020, Routledge), and the co-authored text Race, Ethnicity, Crime and Justice: An International Dilemma (2nd edition; 2021, Routledge).  The recipient of numerous awards, in 2019, Dr. Gabbidon was named a Fellow of the Academy of Criminal Justice Sciences (ACJS). 
Professor Elayne E. Greenberg, Assistant Dean of Dispute Resolution Programs, Director of The Hugh L. Carey Center for Dispute Resolution, St. John's University School of Law
Professor Elayne E. Greenberg offers an unmatched breadth and depth of experience in dispute resolution. Her expertise focuses on dispute system design and her scholarship on racial discrimination. Her current relevant research includes: "Unshackling Plea Bargaining from Racial Bias" (forthcoming in the Journal of Criminal Law and Criminology, 2021) and "Adding Value to Conversations About Criminal Reform" (ABA Dispute Resolution Magazine, March 2020). She organized and moderated the AALS panel "Galvanizing Reform for Plea Bargaining in White Collar and Other Criminal Crimes" (Washington, D.C. January 2020). Professor Greenberg was honored to be a member of the NY Plea Bargaining Task Force. Her commitment for court reform includes incentivizing students to become agents of change. At St. John's Law School, Professor Greenberg has developed and co-teaches the seminar "Lynching: Restorative Justice and the Law" and guest teaches a class on plea bargaining.
Honorable James L. Kimbler, Retired, Medina County, Ohio
Retired Judge James L. Kimbler is a native of Medina County, where he served as an active judge for over 28 years. He was Wadsworth Municipal Court Judge from February of 1986 until December of 1996. He was one of two Medina County Common Pleas Court Judges of the General Division from 1997 until his retirement in December of 2014. Since his retirement, Judge Kimbler has served as a visiting judge in several courts across Ohio. As a trial judge, he tried approximately 600 jury trials. At the time of his retirement he had more published opinions than any other trial judge in Ohio. He is married to the Honorable Joyce Kimbler, who is a Medina County Common Pleas Court Judge of the General Division.
Jelani Jefferson Exum, Philip J. McElroy Professor of Law, University of Detroit Mercy School of Law
Jelani Jefferson Exum, Philip J. McElroy Professor of Law at University of Detroit Mercy School of Law, is a nationally recognized expert in sentencing law and procedure.  She is a member of the Editorial Board of the Federal Sentencing Reporter.  Professor Exum is a graduate of Harvard Law School and Harvard College.  Prior to joining the Detroit Mercy Law faculty, she was a professor at the University of Toledo College of Law, an associate professor at the University of Kansas School of Law, and a visiting associate professor at the University of Michigan Law School.  Professor Exum has also been a Forrester Fellow and Instructor in Legal Writing at Tulane Law School.  She teaches Constitutional Law, Criminal Law, Criminal Procedure, Sentencing, and Race and American Law, and has also taught Comparative Criminal Procedure.  Professor Exum writes mainly in the areas of federal sentencing and policing, with a focus on racial justice.