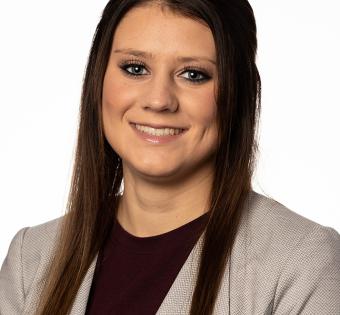 A second-year law student, Hannah Smith is a Double Bear, and now considers Ada home. "I never intended to go here," says Smith. "When I took a tour of the campus, I felt this is where I needed to be."
"Everyone here is so kind, genuine and hospitable," she explains. "The longer I've been here, the more doors that keep opening for me."
While obtaining her bachelor's degree in management, Smith started working at ONU Law. "I liked seeing how much the professors cared about the success and wellbeing of their students. It's truly something special," she says. "You're not a number here and that was very important to me."
Smith met her husband Brock in Ada and the two got married last summer. He's a football player and is slated to graduate this spring. The two have put down roots here, have a good support network of friends and feel ONU is a perfect fit for them.
"Everything I thought I'd get in law school, I'm getting," says Smith. "ONU Law offers one-on-one attention and excellent experiential learning opportunities, which is preparing me to be successful once I graduate and start my career as an attorney."
Smith says there are countless opportunities to get involved in student organizations as well as the local community. "ONU Law is not just a place where you can get involved and build your resume. It's a place where you can make a difference and gain valuable leadership skills."
If you're someone thinking about attending ONU Law Smith says, "Don't overlook us due to our size or location. They are both assets! You have a staff and vast alumni network that will help you get a job," she says. "I'm from Cincinnati, Ohio which is a large city and I've flourished here," says Smith. 
Smith is an ONU law ambassador, vice president of the Christian Legal Society, resident director of on-campus law student housing, a Writing Center tutor, and active community and church volunteer. "Studying is critical to your success in law school, but so is finding balance. There's so much to do on campus as well as in nearby in cities like Lima and Findlay. It's important to take the time to decompress and have fun."
Smith plans to pursue a career in personal injury law and Workers' Compensation. She's spent two years interning for a law firm in Charlotte, North Carolina, which she says has been an invaluable experience. "I enjoy the work, interacting with clients, hearing their personal stories, and finding a way to help them."