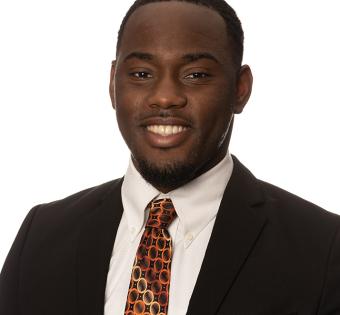 Jeremy Pratt is the first in his family and his community in East Toledo to go to college. "I played football through high school because it was my ticket out," says Pratt. His plan worked. He was awarded a scholarship to play for Ohio Northern University.
"I thought I wanted to be a police officer. But in my senior year in college, I interned at a prosecutor's office in Toledo Municipal Court and that experience changed my life," says Pratt. "I realized I could impact more lives if I became an attorney."
ONU Law stood out because of its small class sizes, genuine relationships between faculty and students and everyone knew each other's name says Pratt. "It was crucial for me to go to a school that would prepare me for the real world and ONU ranked high in experiential learning." In addition, Pratt loved Ada. It was charming and affordable. "Even though it's a smaller community, don't be fooled, it has the competitive atmosphere that you'd find at a big school," he says.
But it was College of Law Dean Charles Rose III that most impacted Pratt's decision to come to Ada. "He is an inspiration," says Pratt. He has experienced success on a national level, and I wanted to learn from him. I knew it would be an invaluable experience."
Pratt took a leap of faith and never looked back. "From day one, you are able to network with a vast number of ONU Law alumni. The school provides you every opportunity to participate so you can sharpen your skills, and easily transition into the real world," explains Pratt. "I often hear about how schools don't prepare you, but ONU does from day one."
"I took a pretty traditional path. I didn't score high on my LSAT, so I enrolled in the Summer Starter program that truly is the track to success," says Pratt.
The program is designed to acclimate first-year law students, introduce them to the rigorous curriculum, and get them familiar with the resources available to help them relearn to study, research, and write effectively for law school, "Which is a whole different beast," exclaims Pratt.
The second of five children, with 13 nieces and nephews, Pratt loves children and began working at a local childcare facility to earn some extra money. "We had our financial struggles while I was growing up. I've always had to work. I didn't have a choice. Working in childcare is my chance to give back, be a stable role model, and help young children in their development," he says.
He also works at a daycare center in Toledo teaching five-to-12-year-olds and volunteers in the infant room at church on Sundays.
"Ultimately, I want to be a criminal defense or prosecuting attorney in my hometown of Toledo," says Pratt. "Eventually, I want to become a judge, then the Mayor of Toledo," he explains. "They need a leader that understands the population and fashions change."
"We might be a small school in a small community, but we have successful graduates all over this country making big changes. I want to help make an impact and be part of the change."