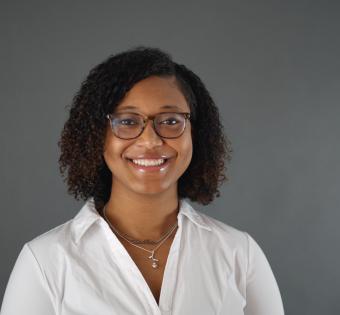 KlinTisha "KT" Martin goes after what she wants, but she does it on her terms. All her life, she's wanted to be an attorney, so the young mom overcame hurdles and is achieving her dream at ONU Law. "Don't let anything stand in your way, always believe in yourself, and don't compare your journey to anyone else's," she says.
Growing up, KT frequently told her mom that she was going to become either a doctor or an attorney. When she cut her foot practicing a cheerleading routine at home and realized she couldn't stand the sight of blood, it sealed the deal for a legal career.
Although she graduated at the top of her class at Shaw University in North Carolina, she had a low LSAT score. While waitlisted at two different law schools, she came across information about ONU Law's Summer Starter Program, designed for students like her who excel academically but don't perform as well on tests.
KT applied, visited campus and received an acceptance package. But she had to weigh law school against an unexpected offer to play basketball professionally in the United Kingdom. "I decided that going to law school was the best option for my family and myself," she says. "I was finally being awarded an opportunity to do what I prepared my whole life to do."
Many law students have the luxury of focusing on their studies with few outside demands. KT isn't one of them. She's the mother of a rambunctious 3-year-old boy. At first, she tried to follow the same all-encompassing schedule of some of her law school peers. However, she quickly learned to do what works best for her. She now treats law school like a job and puts her studies aside in the evening to "cook dinner, watch TV, play, help my son learn, wash clothes, etc." 
At ONU Law, Martin has found incredible support combined with the opportunity to build an impressive resume and professional network. This summer she interned at the Federal Deposit Insurance Corporation (FDIC), where she engaged in extensive legal research, including projects related to the 2020 CARES Act and Paycheck Protection Program. She also initiated an idea to establish a civil rights law review at ONU Law, and she's working with ONU Law's dean to implement it. 
"The only reason we are afforded these opportunities is because everyone [at ONU Law] takes the time to truly learn who you are and what kind of career you are looking to build," she says. "They work hard to make sure you're afforded multiple opportunities through clinics, externships, networking events, putting you in touch with alumni, etc.  You are literally able to tell someone exactly what you are trying to do, and they'll help you come up with a plan."
After graduation, KT plans to launch her career in corporate or government law. She'd also like to pay it forward by starting a non-profit organization for young women with children who want to go to college.