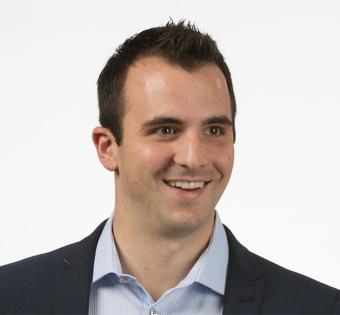 Mike received his undergraduate degree from John Carroll University, majoring in finance and marketing. Hailing from a proud hockey family, he became a young entrepreneur, launching his own sports talent agency with a friend. In just a few short years, the co-founders built an impressive brand by focusing on the needs of clients and developing strong client relationships. In 2016, they merged their company with International Sports Agency (ISA), where Mike now serves as president of the hockey division.
When Mike came to ONU Law, eager to advance his career with a law degree, he didn't know what to expect. He appreciated the friendly upperclassmen who took him under their wings, and his dedicated professors who truly cared about his success. Mike's first-year experience inspired him to become a peer advisor the following year. He aided incoming students with their transition to law school and tutored them on course material. 
"From the first day of orientation until graduation, our class grew very close to one another," he says. "We all pushed and supported each other both professionally and academically."
At ONU Law, relationships are paramount, just like they are in Mike's line of work. ISA, founded by another ONU Law alumni, Bardia Ghahremani, represents athletes and coaches in the NFL, NCAA, UFC, NHRA and NASCAR. As president of ISA's hockey division, Mike oversees day-to-day operations, negotiates player contracts and assists in all client matters. He travels throughout the scouting territory of Western New York, Ohio, Michigan, Illinois, Wisconsin, Minnesota, Manitoba, Alberta and British Columbia seeking up and coming talent. 
As a licensed practicing attorney in the state of New York, Mike also handles various business matters for ISA, including mergers and acquisitions, and he assists clients with tax and financial planning matters to ensure their future financial stability.
Mike credits the relationships he forged at ONU Law for keeping him focused on what matters in life and business. "The people I've met and the friends I've made are unforgettable," he says. "ONU Law helps everyone grow close throughout their experience."