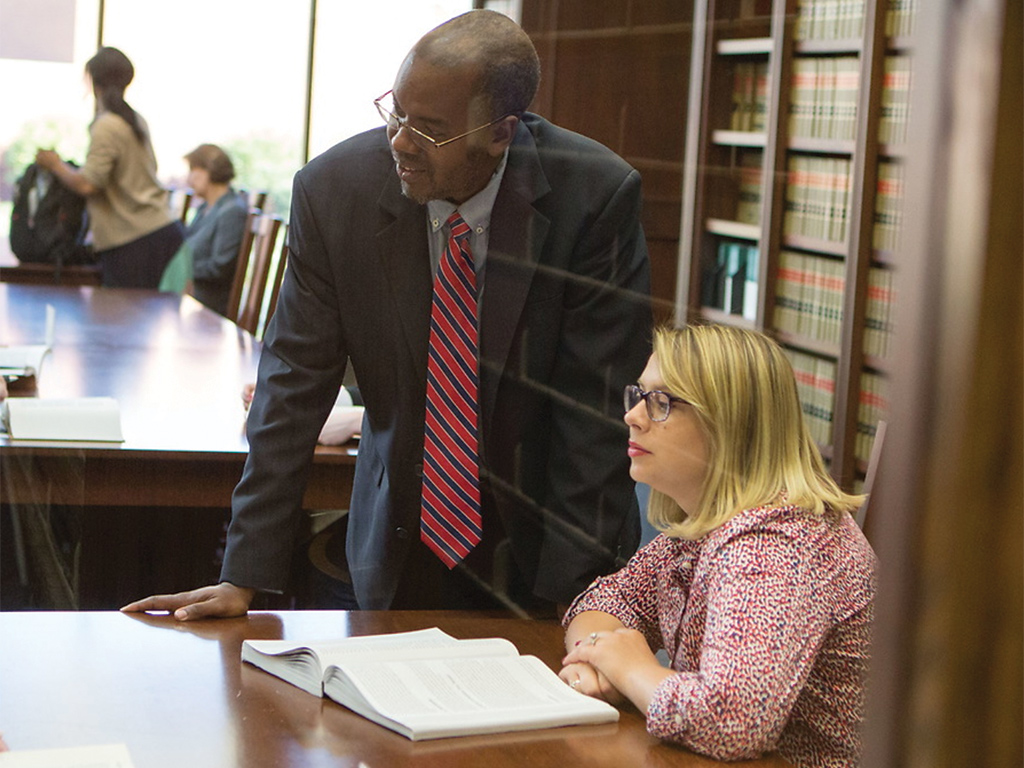 From Rwanda to Ohio Northern University, ONU Law professor makes it his life's work to establish international rule of law
A deep conviction guides the career of ONU Law professor Jean-Marie Kamatali. In 1994, at age 25, Kamatali narrowly escaped death in one of the worst genocides in human history. The experience profoundly changed his life and the course of his legal career, taking him from Rwanda to the University of Notre Dame to Ohio Northern University, where for the past 12 years his tenacious work to build rule of law across the globe has given the Pettit College of Law an international reach.
Kamatali was newly graduated from law school and living in the capital city of Kigali when the assassination of Rwanda's president unleashed the dark forces of ethnic hatred. To avoid the Hutu extremists who began roaming the streets and countryside, brutally killing and raping the Tutsi minority, Kamatali traveled by night and hid in the bushes by day. He eventually made it to Lake Kivu, where he swam over a mile to the safety of the Democratic Republic of Congo, and then continued his journey to South Africa and Austria.
While an incomprehensible number of Rwandans died at the hands of militia or their own neighbors, Kamatali was one of the lucky few who lived to tell his story. "A million people are killed, so why not me?" he questions. "Perhaps God had a hand in it – anything else has no reason behind it."
After the conflict ended, Kamatali returned to Rwanda to take the helm of the country's only law school. Rwanda's judicial system had been decimated by the genocide and civil war, and only a small number of attorneys and judges remained. Kamatali helped his country rebuild its justice system and begin the painful work of reconciliation and healing, which included bringing to trial those who committed the atrocities.
Called to Serve
Survivorship placed a weight of responsibility on Kamatali's shoulders that has never diminished. After settling in the U.S., he felt called to help ensure that the horror of genocide would never occur in another country. His desire to help fledgling democracies build strong rule of law and democratic governance, which he believes is essential to peace and stability, is what ultimately led him to Ohio Northern University.
While teaching law courses at the University of Notre Dame, Kamatali made connections at the Pettit College of Law when he came to campus as a guest speaker invited by the Black Law Student Association. ONU Law later approached him when establishing its LLM program, and Kamatali knew it would be an excellent fit.
The ability to shape the future of countries with transitional justice systems is what appealed to Kamatali. "Anyone can teach theory," he says. "But we provided students with the skills and tools they needed to be able to go back and make a transformative difference in their country."
Although recently discontinued, the LLM program has an impressive legacy. Law students from across the globe – Afghanistan, Ukraine, Kosovo, Malawi, Sri-Lanka, Zimbabwe and more – came to ONU Law to receive practical training in how to establish rule of law in their home countries that were emerging from conflict and dictatorship. Some of the alumni in the LLM program are now leaders and champions in building rule of law and fighting corruption in their countries, says Kamatali.
The LLM program spawned the Center for Democratic Governance and Rule of Law, and it remains an integral component of the Pettit College of Law. Kamatali recently became the director of the center, and a number of new initiatives are being discussed for the center's future.
Through his work with the center over the years, Kamatali has made the Pettit College of Law an international player. His widely regarded expertise is sought out here in the U.S. and internationally. Kamatali has served as an expert for the U.S. Department of Justice in cases on genocide and crimes against humanity, and has conducted trainings on genocide and atrocity crimes prevention around the world on behalf of the United Nations Office on Genocide Prevention and the Responsibility to Protect. He has also worked with the United States Agency for International Development (USAID) assisting countries in post-conflict legal and judicial reforms.
Return to Rwanda
This spring, Kamatali wrapped up a nearly threeyear, $597,353 project with USAID to strengthen the judicial system and rule of law in Rwanda. Rwanda has come a long way since the genocide, while continuing to come to terms with its past, according to Kamatali. "Now the important work is to build a legal system that is resilient enough to deal with potential problems in the future," he says.
Kamatali spearheaded the grant-funded project, which included writing and distributing a judgement-writing manual for judges, a practical skills manual for lawyers and two coursebooks, Introduction to Rwandan Law and Rwandan Family Law. Additionally, Kamatali developed a curriculum for both manuals and trained a select number of judges and lawyers, preparing them to train other judges and lawyers in the future. Finally, Kamatali oversaw the creation of the first post-genocide Rwanda Law Journal, establishing and training the journal's board and publishing its first issue.
The outcome of the project, says Kamatali, was to further strengthen Rwanda's legal system by refining the practical skills of lawyers and judges and helping to establish the consistency and predictability of rule of law. "This principle may be taken for granted in the United States, but there are countries that are still in the early stage of building such a system," he adds.
Student Engagement
Several ONU Law students had the invaluable experience of assisting Kamatali with the USAID project in Rwanda. Through their work, they discovered the ways in which history and culture impact laws and legal systems, and they learned about the differences between the Rwandan and U.S. systems of justice.
Vuk Zubic, now a second-year law student, put his bilingual skills to use by helping to edit the articles in the first edition of the Rwanda Law Journal. "This project was of particular interest to me since Rwanda had gone through a civil turmoil that was reminiscent of the beleaguered Balkans that my parents had left behind," he says. "It was a unique opportunity to become involved in a one-of-a-kind project, and I thoroughly enjoyed being able to work alongside professor Kamatali."
During her time at ONU Law, Emily Hudson, JD '20, provided research assistance for the Rwandan legal textbooks that Kamatali produced. She also engaged in a summer externship in Rwanda that Kamatali arranged, where she helped to train lawyers on a new case tracking system and explored ways to inform citizens of their rights under the law.
While living in Rwanda, Hudson gained a keen appreciation for the U.S. justice system and for Kamatali's global reputation and personal commitment to promoting rule of law and democratic governance. "[Kamatali] is so esteemed in Rwanda," she says. "There wasn't a Rwandan lawyer that I talked to that didn't know his name, even if they had never met him personally. Despite being here in the U.S., he's continued to invest so much time and energy working on ways to improve Rwanda's legal system."
Indeed, nearly 27 years after surviving the genocide, Kamatali's motivation for his work remains as strong as ever. He looks forward to refining the mission of the ONU Law Center for Democratic Governance and Rule of Law with an emphasis on research, training and capacity-building through conferences and workshops, and a continuation of grant-funded projects. "I am confident that we can provide a shining example and continue our important work across the globe," he says.