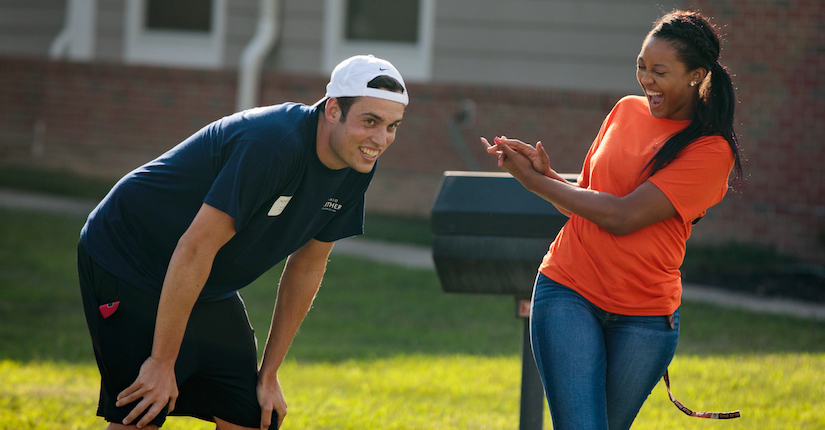 Attending law school is hard work, requiring focus and determination. But, it's also a place where you form long term connections with students, leverage internship opportunities, and enjoy new experiences. 
Ohio Northern University Pettit College of Law is situated in the rural village of Ada, Ohio. Its small-town atmosphere provides law students with all the necessary amenities, yet you can take a day trip to big cities, like Columbus, Ohio, or Chicago, Illinois.   
From local festivals to boutique shopping, Ada, Ohio, and ONU Law offer safe and diverse experiences for law students and their families. But don't take our word for it. Instead, find out what our law students and professors say about learning, working, and living in Ada.  
Your experience starts with your first visit 
Every visitor to ONU feels welcome right from the moment they enter Ada, Ohio, or step foot on the ONU campus. Christopher Ellington, a second-year law student, says, "ONU offered me an experience that I felt was unlike any other law school I visited. When I came on campus, the faculty took an interest in me right away and went out of their way to get to know me and my goals. While it felt like other schools were pitching why I needed them, ONU really wanted to show me why it was the right fit for me." 
ONU offers several ways to explore the campus and town, from virtual visits to overnight stays. Regardless of how you check out the law school, you'll appreciate the helpful admissions presentation, campus tour, and academic meeting.
For Tyler Rotstein, a second-year law student, ONU and its location stood out from other schools. He mentions, "When I was searching for a law school to attend, I wanted a close-knit community where I would be able to focus and still be able to have fun when I did get a chance to relax. Ada checked all of those boxes. I don't think there is any law school in the country that has a better town to study law in than ONU."
Ada, Ohio: Focus on what matters without distractions
From buying a home in Ada to exploring nature, students embrace their surroundings, feel welcomed by the community, and can focus on their law degree without distractions. Dallan F. Flake, Associate Professor of Law, says, "To me, Ada is an ideal place to study law. It provides the best of both worlds: it's secluded, peaceful, and distraction-free, yet just a short drive from several major metropolitan areas where students can find excellent internship opportunities and enjoy all of the advantages of big-city life."
Nancy Armstrong, Director of the Law Library and Professor of Law, adds, "It's true that there are few distractions in our small town. Most students live in Ada and do not spend a lot of time and energy commuting. With Ada's very low cost of living, students can consider purchasing a home in Ada to live in for their three years. We have at least one member of the current first-year class who has done this, and I have known others who have done it, too."
Ellington also emphasizes the benefits of living in Ada, remarking that "living in Ada and the surrounding area provides a unique mixture of the ease of mind of living in a safe, tight-knit community with access to the amenities and excitement of Columbus within driving distance. Because it is a small community, both within the student body and outside of it, it really provides a family feel. My class is all very close, and we spend a large portion of our time together outside of class hanging out as a reprieve from our law school schedule." 
Rotstein explains that "life in Ada is amazing. Ada is a close-knit community where you truly know your neighbors, whether they are fellow ONU Law students, ONU undergraduate students, or just supporters of the university in the local community. There are limited distractions throughout the week so that you can stay focused on your studies. Ada has the college-town feel you would find in bigger cities without all of the drama and hassle those bigger cities entail."
Just because it's a small town, that doesn't mean there's nothing to do. Ellington claims, "With interesting restaurants, shops, and the movie theatre in Ada, along with the performing arts center on campus and even more entertainment options in Lima and Findlay just a few minutes away, there are plenty of ways to take a break and unwind after a hard week's work."
And Rotstein adds, "I love to enjoy nature in the area. Whether it's ONU's hiking trails or the numerous state parks within an hour's drive, there is always something to do when it involves the outdoors nearby. Similarly, downtown Ada is only a few minutes' walk from campus, and I enjoy unwinding after a long week with a night on the town with the other law students. Everything is so close together; nothing is more than a 10-minute walk apart."
ONU: A tight-knit community gives ongoing support
Ohio Northern University also provides a special experience for students. Flake says, "ONU Law provides an environment unlike any other in which to study the law. Our community is close-knit and collegial. We understand that one student's success is everyone's success. Studying law here is not an individual pursuit; students and faculty work together to ensure every student leaves ONU Law with the skills and knowledge that will allow them to hit the ground running as they begin their careers."
Armstrong explains why the environment at ONU Law is unique, saying, "There's a special community here that's hard to describe, especially beyond the classroom. People really get to know each other, and many students become friends for life. Students really support and care for each other. I've known students who have dropped what they were doing to take a classmate to the hospital. I've also gone to weddings of students who met in school here and will attend another in September. For each, members of the law school community were included in the wedding parties and as guests. So the unique environment is hard to describe, but perhaps these examples can help give a sense of it."
Rotstein backs up Armstrong's comments by remarking that "Ada is a place where people look after each other, I have called on countless people to help me out when I have needed something and people have always come to my aid. While Ada might not be the biggest town on the map, Ada exudes pride for its community and our university."
ONU provides opportunities and resources 
ONU's dedication to students goes beyond your legal education. Students appreciate the Freed Center for the Performing Arts on ONU's campus and two adjacent art galleries, which showcase local, regional, and national artists. You'll also find plenty of indoor and outdoor activities throughout the area. 
According to Armstrong, "There's also a genuine focus on educational and related opportunities. Alumni regularly return to campus to talk to and help current students. There are also many leadership opportunities if a student wishes to pursue them, including local, regional, and international activities. These roles, as a president or other leader of a student organization, help develop skills that will be useful in a professional career." 
Furthermore, Ellington explains that "ONU has an exceptional balance of offering small class sizes and close relationships with faculty along with the resources and alumni connections of a much larger school."
Explore small-town life at ONU
ONU delivers the right mix of opportunities and resources in a safe environment from its distraction-free setting to the tight-knit community. And, according to Rotstein, "Ada is the perfect place to study law." See for yourself by scheduling a virtual or on-campus tour at Ohio Northern University Pettit College of Law.