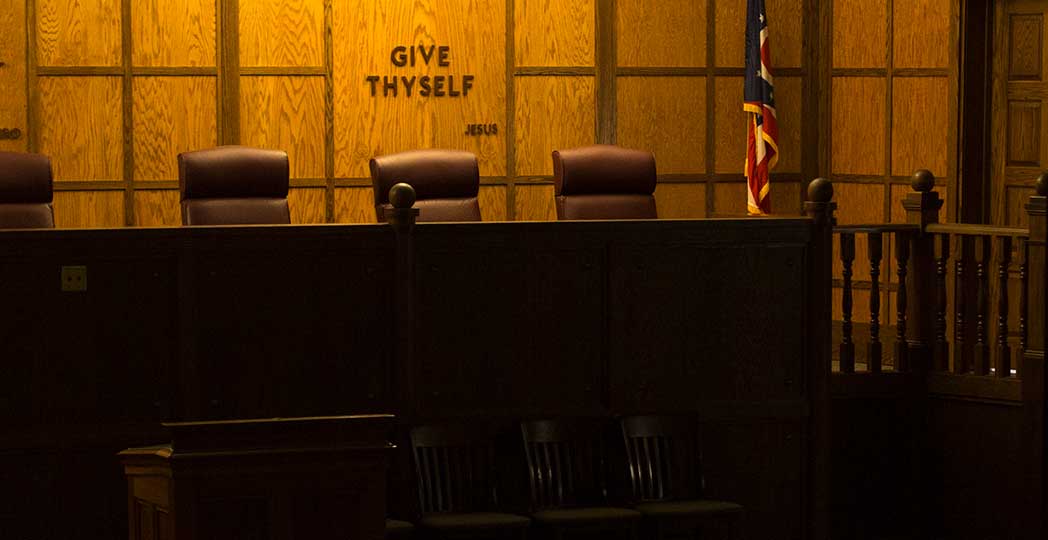 ONU Law celebrates the life and legacy of the honorable William D. Radcliff with a scholarship.
The Judge William D. Radcliff Endowed Scholarship for the Pettit College of Law will give high-achieving students from Ohio's rural counties the opportunity to follow in the footsteps of the man that bears its name. William D. Radcliff, JD '33, exemplified the legal profession first as a steadfast advocate in private practice and later as a prudent judge who sat on benches at every level of Ohio's courts. He lived a life of service to his community and to the law, and thanks to the generosity of his son Dudley, future ONU Law graduates will be able to do the same.
"When you think of the quintessential ONU lawyer, Judge Radcliff immediately comes to mind," says Charles H. Rose III, dean of the Pettit College of Law. "He was a 'small town' attorney in the classic sense. He had a profound impact on his community, but an even greater impact at the state level as an appellate court judge. His work with the Ohio Supreme Court capped a phenomenal career. He did what ONU lawyers do; he made a difference in the lives of everyone he touched."
Radcliff enrolled at Ohio Northern University in the fall of 1930. Against the backdrop of the Great Depression, he pursued his legal education with no guarantee that he would even be able to make a living practicing law. Regardless, he excelled in his studies and graduated in 1933 at the top of his class. He was admitted into the Ohio Bar Association and began private practice in Circleville, Ohio. Years later he would tell Dudley stories of his early years as an attorney, and how he'd get paid with a chicken or some eggs – if he got paid at all. Even in difficult circumstances, he performed his job with professionalism and high character, traits that he would exhibit throughout his career.
In 1937, Radcliff entered public service by running for mayor of the village of Williamsport, Ohio. He won that election and kept winning in subsequent years, becoming an Ohio State Representative to the 84th and 93rd General Assemblies from 1939-42. During World War II, Radcliff earned the Bronze Star for meritorious service as a U.S. Army officer. He would continue to serve in the Army Reserves until 1961 when he retired at the rank of lieutenant colonel in the Judge Advocate General Corps.
After the war, Radcliff returned to his home in Williamsport and his law practice in nearby Circleville. He was elected common pleas judge for Pickaway County in 1947 and became president of the Ohio Common Pleas Judges Association in 1954, just two years after Dudley's birth. In 1957, he was appointed to the Ohio 4th District Court of Appeals, where he served until 1962. It was during this time that Dudley first came to understand the importance of his father's work.
"My dad would come home every night and immediately go stand at this chest of drawers that he used as a desk. Some days it would be for five minutes. Other times he'd stand there for an hour finishing up whatever work he hadn't finished at the courthouse, or to jot down some new thought that came to him on the drive home," says Dudley. "That always stuck with me because I was just a little kid – seven or eight years old – and I was always happy to see him, but I never wanted to bother him until he wasn't standing at his desk anymore."
In 1960, Judge Radcliff began his association with the Ohio Supreme Court when he was first selected to sit by designation on the court. He would continue to do so as required until 1962 when he became assistant attorney general of the state of Ohio. In 1963, he rejoined the state's high court as administrative director, the position he would hold until his retirement in 1976.
According to Dudley, serving as the Supreme Court administrative director was his father's favorite post in a long and distinguished legal career. For 13 years he was responsible for all non-judicial functions of the court. He oversaw the drafting of all court rules, maintained the library, managed clerical staff, and attended to all fiscal matters and grievance procedures. Perhaps most importantly, according to Dudley, he administered the bar examination twice to recent law school graduates.
"My father valued education, and he loved the law," he says. "He never talked about his own law school experience, but he did talk about the things he learned there and how they were instrumental to his career. He felt that everyone should strive for an education as a means to become a productive citizen. He set a good example for me."
The fact that administering the bar exam would be among the privileges of his career is fitting for an ONU Law graduate. The Pettit College of Law has an outstanding reputation for bar passage rate by first-time takers, including leading the state of Ohio this year with a perfect 100 percent.
"One of the interesting aspects of Judge Radcliff's life and career is how he combined legal practice with legal education. The bar exam is so important to our profession, and he knew that. And that is why we put so much effort into preparing our students here at ONU, and why we have had the success we have," notes Dean Rose.
Radcliff always viewed the law as a profession that helped people. Dudley remembers going into Circleville for lunch on the weekends and seeing people stop his father on the street to thank him for something he had done for them. Sometimes it was for legal help; other times it was related to his non-legal capacity within the community. Radcliff was either president or a member of the board of directors of the Third National Bank of Circleville from 1947 until his death in 1991. He was a member of St. Phillips Episcopal Church, American Legion Post #610, Elks Lodge #77, Circleville Rotary Club, Pickaway County Farm Bureau and the Pickaway County District Public Library, to name but a few of the civic organizations he belonged to.
He passed that spirit of selflessness and service on to Dudley, who established the scholarship to benefit ONU students even though he's never set foot on campus. "My dad always felt that if you were able to help others you should do it. I'm in a position to help," he says. "I think my dad's dream was for me to be a lawyer. I ended up choosing a different path, but this is my way of fulfilling that dream by sending someone else to law school."
One hopes that the future recipients of the Judge William D. Radcliff Endowed Scholarship will emulate both Radcliffs, father and son.