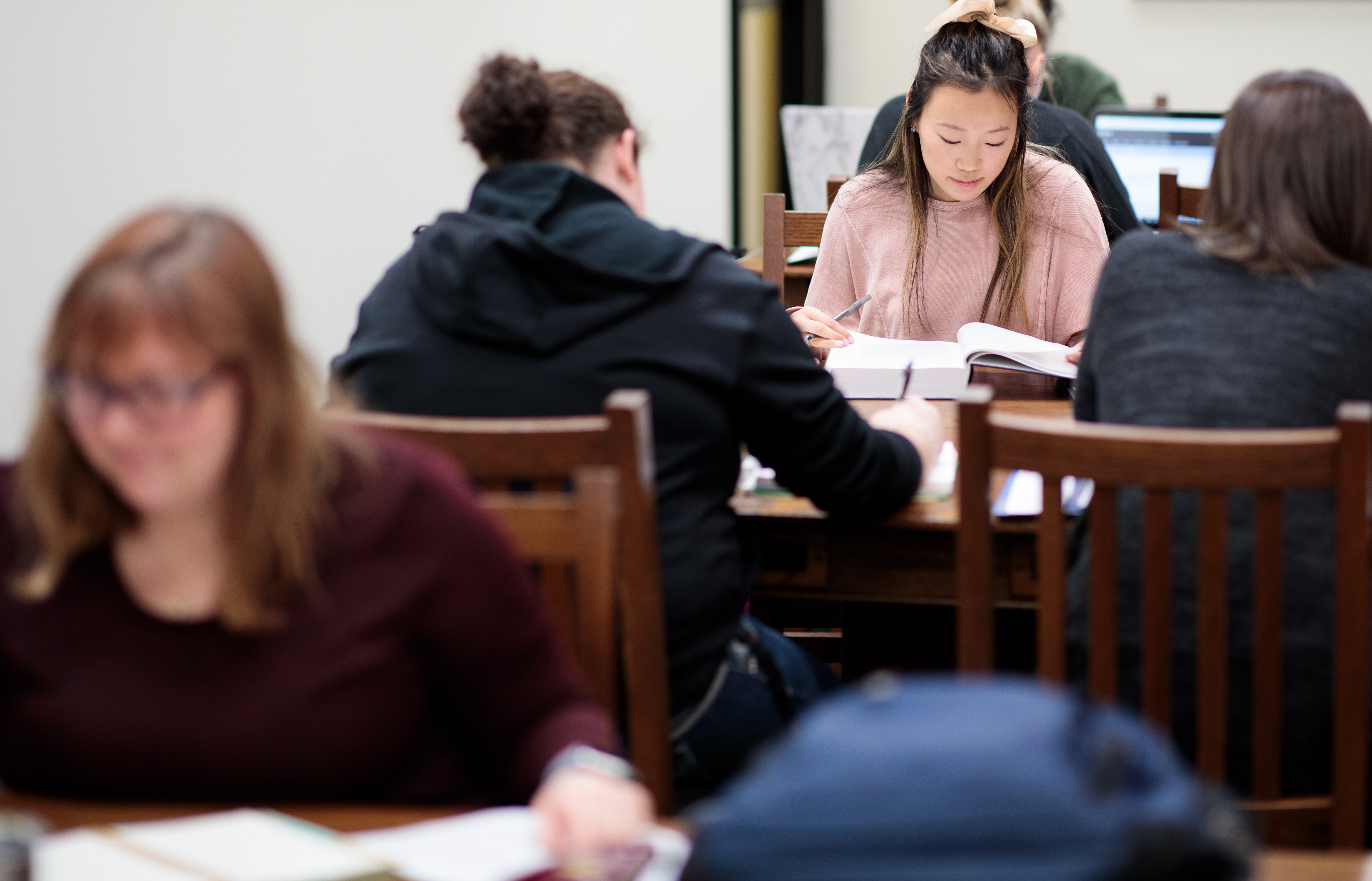 Before you apply to law school, you can ensure that you have a strong application by understanding what's typically required and how you can set yourself apart from other applicants.
Basic Law School Requirements & Prerequisites
As a minimum, law schools typically require the following application components:
An undergraduate degree
Admissions tests, such as the LSAT or GRE
A personal statement
Letters of recommendation
Resume
However, each of these components has varying levels of importance in your application.
An Undergraduate Degree
Since a J.D. is a postgraduate degree, earning a bachelor's degree from an accredited institution is typically required to apply and get into law school. Some law schools may offer accelerated programs that allow you to earn a bachelor's degree and law degree on a shorter timeline, such as ONU Law's 3+3 program, but the completion of a bachelor's degree is still required first.
What GPA is required for law school?
While there isn't a de facto minimum undergraduate GPA for law school, you can tell if your GPA is in the ballpark by looking up the median GPA of the incoming class at the law schools you are applying to. For example, the median GPA for the 2019 entering class at ONU Law was 3.31. However, the 75th percentile GPA was 3.67.
How your GPA is considered, however, can be more complex than the end-number. According to the Law School Admission Council (LSAC), law schools may view difficult or advanced undergraduate courses more favorably. They will also examine the trend of your performance, so if you start off with lower grades but show improvement, this could benefit your application; if you started strong but had a less than stellar finish, this could indicate less potential to be successful in law school.
Are there prerequisite courses for law school?
While there aren't specific prerequisite courses for law school, the courses you took as an undergrad and the degree you earned are an important part of your law school application, as they can help convey your readiness for law school.
The American Bar Association (ABA) recommends taking courses that will help you develop the following skills and knowledge:
Problem solving
Critical reading
Organization management
Oral communication and listening
Writing and editing
Research
Relationship building and collaboration
Do you need to study pre-law to go to law school?
While some universities may offer pre-law majors and programs, there is no specific undergraduate degree required for law school. Students have been admitted to law school from nearly every academic discipline, according to the ABA. While majoring in English, political science, business, economics or philosophy may be considered traditional to prepare for law school, there isn't a single best major that will prepare you for success.
However, by having exposure to the law, as well as experience in public service and promotion of justice (which are recognized by the ABA as essential areas of experience to acquire prior to law school), you can showcase not only your coursework but also your extracurricular activities and experience.
Admissions Tests
The vast majority of law schools require applicants to take the Law School Admissions Test (LSAT). The LSAT is designed to test competency areas that are relevant to future legal work, including reading comprehension, analytical and reasoning skills, argumentation, and writing skills. The test has 175 questions, and your score is based on the number of questions you answer correctly. Raw scores are converted to a scale that ranges from 120-180.
Similar to your GPA, your LSAT score is an important component of your application, and examining the LSAT scores that are typical of the admitted students to the law schools you are applying to can be a great indicator of whether or not you will be accepted. The median LSAT score for ONU Law is a 151, while the 75th percentile is a 155.
Do I have to take the LSAT to get into law school?
Although the LSAT is considered a critical application requirement, some schools are moving away from requiring the LSAT and allowing applicants to submit Graduate Record Examinations (GRE) scores in lieu of the LSAT, especially due to difficulties caused by COVID-19. For example, ONU Law is now accepting GRE scores due to the cancellation of scheduled LSATs because of the pandemic.
Now, about a quarter of American Bar Association (ABA)-approved law schools accept the GRE, and more will likely follow suit. Here is a list of law schools that accept GRE scores for their J.D. programs from Educational Testing Service (ETS), the organization that administers the GRE.
Personal Statement
Most law school applications will require a personal statement. The personal statement can be open-ended or you may have to respond to certain questions. If you are asked to write on specific topics, make sure that you do so while effectively telling your story. For example, ONU Law requires that your personal statement detail your interest in ONU Law and convey how you will add diversity to the incoming class.
What should be included in the law school personal statement?
The LSAC recommends that you include your actual experiences and past accomplishments in the personal statement, rather than speculating on what you'd like to accomplish in the future. Here are a few questions to answer in writing your personal statement — assuming there isn't a specific prompt — according to Shemmassian Consulting, an academic consulting firm:
Why do you want to go to law school?
What personal strengths do you have that aren't already apparent in your application?
Why do you want to attend this specific school?
How do you embody the qualities of a good lawyer?
What personal accomplishment are you the most proud of?
What cause do you care about the most?
What should you not write in a personal statement for law school?
The goal of your personal statement is to strengthen your application — not weaken it. Be sure to follow any guidelines provided, including prompts as well as word counts and page limits. Things to avoid, according to Kaplan, include:
Spelling and grammar mistakes
Typos and poor punctuation
Pointing out your weaknesses
Being overly negative
Telling, and not showing, how great you are
Relying on gimmicks
Focusing on a person other than yourself
Why does the law school personal statement matter?
The personal statement provides you with the opportunity to set yourself apart from other applicants. If a law admissions officer is evaluating two applicants with very similar GPAs and LSAT scores, then the personal statement can be the tiebreaker.
In the personal statement, you can demonstrate your writing skills and that you are a clear thinker and creative debater, which are all important competencies to have for law school.
Letters of recommendation
While letters of recommendation carry less weight than your GPA and LSAT score, they are still an important part of your application. Law schools may require 2-3 letters of recommendation from your professors or someone who has otherwise worked with you in an academic or professional capacity. Therefore, it's important to establish relationships with your professors, as it will be difficult to obtain letters of recommendation otherwise.
If you have been out of school for a while, professional letters of recommendation are still valuable. Having a letter from your boss or colleague that demonstrates your work experience and soft skills can be a valuable addition to your application. The LSAC states that the most effective letters of recommendation are from a professor or work supervisor who "knows you well enough to describe your academic, personal, or professional achievements and potential with candor, detail, and objectivity." As such, letters full of shallow, general praise are not useful.
Ethan Rosenzweig, the dean of admission, financial aid and student life at Emory University School of Law, says that a strong recommendation letter can strongly elevate an applicant from being just good to great. Receiving a lukewarm endorsement, however, also won't help much.
Additional Factors for Your Law School Application
While the above components are necessary for a law school application, there are a few more factors you can highlight on your application and in your personal statement.
Extracurricular activities
While your GPA and LSAT scores can make or break your application, it's important to not neglect extracurricular activities. Showing leadership and passion can help your law application shine beyond the numbers, especially when you have a depth of experience in a few key interests rather than a breadth of shallow interests and experiences.
According to U.S. News, joining larger and more established organizations can be better for your application, such as UNICEF or Habitat for Humanity. Showing your exposure to the law and public engagement — remember, key areas according to the ABA — through community service, student government and school publications can be highly valuable, particularly if you hold a leadership position in these organizations.
Real-world experience
Whether you are applying to law school while still in undergraduate school or you haven't been in school for a while, having real-world experience can set you apart. More and more, law schools are seeking a diverse incoming class, and adults with significant work experience form a part of that. In fact, work experience is something that the Harvard Law School admissions team has an "active preference" for and "looks for in the application process."
A good story
There are a lot of people who want to go to law school. In fact, there were 62,427 applicants for the 2019-20 admission cycle, according to the ABA Journal. Having a clear, comprehensive story as to why you are pursuing a legal career can help set you apart from the other applicants. According to Ethan Rosenzweig, telling a consistent story throughout your application, including your letters of recommendation and personal statement, can make a big difference.
Want more information on law school admissions?
Gathering your transcripts, taking the LSAT and getting your letters of recommendation is an in-depth process. If you would like advice on applying to law school, our ONU Law admissions counselors are happy to help. Contact us at 419-772-2211 or lawadmissions@onu.edu today.