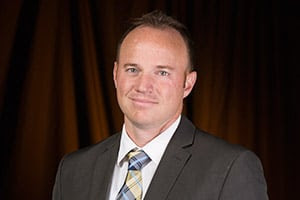 ONU Law has named Professor Dallan Flake as director of faculty engagement. 
"He's hit the ground running," says Dean Charles H. Rose, III. "He's the perfect professor to reinvigorate our faculty and lead our new professors in the development of their scholarship and service."
Flake recognizes that law faculties have a special opportunity and responsibility to question, challenge, explain and help develop the law. "Much of this is done in the classroom," says Flake, "but we can also make a difference outside of the classroom through our scholarship and speaking engagements. We have faculty doing amazing things here at ONU Law. My job is to showcase their great work and amplify the law college's scholarly voice."
Flake wants to present opportunities that would deepen faculty and student knowledge. "We are committed here to a culture of excellence in scholarship that contributes to the advancement of the law and supports excellence in teaching," says Flake.
One of the meaningful ways he's doing this is through a new series called Food for Thought. The initiative allows small groups of students and a professor to come together over lunch to discuss the professor's current research and engage with one another on a deeper level about important topics that might not otherwise be discussed in the classroom. The Food for Thought series will be held twice per semester.
Additionally, Flake is responsible for helping connect new professors with publication and speaking opportunities. As ONU onboards new professors, Flake recognizes how difficult it can be to make connections. "It's not easy being a new professor. It can be challenging to get published or to find speaking engagements. There's a large learning curve. I'm passionate about scholarship and want to ensure we are providing valuable resources to our junior faculty so they feel adequately supported," he says.
"The creation of the faculty engagement director position demonstrates our continued commitment to the value of scholarship and making it real in the minds of students who attend ONU Law so they see the critical connection between thought and practice," says Dean Rose.