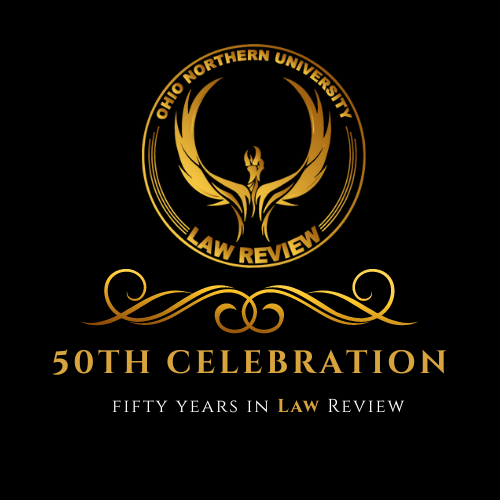 It has been a half-century since the ink dried on the first pages of the Ohio Northern University Law Review. Since that day in 1973, ONU Law Review has been the pinnacle of academic excellence in the Claude W. Pettit College of Law. This year, ONU Law Review celebrates its golden anniversary, and a celebration is being planned to respect the last 50 years ahead of the publication of the 50th volume. Several events are slated to take place for guests returning to campus to celebrate on October 27, 2023.
"We are excited to welcome our alumni back to campus to share memories and celebrate the last 50 years with the people who brought our organization to where it is today," said Dalton Stewart, Editor-in-Chief of the semicentennial edition. "This celebration is a platform for both alumni and current students to come together to honor the triumphs and successes in the last 50 years and to look forward to many more in the future." 
A packed schedule awaits attendees on Homecoming weekend, including a CLE event
sponsored by the Legal Association for Women, alumni panel, law school tours, a cocktail hour and dinner reception featuring keynote speaker Joseph G. Banks, JD '73, the first ONU Law Review Editor-in-Chief.
"I'm looking forward to interacting with the students and also talking with the current and past
Law Review staff and board members about plans for the journal's future," said Phil Wiese, JD '95, Managing Editor Vol. 22 and ONU College of Law Advisory Board member.
Wiese will serve as a panelist that day along with Banks and alumni Judge Terri Kohlrieser, JD '01, Lance Gibbons, JD '99, and professor Steve Veltri.
Registration is now open for the CLE event. Registration for ONU Law Alumni is $50, while non-alumni is $65. Register for the Law CLE event here. Tickets for the dinner reception are $30. Register for the Law Review Dinner and Reception here.
Attendees are encouraged to keep up-to-date by following the event's page on Facebook.
The Ohio Northern Law Review 50th Celebration is being held in conjunction with Homecoming festivities.