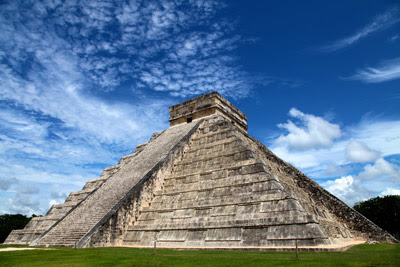 After months of planning, Pettit College of Law Professor Dallan Flake will spearhead a two-week student trip to Latin America during the school's upcoming J-term. The students will spend the first week in Guatemala and the second week in Mexico's Yucatan Peninsula.
Ten second and third-year law students, many whom have never left the United States, will accompany Flake on the trip. "I want to expose students to the inequalities and suffering that goes on in other parts of the world, and show them the important role they can play as lawyers in bringing about needed change," says Flake. He designed the program to be as affordable as possible so students from all economic backgrounds could have the chance to participate in this experience. "I had to pay my own way through college and law school, so I never had the chance to study abroad. I wanted to make this trip accessible to any student who wanted to take part," says Flake.
While away, the group will explore the Mayan ruins of Chichen Itza and Tikal to learn more about the ancient Mayan legal system. They will also study contemporary issues facing that part of the world, such as climate change, human rights abuses against indigenous communities and mass immigration. Students will have the opportunity to visit a women's weaving cooperative to learn how single indigenous women pool their resources to survive, tour a coffee plantation to understand how climate change has impacted the coffee trade, meet with human rights lawyers and immigration NGOs, and travel to the island of Cozumel to learn about the legal challenges facing the fishing and tourism industries. Additionally, they will hike a volcano, take a cooking class and interact with local law students. One of the highlights of the trip will be performing a day of service in a Mayan village. Thanks to a generous grant from ONU's DeBow Freed Fund, students will pour a concrete floor for an elderly villager who lives in a stick hut and deliver sports and art equipment to a local elementary school.
Flake, a Latin American Studies and Sociology major turned law professor, lived in Central America for several years and saw first-hand the struggles people face due to political corruption and a weak legal system. "Living there was life changing for me," says Flake. "I see how powerful law can be both in creating and maintaining inequality and also in producing meaningful change and fixing big-picture problems."
This is Flake's sixth year teaching at ONU Law. "I came to ONU Law because it felt like a supportive environment where I could make a difference. I appreciate that the Law College gives me the freedom to create meaningful programs like this."
The students will participate in the program Jan. 8-21, 2022.