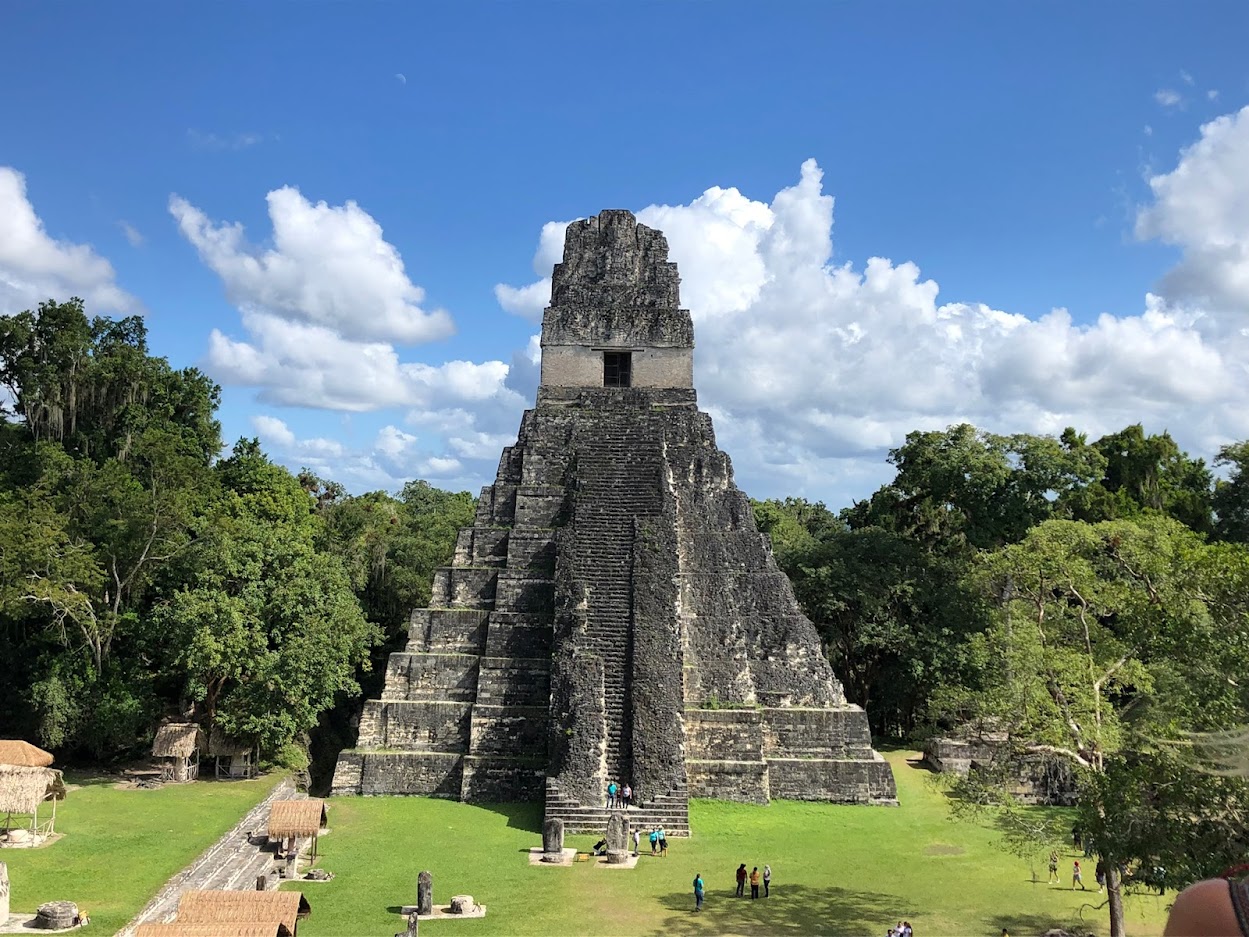 ONU Law students took what they learned in their Law and Justice in Latin America class and put it to good use when they traveled with Professor Dallan Flake to Guatemala and Mexico's Yucatan Peninsula in January. This was the first time ONU Law students traveled abroad to Latin America.
"The purpose of the class was to broaden law students' world views and help them see how the law can both help and hinder how justice is administered in the developing world," says Flake. "To accomplish this, we looked back at the legal system of the Maya and also pressing issues facing the region today including climate change, immigration, and human rights violations," says Flake.
CLIMATE CHANGE
To better understand how climate change is affecting the region, the students toured a coffee farm situated on the side of a volcano overlooking historic Antigua, Guatemala. The coffee grower showed students how warmer temperatures are adversely affecting his crop and discussed ways they are trying to combat the growing problem. They were then able to pick, roast and grind the coffee beans, later tasting the fruits of their labor over lunch with the farmer and his wife.
IMMIGRATION
While climate change is impacting much of our world, so is immigration. Students had the opportunity to meet and talk with Alvaro Caballeros, Executive Secretary of Guatemala's National Council on Migration. "It was an illuminating discussion in which we talked about the reasons why so many Guatemalans are fleeing their country for the United States," says Flake. They explored the impact migration is having on the local economy, how U.S. policies both help and hurt Guatemalan migrants and visited a shelter for migrants in transit to America. While there, the group met a Venezuelan man fleeing his country because he feared for his life. He shared his hope to one day find peace in the United States.
Third-year law student Ryan Johnson says climate change is having a direct impact on immigration. "Drought in the region forces Guatemalans to sell what crop they are able to harvest at cheaper prices, and when they can't make back their investment, many leave the country seeking a better quality of life," explains Johnson. 
HUMAN RIGHTS
Even though Guatemala's civil war ended nearly three decades ago, the country continues to face challenges in protecting the human rights of its indigenous populations. Students had dinner with Isabel Solis, a lawyer for the Guatemala Human Rights Commission. They learned about the ongoing persecution and injustices the local populations suffer and about her efforts to bring to justice the military and government leaders who engaged in the atrocities.
"Hearing from lawyers directly engaged in humanitarian efforts to aid victims of the Guatemalan genocide in receiving justice and holding the perpetrators accountable was an enlightening experience and opened my eyes to the modern injustices that many in the region continue to face," says second-year law student Kris Kristofferson. 
DAY OF SERVICE
The highlight of the trip was the day the group spent performing service in a small, impoverished village in rural Guatemala. "I wanted students to see that while they may not be able to fix the world, they can make a real difference in the lives of the people whom they serve," says Flake. The students spent an intensive eight hours mixing and pouring a concrete floor for a woman whose house was built of boards and tin. They were tired, sunburned and blistered after a long day of work but agreed it was the most rewarding experience in their two weeks abroad. The students then donated jump ropes, soccer balls and a parachute to a local elementary school, as well as money to build a swing set, monkey bars and a slide thanks to generous support from Ohio Northern University's DeBow Freed Fund.
The students worked hard but made time for fun. They were able to cliff jump, visit a women's weaving cooperative, climb a volcano, and roast marshmallows on lava, still hot from a recent volcano eruption. They also toured local markets, snorkeled and took a cooking class where they learned to make traditional Mexican dishes.
"This trip broadened my perspective of the world. Even though Guatemalans are thousands of miles from us in Ohio, they laugh, cry, work, and bleed the same as we do," says Kristofferson. "Going abroad can challenge a person to leave their comfort zone, but you leave having become a better person for it."
"Teaching this course was a dream come true for me," says Flake. "I loved every minute of it and was so proud of the students for jumping in with both feet and truly embracing all that Guatemala and Mexico had to offer. I believe we all returned from the trip forever changed and more committed than ever to use our legal education for good," says Flake.