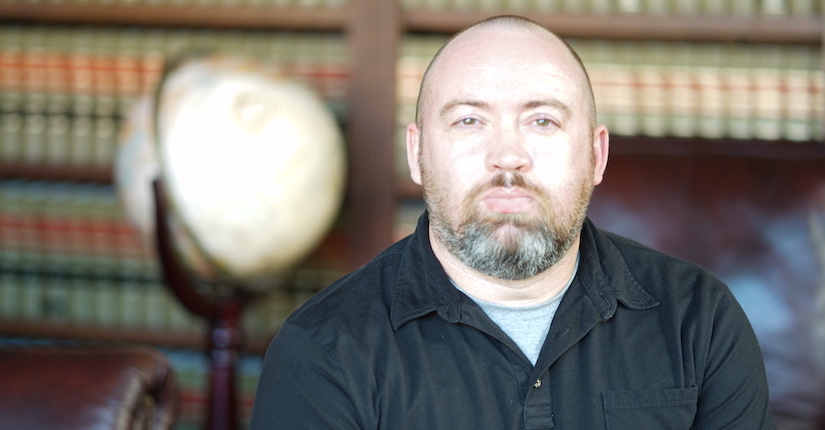 Second-year law student Adam Moore planned to spend the summer in Tunisia promoting rule of law. Although COVID-19 upended his plans, Moore still expanded his worldview. Instead of traveling to one African country, he explored the nefarious elements of many countries around the world from the comfort of home, diving deep into research into atrocities and corruption.
Moore received the prestigious Moyer Fellowship Award for his summer research that aided vital international efforts. Named in honor of Thomas J. Moyer, chief justice of Ohio from 1987-2010, the fellowship was founded to carry on the principles for which he stood, primarily the rule of law, equality under the law and civic engagement.
Each year, only two or three rising law students enrolled at an Ohio law school receive the Moyer fellowship.
Moore not only credits ONU Law for helping him to land the Moyer fellowship, but also for finding a solution when COVID-19 canceled his Tunisia trip, thus jeopardizing his fellowship. "Fortunately, I was able, through the generosity of two amazing professors, to find two projects that I could work on this summer that still focused on rule of law promotion, civic engagement, and working with national and international organizations," he explains.
The first project, under the direction of ONU Law professor Jean-Marie Kamatali and his work with the United Nations Office on Genocide Prevention and the Responsibility to Protect Nations', involved researching the United Nation's response to atrocity crimes in the past 10 years. Moore was particularly disturbed by what he learned about the atrocities committed against the Rohingya Muslims in Myanmar and the international community's inability to halt the violence. "While it is upsetting to learn about such things, it provides a better understanding of the workings of regional and international organizations, their strengths and great limitations, and the always-present controlling factor that politics play in such matters," he says.
Moore's second project, which was for the Rule of Law Collaborative of the University of South Carolina, involved research on various nations and their legal systems, with a focus on rule of law and anti-corruption. Moore delved into the transparency laws in Panama, corruption and development in Liberia and Uganda, illegal mining and anti-smuggling work in Mongolia, gender-based violence in South Africa, and much more.
When he arrived at ONU Law in rural Ada, Ohio, Moore never expected he'd be working on rule of law initiatives across the globe. "I've learned more this summer than I thought possible," he says. "I've gained a solid foundation in legal research of domestic and foreign legal systems and the rule of law field, while gaining insight into the workings of national and international organizations both within and outside the U.S."