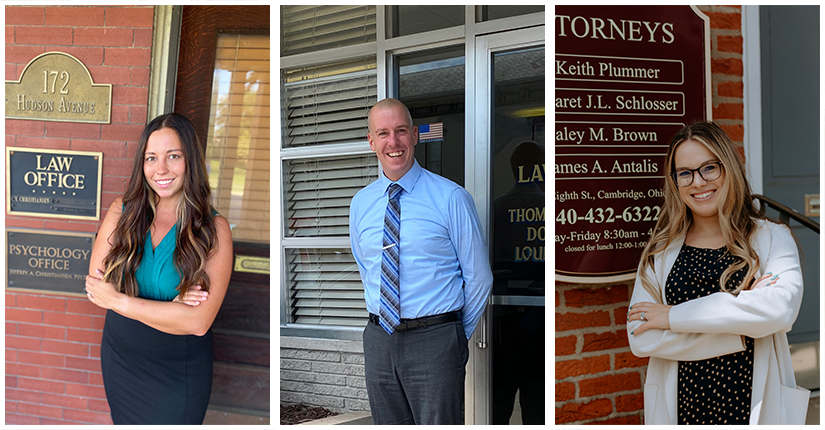 Law students thrive in Ohio State Bar Association's Rural Practice Program
Practicing law in a rural community may not seem as glamorous as working for a big city law firm, but it offers intrinsic rewards. ONU law students who participated in the Ohio State Bar Association's Rural Practice Clerkship Program discovered this truth firsthand. 
"Once I started my clerkship and started practicing in a rural area, I realized the impact you can have on the people and the community," says Haley Dotson Brown, JD '20, who participated in the rural practice program in 2019 and is now an attorney at Tribbie, Plummer & Associates, LLC in Cambridge, Ohio. 
The Ohio Bar created the rural practice program in 2015 in an effort to close the justice gap in rural and underserved communities, says Kelli Bray, manager of inclusion and outreach at the Ohio Bar. "An aging attorney population and the realities of a difficult job market for new attorneys means that, too often, populations in rural areas are left behind when it comes to available legal assistance. Access to justice means access to attorneys and is one of the strategic initiatives of the Ohio Bar," she explained.
According to Bray, a rural county is defined as a county with more than 700 residents per attorney. Currently, 59 of Ohio's 88 counties are considered rural and are impacted by limited availability of legal representation. The rural practice program pairs second-year law students who have a sincere interest in working in a rural community with a host practitioner. The summer clerkship runs eight to 10 weeks and the law students receive a stipend funded by the Supreme Court of Ohio Civil Justice Grant and host firms. 
While students from several law schools in Ohio are eligible to apply for a clerkship in the rural practice program, every summer since the program's launch the majority of the participants have hailed from ONU's Pettit College of Law. Perhaps it's because the program's toted benefits—rural setting, relationship-building, and hands-on practical training—are some of the same factors that attracted these students to ONU Law. This summer, four of the six participants in the rural practice program are from Northern. 
Dan Gudorf, who will be a third-year law student this fall, is a former high school math teacher who decided to switch careers. A Celina, Ohio native and married father of four young daughters, his career plan is to stay in Celina and practice law locally. 
Through the rural practice program, Gudorf gained invaluable real-world experience in his hometown, allowing him to stay close to his family and take his daughters to all their soccer and softball games. He clerked at Purdy, Lammers & Schiavone this summer, noting that the firm is going through a transition period as one attorney recently retired and another is looking to retire soon.
"Mercer County is desperate for lawyers right now," he says. "Recently, there have been a few new offices set up, but overall, there is a great need for attorneys in this area. The greatest challenge (for the firm) has been just keeping up with all the new business coming through the doors."
Gudorf had the chance to "see a little bit of everything" during his clerkship. He drafted wills, trusts, LLC agreements, and deeds, and was involved in client meetings, title examinations and court appearances.
The two attorneys he worked with—one of whom he coached in high school and who recommended the clerkship to him— were excellent mentors, he adds. "I also enjoyed getting to strengthen my relationships with other members of the Mercer County legal community. All the attorneys in the area were incredibly welcoming and helpful, always willing to take time to answer my questions."
The relationships forged in the experience are also what stood out for Stephanie Hunter, an ONU third-year law student who clerked at Christiansen Co., L.P.A. in Newark, Ohio, this past summer. From domestic relations to estate planning to real estate transactions, she had the chance to be involved in "just about every case that the office handled," she says. And, she found a smaller firm with a "family feel" to be extremely appealing.
"The two things I enjoyed the most about the rural practice clerkship were the relationships I gained and the hands-on practical legal skills," Hunter says. "Working in a smaller community, I ran into many of the same people each week, including attorneys and other judges. I was also in an environment where learning, asking questions and observing hearings and meetings was the best way to learn."
The ultimate goal of the rural practice program, says Bray, is for the clerkships to lead to offers of full-time employment upon passing the bar. For Brown, this is exactly what happened. The law firm she clerked at in Cambridge during the summer of 2019 continued to utilize her for research and drafting documents while she finished law school. They even allowed her to use office space to study for the bar exam, which was postponed three times due to the Covid-19 pandemic. 
"The firm was nothing but supportive of me while I was in my last year of law school and while I waited for my bar results. This is something you usually find in smaller towns with smaller firms, great support and flexibility," she says.
Today, she's a full-time attorney at Tribbie, Plummer & Associates, LLC, and she's thriving in the supportive legal community of rural Guernsey County in Southeast Ohio.
"Not only do I have the support from my firm, but I also have the support from all of the other local attorneys in the area. It is comforting knowing that I have many resources in the area and great opportunities to help many people in the community resolve their legal issues," she says. "With the high demand for local attorneys, I have been extremely busy and have hit the ground running in less than two years of practice."
Brown has nothing but high praise for the program that helped her find her footing. "The rural practice program was a great experience and allowed me to learn many important tools that are needed to be successful. I will always be grateful for the opportunity the Ohio Bar gave me (through this program) to jump start my career in the legal field."