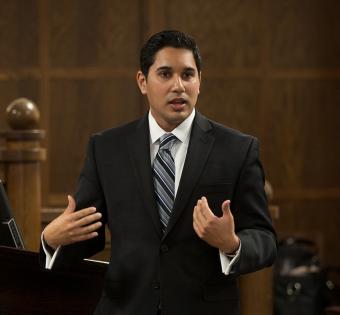 Parag Shah, JD '06, is a prime example of what you can accomplish when you are always striving to do more, be more and give more. He learned these values as a law student at ONU, and he's lived by them ever since.
Parag runs his own private law firm, Shah Law Firm, in Atlanta, Ga., along with his wife, Elizabeth "Liz" George, JD '06, who he met while they were both law students at Ohio Northern. They are rising stars in the Georgia legal community, tackling some of the most visible criminal defense and personal injury cases in the South at their firm. Their clients have included 14 former NFL players in the concussion lawsuit, a senator's son and a vehicular homicide involving the Georgia governor's intern.
Parag's experience at ONU left a lasting impact on him, and he acknowledges that attending ONU Law was the best decision he has ever made. On his first day of law school, he distinctly remembers how intimidated he felt when one of his professors told him sternly to "think like a lawyer, Parag, think like a lawyer." Parag's response to this directive, and the intense preparation that followed, shaped him into a confident, perseverant legal professional.
"He forced me to rise to the challenge not only on that day, but every day," he says. "He taught me about finding an inner confidence – the type of confidence necessary in law. The professors and staff at ONU genuinely cared about my success. The faculty constantly pushed me to do more, be more and give more."
Parag also had the rare opportunity to take a case to trial while still in law school during an externship with the Lima Public Defender's Office. The public defender, also an ONU Law alumnus, extended him this opportunity, and although Parag felt scared, unsure and excited, he decided to jump in with both feet. Representing his first client gave him a sense of purpose and helped him understand his love for the law.
ONU Law also fostered a close-knit, team-oriented bond between Parag and his classmates. Unlike many law schools where students can be fiercely competitive, ONU Law's students constantly seek ways to lift each other up and lend a helping hand.
"At ONU, the atmosphere was one in which 'we are all in this together' and 'we need to help each other out,'" he says." And we [Liz and I] have continued to have this outlook in our professional careers."
Parag and Liz still stay very connected to their alma mater, coming back to teach J-term courses at ONU Law. Since their law school days, they have come to lead fulfilling lives both personally and professionally, and they wouldn't be who they are today without ONU Law.