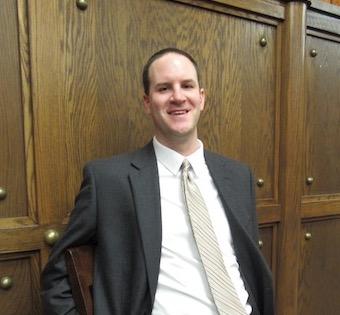 Harvard, Virginia, Vanderbilt – Ryan Davis has listened to lectures from the top law professors at all these schools. It was part of his job as a talent scout for the esteemed education company The Great Courses. 
Now a student at ONU Law, Davis speaks from experience when he says his ONU Law professors are special. "I would put them up against anyone for depth of content and dynamic lectures. We have a special group of people here who are invested in student success."
Davis received his undergraduate degree in sports management from Radford University in Virginia. For 13 years he worked as a talent scout for The Great Courses, traversing the country in search of the most compelling and knowledgeable professors to deliver content to the company's sophisticated customer base of lifelong learners.
Hailed by Bill Gates, The Wall Street Journal, Time magazine and more, The Great Courses enjoys an outstanding reputation and has forged partnerships with National Geographic, Mayo Clinic, the Smithsonian Institution and others to deliver cutting edge educational content. 
While Davis had a cool career at The Great Courses that he enjoyed, he discovered a new and unexpected interest in the law. "One day, I got an assignment to find and recruit law professors for a series we were making, which sent me to the classrooms of some of the top law schools in the U.S.," he says. "Working with those professors and attending their classes made me realize that law was something I had a passion for and it was an arena where I could make a positive difference in the world." 
Taking a "giant leap of faith," Davis quit his job and enrolled at Ohio Northern University. His wife had recently landed a new job in Ohio, and ONU's campus "felt like home" from the first time he visited. "There's a welcoming atmosphere here that permeates the hallways. Everyone has a passion for learning and exploring novel concepts. I didn't want to feel in competition with my classmates, and here we aren't competitors but collaborators."
His first week at ONU Law, Davis struggled to switch his mindset from talent scout to actual student. "I'll never forget my first class of law school with Professor Flake, thinking 'this guy is good,' and repeatedly looking down to catch the time stamp on my recorder so I could share the best snippets with my team. Then I realized I didn't have a recorder, and I actually had to internalize the content of every word he was saying. That happened with multiple professors for about a week," he says.
Davis not only appreciates the outstanding lectures at ONU Law, but the extensive practical training. He's worked with administrators and fellow students to revive the Sports and Entertainment Law Association, helped with the school's annual public interest auction, and interned at a renowned local law firm. "Everything we do is geared toward creating dynamic, well-rounded advocates who act as forces for positive change in our communities," he says.
After graduation, Davis would like to work in the field of mediation or arbitration.