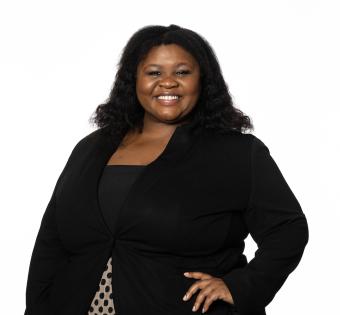 Siphokazi Lali, Sippie for short, is a third-year ONU Law student and a long way from home. The Cape Town, South Africa native had no idea how her life was about to change when her father moved her and her mother almost 8,000 miles away, to Philadelphia, Pennsylvania. She was just six years old.
It was the first stop of many on her path to Ada, Ohio, as her father finished his medical residency program and embarked on a successful career as a physician. "I came to America and didn't know a word of English," says Lali. "Kids in school wondered why I didn't speak and called me names."
So, she taught herself English. It would be the first of many difficult tasks Lali would tackle on her road to independence. Just as the family was getting settled into their surroundings, her father would move them to Fostoria, Ohio. Again, she found herself without friends and in a new place. In the years that followed Lali taught herself to swim and ride a bike and even planned her tenth birthday party, much to her parent's surprise. "They were so impressed," she laughs. To many of us, these are just typical milestones, but for Lali, these were momentous occasions.
Lali went on to attend a prestigious private Catholic school and after graduating high school, obtained her bachelor's degree in English and a minor in Spanish. She immediately went on to receive her master's degree in Education from Wright State and later a second master's degree in English while teaching in Las Vegas, Nevada. "It was the best job. I had wonderful students and for the first time in my life was given respect," says Lali. "My bosses nurtured and mentored me; embracing me and making me feel like I was part of a family." She would go on to other teaching positions throughout Ohio, but tragedy would strike and her uncle and cousin would be killed back home in South Africa. Then just a few years later, her father would pass away unexpectedly. For years, Lali and her family would work tirelessly with an array of attorneys to handle matters in the wake of her father's death.
"I was still teaching and was talking to my young students about short and long-term goals. A student asked me what I wanted to do when I grew up. I told her I wanted to be a lawyer. As children do, they simply asked why I wasn't one."
That was an "ah ha" moment for Lali. She realized all the years she had been hiring and working with lawyers, she could have gotten her degree and become a lawyer herself. So, at 32 years old, that's exactly what she decided to do.
She got on the internet and googled law schools. ONU Law popped up and after doing some research, she set her sights and her heart on getting accepted.
She took her LSAT three times and when she received her acceptance package to ONU she cried. "I prayed about it. I felt this was the school I needed to come to. So, when I didn't get in immediately I was confused. But it all worked out the way it was supposed to," she says.
"I was a writer. I spoke two different languages fluently. Yet my first semester here was so hard," recalls Lali. I realized everything I had been taught in undergrad and in graduate school was wrong," she says. "I had to learn to study and write all over again!"
"I love this school. This my third college. I've never experienced so many people that want to help me be successful," says Lali. "The faculty, staff, Dean and alumni have shown me nothing but support. They truly care and really listen to me," she says. "I have made lifelong friends here."