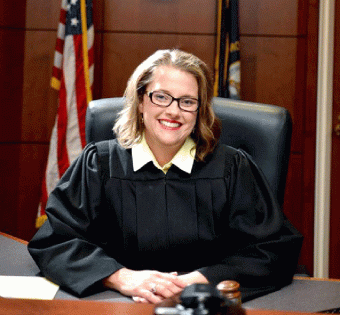 Judge Stephanie Pearce Burke, BA '91, JD '94, has always been passionate about helping others, and thanks to her experience at ONU, she has been able to play a significant role in helping people overcome substance abuse, mental illness and addiction.
Stephanie has spent her entire legal career working in the Jefferson County court system in Louisville, Ky. She currently presides over the county's mental health courts and drug court program. Prior to being elected judge, she practiced law for nearly 17 years, representing mostly indigent individuals in all levels of local state courts, many who were struggling with substance abuse disorders or mental illness.
In drug court, Stephanie works to give second chances and help turn lives around. Treatment courts are the single most successful intervention in the nation's history for leading people suffering from addiction and mental illness out of the criminal justice system. Instead of looking down on these people, Stephanie shows them compassion and provides support. The impact she has made on countless lives is immeasurable.
For her incredible service, she recently was honored as "Judge of the Year" by the Louisville Bar Association.
Stephanie actually earned two degrees from Ohio Northern – a Bachelor of Arts in criminal justice and a juris doctorate. ONU was the place where she discovered who she was meant to be and what path she should take.
My experience at Ohio Northern University gave me the ability and the confidence to seek my true passion throughout my career, and that passion has been to help others by giving freely of my time and effort," she says. "I am grateful for the encouragement and guidance I received from the faculty and staff during my years at ONU."