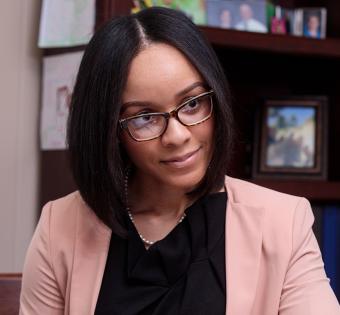 Throughout the highs and lows of law school, Tyler Watson, JD '19, never lost sight of her goal to pass the Ohio Bar Exam, and she credits her success primarily to the rigorous bar preparation she received at ONU Law.
From the very beginning, Tyler was guided by a supportive academic success team of advisors and professors. They helped her develop study methods that were more productive and effective, and they advised her on courses to take geared specifically toward preparing her for the Ohio Bar Exam.
"Bar prep started out very demanding and stressful," she says. "However, after practicing more and with the help of the wonderful professors Nancy Sabol and Stephen Veltri, it got easier, and that was a rewarding feeling. Once I developed my own study strategy, it went much more smoothly. Staying focused and disciplined also became easier once I developed a strategy."
Tyler was greatly impressed by the commitment that her professors had to helping her. Anytime she needed supports, they were there to answer her questions and provide reassurance when she needed it most. The small class sizes and open-door policy of ONU Law further enhanced the individual attention she received from faculty.
"Professor Sabol was available day and night to calm any stress and to reassure me that I was doing just fine with the material, even when I felt I wasn't," she says. "Professor Sabol offered practice exams on the tested subjects using actual bar exam questions, which allowed me to become more familiar with the question formats and types of subjects regularly tested. I don't think it's a stretch to say that I became more comfortable with taking the Ohio Bar Exam from Professor Sabol and not my bar prep company."
Even beyond passing the bar exam, ONU Law opened up many opportunities to prepare her for post-grad life as an attorney. From classes like legal research and writing to pre-trial litigation to externships, she was practice-ready upon completing law school.
Today, Tyler is an associate attorney with Allotta Farley Co. LPA in Sylvania, Ohio, where she works in labor and employment law. It's a role that ONU Law prepared her to step into upon graduating and passing the bar – a worthy return on investment.