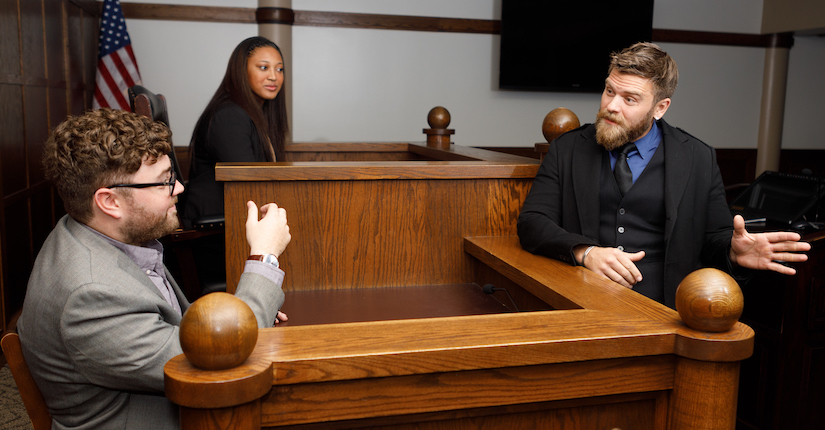 Gaining practical experience is key to graduating from law school ready for what lies ahead. 
At ONU Law, we provide well-rounded, experiential learning that allows students to hone their skills in a variety of formats, from our law clinics and externship placements to our many competition opportunities.
Why Competition is Important for Law Students
Having the opportunity to compete in different environments at law school provides multiple benefits. You'll be able to: 
Cultivate Practical Skills
Many competitions involve practical skills that are not necessarily taught or experienced in traditional law school courses, according to ONU Law Professor Richard Bales in a blog post he wrote for ABA for Law Students. 
"Many of these skills are essential to a successful law practice — skills such as how to conduct a client interview, how to write an appellate brief, how to cross-examine a witness, and how to draft and deliver an effective opening and closing statement," Professor Bales writes. "Competition teams give students an opportunity to learn-by-doing in an environment where a mistake is not going to hurt a client or lead to a legal malpractice claim."
Competitions allow you to cultivate your advocacy, legal research, and writing skills, and explore what interests you the most so that you are more prepared to enter the legal profession after you've earned your J.D.
Increase Your Marketability
Competing not only looks good on your resume, but it also provides something interesting to discuss in your job interviews. When applying for a position, you will have specific topics you can relate to the role, as opposed to general platitudes about your interest in the law. For example, having Moot Court experiences to draw from demonstrates your interest in advocacy and your ability to be an advocate to prospective employers. Additionally, when you ask for letters of recommendation, it provides professors and coaches with specific examples of your skills to include. 
Gain Networking Opportunities
At competitions, you'll interact with other students, coaches, and judges, all of whom provide rich networking opportunities. The fellow students you work with can form the professional bonds you take into the rest of your career. You can also meet practicing attorneys at competition events. 
"Students often receive interviews and job offers as a result of contacts they made with practitioners who coached their team, judged practice rounds, or judged competition rounds," according to Professor Bales. Being able to perform in front of these highly respected practitioners is an invaluable experience.
Produce Writing Samples
Moot Court and other competitions provide the opportunity to create writing samples that you can show prospective employers down the line. Since you get to receive feedback from coaches and judges on your writing, these samples will be real-world ready.
At ONU, Competition Starts At L-1
Competition starts with your first year on campus at ONU Law. There are several opportunities to experience the benefits of competition. 
Ohio Northern University Law Review
While you may not think of a journal as a competition, membership into the Law Review is one of the highest honors students can achieve in the ONU College of Law. 
The Law Review, our highly-respected law journal, is edited and published by law students who earn membership to the journal. Published three times a year, the journal consists of articles on current legal issues authored by judges and practitioners, law professors, prominent scholars, and students, and work selected from previous symposia. 
Each year, the ONU Law Review hosts a day-long symposium on campus that features respected legal scholars from across the country. Students, alumni, and local attorneys learn from leading experts on pressing legal issues. Featured topics from past symposia include "The Impact of Race on a Criminal Case," "Health Law: Past, Present, and Future," "Defining Immigration in a Time of Terror," and "Turning Point: An Interdisciplinary Discussion of the Intersection of Privacy and Emerging Technologies."
Moot Court
Started in 1950, our Moot Court Program allows students to grow their trial, oral advocacy, and brief writing skills. "Mooting" at ONU Law also provides the opportunity to practice your oral presentation skills and bond with your fellow law students.
"There are so many things that I have learned already from researching and writing the brief," says Sippie Lali, L-2, who competed in the National Health Law Moot Court Competition. "I feel like our first-year courses set a great foundation to get us started and pointed toward the right path, but there is nothing like getting your hands dirty! Working against a deadline while sifting through dozens of cases to find the ones that apply, formatting, piecing ideas together, fine-tuning and editing were so much more intense than I could have imagined. I learned that I had more skills than I thought."
There are inter- and intra-school competitions available. 
ONU Law Competitions
We feature these four competitions each year, right on campus: 
The Daniel S. Guy Intra-School First-Year Appellate Advocacy Competition: Part of the first-year Legal Research and Writing course, all first-year students are required to participate in this competition. However, only selected students move forward to continue to compete.
The Anthony J. Celebrezze Intra-School Appellate Advocacy Competition: The second of our two annual appellate advocacy competitions, this competition invites all second-and third-year ONU Law students to compete for awards and cash prizes.
The Burke E. Smith Intra-School Mock Trial Competition: Open to upperclassmen, this competition allows teams of two law students to practice and develop their trial advocacy skills, and discover the complexity, challenges, and opportunities found during trial.
The Parag Shah Closing Argument Competition: All ONU Law students can showcase their oral advocacy skills by presenting a closing argument for a complex criminal case.
Regional and National Competitions
If you excel in intra-school competitions, you'll have the opportunity to compete against other top law students in regional and national competitions from across the country, including the following: 
American Bar Association National Appellate Advocacy Competition: In this competition, ONU competes regionally against other schools for a chance to advance to the national level. In the past, ONU has won at the regional and placed at the semi-final level nationally.
John J. Gibbons National Criminal Procedure Competition: Held annually at Seton Hall University School of Law in Newark, N.J., this competition focuses on timely matters of criminal procedure and/or criminal law.
Philip C. Jessup International Law Competition: The world's largest moot court competition, this competition features more than 550 law schools from over 80 countries. The arguments are presented as if before the International Court of Justice, the judicial structure of the United Nations (as opposed to a court of the United States). ONU traditionally competes in the Chicago competition.
Ohio Attorney General's Public Service Mock Trial Competition: This annual competition is designed to further careers in public service by matching law school teams with public service litigators, who serve as their coaches. Law schools from across Ohio field teams to present on each side of a case in two separate rounds. Federal and state judges as well as experienced litigators judge the competition. 
American Association for Justice Student Trial Advocacy Competition: As the only trial-level moot court competition at ONU, this competition typically covers civil cases that deal with issues like product liability, personal injury, or medical malpractice/negligence issues. Sixteen teams from all over the nation are assigned to one of 14 regional competitions.
Texas Young Lawyers Association National Trial Competition: This competition encourages and strengthens advocacy skills and provides a meaningful experience for future trial lawyers. Over 140 law schools and more than 1,000 law students compete each year.
The ONU Law Approach to Competition
While competition is a natural part of law school, ONU Law has a collaborative, positive approach when it comes to competitive opportunities.
"Law students compete in everything they do. Here at ONU we compete, but we do so with compassion — for our opponent, for our peers, and for society," says Charles Rose, Dean and Professor of Law. "Competition tempered with compassion creates ferocious advocates — in the courtroom, boardroom and classroom. It is all part of what it means to be an ONU Lawyer."
Our many opportunities for competition allow you to cultivate the skills to passionately argue your case and succeed in competition — all while learning in a constructive, encouraging environment. 
"Having a supportive team might not turn mountains into molehills, but it makes the climb so much easier," says Sippie Lali, L-2. "Even when we couldn't get our questions answered, it was nice to have encouragement from our coaches and it helped to know that someone believed in us and was counting on us to finish (even though it felt impossible sometimes). I hope to carry all of those skills into my professional life, especially the feeling that I get from being a part of this team. It is truly something special!"
Gain Real-World Experience at ONU Law
ONU Law ensures that students graduate with the practical skills and experiential knowledge they need to succeed in the legal profession. "With leading scholars and coaches in the field, the sky is the limit for ONU Law students who wish to learn from, and compete with, the best in the nation," says Dean Charles Rose. Begin your journey by applying now.