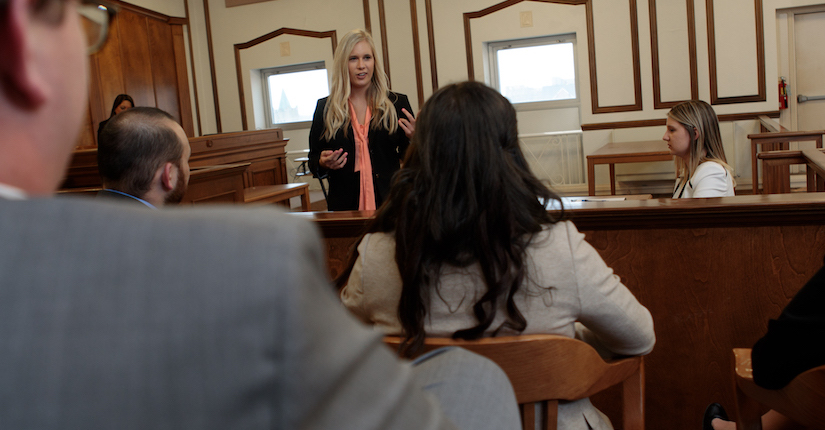 Although academic achievements are crucial to your law school career, hands-on experience is also invaluable. However, finding the right opportunities is challenging. Fortunately, colleges like ONU Law provide simulated learning events. These interactive opportunities help students develop substantive skills and doctrinal knowledge while providing a path to their future.
What is Experiential Learning? 
Experiential learning is the process of applying your knowledge to real-world experiences while receiving guidance and feedback. For law students, experiential learning gives students access to opportunities to use, develop, and refine lawyering skills. 
Law schools offer clinical learning, externship placement, Moot Court, and various simulations. Each activity gives students insights into specific specialties while helping them advance critical problem-solving skills.
Clinical Learning Opportunities
Clinical learning activities are vital to legal education. After all, students learn the fine details of law during class but turn to experiential learning to apply those skills. Clinics give students a chance to interact with courts, clients, agencies, and adversaries. 
Moreover, students further develop their ethical constitutions and the framework to propel them through their law careers. At Ohio Northern University's Pettit College of Law, students receive opportunities for: 
Civil litigation clinic: Explore probate, expungements, child custody, divorce, contempt, or social security disability cases. 
Corporate transactional clinic: Learn about tax-exempt status filing, bylaws and articles of incorporation drafting, non-profit and church representation, and policies and procedures drafting.
Externship Placement Opportunities
Many specialties exist in law, and externship placement opportunities give students access to real-life experiences in their chosen field. In some cases, students shadow professionals; in others, they perform legal writing, research, client interviews, and make court appearances. At ONU Law, students can explore externships in areas like: 
Labor and employment law
Bankruptcy
Governmental
Prosecution
Environmental
Non-profit litigation
Public defender
Judicial
Moot Court
Starting in the 1950s, ONU Law created a Moot Court board to support a practice-ready education. Since few opportunities exist for students to develop trial advocacy skills, participating in advocacy teams and competitions provides students a leg up in the world of law. 
Students receive coaching and feedback, along with the chance to argue before real judges during competitions. These simulated experiential learning experiences bring coursework to life. While at ONU Law, students can participate in: 
Four intra-school competitions: Daniel S. Guy First-Year Appellate Advocacy, Parag Shah Closing Argument, Anthony J. Celebrezze Appellate Advocacy, and Burke E. Smith Mock Trial.
Six inter-school competitions: Ohio Attorney General's Office Public Interest Mock Trial, ABA National Appellate Advocacy, Philip C. Jessup International Law Moot Court, John J. Gibbons Criminal Procedure Moot Court, Texas Young Lawyers Association National Trial, and American Association for Justice Student Trial Advocacy.
Annual Moot Court tournament: Students come from five undergraduate institutions and make up 18 teams. 
Some opportunities, like the Daniel S. Guy intra-school first-year appellate advocacy competition, are required of first-year law students as part of the Legal Research and Writing Course. Other simulations, such as the Anthony J. Celebrezze Intra-School Appellate Advocacy Competition, are only available to upperclassman advocates. 
Moot Court tests not only knowledge but also resilience and grace under pressure. Second-year law student and Health Law Competition team member Siphokazi Lali says, "Working against a deadline while sifting through dozens of cases to find the ones that apply, formatting and piecing ideas together, and finetuning and editing was so much more intense than I could have imagined."
How Experiential Learning Can Make You a Better Lawyer
In short, active learning experiences, like those provided by experiential learning opportunities, help students connect theories and concepts to real-life experiences. Melissa Kidder, Director of Legal Clinics and Assistant Professor of Law, says, "These opportunities give students a chance to develop and finetune their practical lawyering skills before officially entering into the practice of law."
For instance, you can study and learn the ins and outs of contracts during a college course. But, reading about proper practices isn't the same as drafting a contract, presenting it to a client, and receiving feedback. Interactive learning with real-time feedback helps students hone their lawyering skills, including critical thinking and problem solving, and become comfortable responding to various situations. 
Benefits of Gaining Experience During Law School
Gaining experience during law school gives students a competitive edge upon graduation, along with several other benefits. 
Make Professional Connections
Working side-by-side with legal professionals during clinics or Moot Court provides many networking opportunities. You can put names to faces, learn about the internal workings at local law firms, and build a repertoire with future employers. 
Along with in-person connections, you can reach out to those you meet in person with a friend request on LinkedIn and even request a recommendation. This builds your digital resume, opens the door to more professional relationships, and sets you up to enter the real world. 
Examine Various Career Paths
Selecting a specialty in law is challenging. You want to choose one that you're passionate about. But, it's also essential to look for in-demand specialties. If you're set on living in a specific area, it's a good idea to consider what types of lawyers are needed in that community. 
Or, if you have your heart set on securing a job with a certain firm, you'll want to find experiential learning opportunities to match your future plans. By learning about and exploring various options before leaving law school, you can narrow your focus and gain critical experience in these departments. 
Polish Skills and Gain Confidence
You may know your textbooks inside and out and pass your courses with flying colors. However, applying what you've learned is crucial to your success. With simulated experiences, students can solve issues, make judgment calls, and participate in real-life situations. 
Each opportunity offers coaching and feedback, helping students understand what they did right and what needs improvement. By taking advantage of interactive learning events, students refine their skills and gain confidence.
Build Your Resume
Externship opportunities and clinics demonstrate your professional potential and abilities. Students list externships and internships under work experience on resumes. They may include information about completed projects, responsibilities, and duties, and skills learned. 
Exiting law school with a bare-bones resume isn't ideal. However, students with externships show they've participated in real-world situations and are ready to take the next steps. 
Learn Teamwork and Communication Skills
Learning how to work with teammates and honing communication skills are vital to your legal education. Each student brings unique talents and may approach situations in different ways. 
When facing a tight deadline, how you communicate with other students helps you interact with legal staff in the real-world. Plus, you'll learn how to professionally listen and speak to various people you come into contact with, from clients to judges. 
Receive Mentorship and Coaching
While your legal education provides classroom instruction and feedback, having encouragement from coaches during simulation sessions is invaluable. For instance, alumna Kim Thomas, director of risk management and corporate compliance officer at Blanchard Valley Health System, coaches students for the health law competition. 
According to Lali, "She gives us the professional, real-world questions and applications to our problem. She has been a tremendous encouragement and cheerleader for us, too. She sends us messages when she knows we've had long days and nights and gives us great feedback in our meetings. I really appreciate that she coaches us by highlighting our skills and what we are doing well before advising us on areas where we can improve."
Obtain Real-World Advocacy Experience
At ONU Law, students take classes such as Trial Advocacy and Pretrial Litigation. But, they can apply what they've learned by participating in the ONU Legal Clinic. As a lawyer, it's important to advocate for your client's interests and rights. By gaining experience during law school, you're better equipped to serve your clients and law firm well. 
David Raack, Professor of Law and Moot Court faculty advisor at ONU, says, "The Moot Court program provides outstanding opportunities for students to develop trial advocacy skills by participating in three trial advocacy teams and competitions. Team members hone their advocacy skills with faculty and lawyers and can argue before actual judges in competitions. Through these opportunities, Ohio Northern offers first-class training in trial advocacy."
Gain Experience to Navigate Life After Law School
Get a head start in your law career by applying to a law school that offers a wide-range of experiential learning activities. As ONU Dean Charles Rose remarks, "Learning by doing is a core component of an ONU education. Here we subscribe to the idea that students create their own professional identity by walking the road of competition. With leading scholars and coaches in the field, the sky is the limit for ONU Law students who wish to learn from, and compete with, the best in the nation."