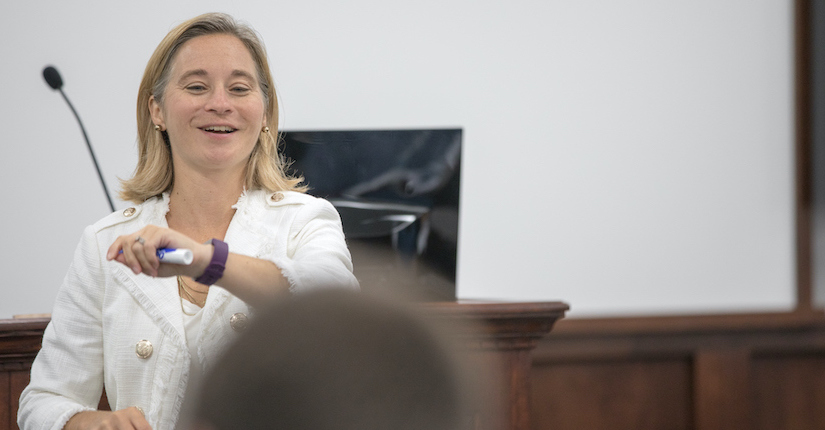 Meaningful relationships. A tight-knit community. Personal investment. 
All of these, and more, factor into the student-faculty engagement at ONU Law. While you can learn more about our faculty on our faculty profiles page, we spoke with faculty and students to gain deeper insight into how our faculty equips students with the tools and skills needed to succeed.
Why faculty choose ONU Law
ONU Law attracts highly esteemed faculty who truly want to make teaching their top priority. The low faculty-to-student ratio is a benefit not just for students, but for faculty and staff as well.
"I love that the ONU Law environment encourages student-faculty engagement," says Allison Mittendorf, Instructor of Legal Writing. "It allows us to form meaningful connections with students and really become invested in their success." 
These meaningful connections translate to fulfilling teaching and mentorship experiences for our professors.
"ONU Law had me at hello," says Dallan Flake, Associate Professor of Law. "I don't know of another law school with such a tight-knit, family feel, where faculty and students not only interact but build meaningful and lasting relationships. I love how earnest and eager ONU law students are, and how willing they are to help each other out.  I also really love how quiet and pretty Ada is. It really is an extraordinary place to study law."
A wide variety of backgrounds
ONU Law attracts faculty with a wide range of experiences. More than half of full-time ONU Law faculty hold a Ph.D. or L.L.M. degree in addition to their J.D., and many have years of experience as practicing attorneys.
From former public defenders, like Professor Mittendorf, to corporate attorneys, like Lauren Newell, Associate Dean for Academic Affairs and Professor of Law, all of these experiences help inform our faculty's approach to classroom instruction, as well as clinics and externships. 
According to Melissa Kidder, Director of Legal Clinics and Externships and Assistant Professor of Law, the smaller class sizes allow faculty to bring their experience and skills into the classroom in a way that benefits students. 
"With the smaller class sizes, I am able to get to know each and every one of my students very well, which allows me to really help them individually with their legal writing and researching skills. Because of that, I am able to form great relationships with my students that last even beyond their time at ONU Law."
Favorite ONU memories
The closeness between our faculty, staff and students fosters personal relationships. Professor Kidder experienced this firsthand when she had her daughter during the semester.
"I had my daughter during Spring Break of spring semester my first year teaching Legal Research and Writing and several of my students unexpectedly sent me baby gifts and best wishes on the birth of my daughter. I was just taken aback by their understanding and generosity, because I knew that their class instruction had to be rearranged and they had to wait longer for their graded assignments because I was in and out of work at that time. It really just solidified to me how special of a place this was for me to work. Not only were my colleagues so supportive and helpful during that time, even though it was my first year of teaching, but I was truly appreciative of the thoughtfulness and understanding of my students." 
Some memories were similarly heartfelt; others show the fun, small-town living environment of Ada. 
"Winning a cupcake-eating contest sponsored by one of our student groups" was a favorite memory for Professor Newell. Professor Flake fondly looked back on "Performing a Beastie Boys song with two other professors at the law school's karaoke night." 
There are many more memories that form the fabric of our close-knit community. With student organizations and on-campus events, there are a lot of ways to get involved. 
The impact on the student experience
The quality faculty/student interaction at ONU Law has been critical for many of our students. 
"I chose ONU Law for the small class size and low student-to-faculty ratio," says Adam Moore, L-2. "ONU Law has allowed me to focus on my legal studies in a small-town environment while having the opportunity to interact closely with professors on a daily basis." 
"ONU Law is special because of the people," according to Ryan Davis, L-2. "At ONU Law, your classmates become lifelong friends, and your professors become lifelong mentors." 
This community doesn't just include faculty and students. The staff play an important role in fostering the welcoming environment that allows students to thrive. 
"One of the things I enjoy most about librarianship is working closely with students and faculty, and the size of ONU allows me to do that," says Dustin Johnston-Green, Reference Librarian/Assistant Professor. "There is a wonderful community around the law school and the University that I instantly fell in love with. The faculty and staff are extremely supportive of the students and are able to establish strong interpersonal relationships throughout their study, something that I've found lacking at larger law schools." 
Students can feel the difference on their first visit, according to Rachael Mourey, L-3. "I chose ONU Law for several reasons. ONU was actually not even on my radar at first, but I decided to come for a visit. When I came for the visit everyone that I met really made me feel welcomed. I could tell that the law school was a community that I wanted to be a part of. There were even professors that reached out to be prior to my visit to talk to me about the school, and the Ada area. I could tell that they cared." 
Study law in a close-knit community
Are you interested in learning directly from top legal scholars and highly experienced attorneys? At ONU Law, you will be surrounded by support from your time as a 1-L to graduation and beyond.
"ONU Law has been a good fit for me because I enjoy small class sizes and genuine, personal relationships," says Matthew Smith, L-2. "At ONU Law, you are your name, not an identification number."
Take the next step by scheduling a visit or applying now.