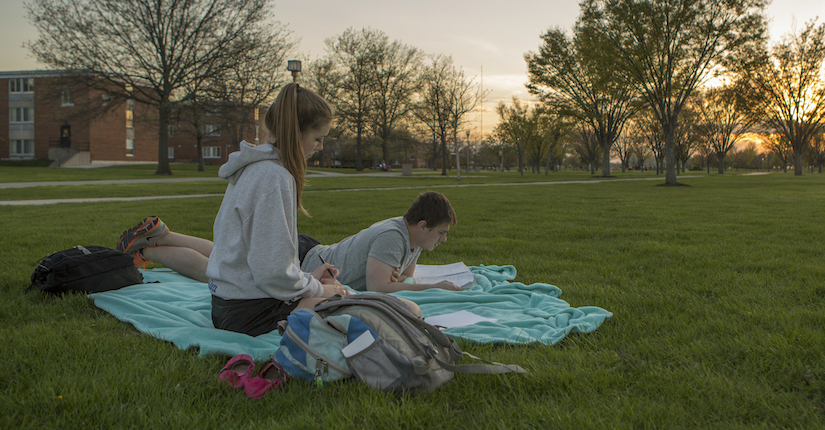 Are you ready to tackle your law school personal statement? Clear and concise writing is a vital skill for law students, but writing about yourself can be daunting. It's hard to winnow your life experiences down to a couple of pages or find one topic to focus on. 
Yet, your personal statement is a critical part of the application process. When combined with your resume, application, and LSAT score, it forms a complete picture of who you are and why you're a perfect fit. 
With these steps, you'll overcome obstacles while developing prose that supports a favorable application decision. 
Does a personal statement matter for law school?
Yes, your personal statement for law school is vital. It provides insights that aren't apparent on your transcripts. Engaging prose helps you stand out in a competitive space resulting in acceptance at your most-desired schools. 
For the 2020-2021 academic year, the number of applicants to law schools rose by 1.6%, with 63,206 applicants submitting 381,698 applications, according to the Law School Admission Council. You're competing with students who may have similar LSAT scores, grade point averages, and professional experience. When facing identical transcripts from hardworking students, often the only differentiator is the personal statement. 
After all, admissions officers want to know the person behind the hard data. That's where your law school personal statement comes into play. With a standout essay, you capture admissions officers' attention and an amazing narrative sticks in their heads. Your story should emphasize valuable traits, such as: 
Intelligence
Professionalism
Maturity
Persuasiveness
Thoughtfulness
Honesty
Sincerity
Seriousness
How do you write a good law school personal statement?
Writing a great law school personal statement doesn't come without hard work. Although you've written plenty of essays during your college experience, a strong narrative requires genuine reflection. You need to dig deep to uncover an aspect of your life that led to a significant change or put you on your current path.
Of course, intelligent prose doesn't always come out in the first draft. So prepare to spend a good chunk of time building your narrative and adjusting your statement for flow. Starting is often the hardest part of writing. Fortunately, you can follow these steps to nail your law school personal statement. 
Review law school personal statement requirements
Begin by scouring the application packet materials and college websites. Look for key information about the length and page format of your personal statement. The guidelines should answer important questions like:
How long should your personal statement be for law school? 
What is the maximum word count for a personal statement?
How do you format a personal statement?
Next, write down any required prompts to answer in your essay. For instance, some schools may ask why you're applying or why you want a JD degree. Organize program details using a spreadsheet or project management software like Trello. Create a card or row for each program, then list important facts about its mission, goals, and community. 
Also, check to see if any programs offer law school personal statement examples. Read through samples to get an idea of what admissions officers expect. Lastly, some colleges accept other types of statements as well, such as a diversity statement or an addendum. For best results, complete all options.
Diversity statement for law school 
A diversity statement defines what makes you different. It sounds or looks similar to your law school personal statement. But, it differs because you don't need to tie up your narrative into a neat package that ends with an epiphany. Instead, it may cover an experience that explains your values or desire to work towards inclusivity.
Law school application addendum
An addendum is a way to overcome lower scores, a gap in education, or other concerns where you fall short in your official papers and transcripts. Addendums are short, concise, and honest. Explain your reason and demonstrate that you've met and overcome your challenge. 
Brainstorm potential personal statement topics 
Some people prefer to jump right into writing. However, your life story is pretty lengthy, so it's essential to narrow down your subject matter. Focus your attention by reflecting on your life and coming up with some topics to write about. Consider ideas like: 
Personal challenges, hardships, or completed goals
A turning point in your life
Unique hobbies or personal interests
Special achievements or awards, not listed in-depth on your initial application
A situation or environment that changed you or your values
A project that got results and you're passionate about
Your upbringing, culture, education, or a personal or professional experience
While brainstorming, go through your transcripts, application, and resume. Are there any gaps or missing details that your personal statement could cover? Perhaps you listed volunteer work with a local animal shelter on your application. Could you delve into this topic further? Aim to share a unique story where your personal growth is the main focus. 
Explore your subject for clarity and insights
Sure, your chosen topic may be fresh on your mind. However, your personal statement for law school is more than describing an event. You need to show admission officers how this experience shaped you. It's vital to dig into how it impacted your values, traits, and feelings. 
Many students report spending hours or days considering their topic, digging through memories, and compiling their subject matter. If you have access to photos, documents, or other things that'll jog your mind, then now is the time to pull them out. Sometimes even listening to your favorite songs can help you remember the moment. 
Uncover a unique angle
Mark Twain once said that no story ideas are original. That holds true for personal statements as well. Plenty of law school applicants face difficult decisions, adversity, or enlightening experiences. Your essay isn't a retelling of an event. It focuses on your feelings and growth. And the story of you is unique, as no one shares your exact emotions or reactions. 
Your goal is to explore an angle that sets your story apart from others. Overcome obstacles by taking a break during brainstorming. Come back to your topic with fresh eyes and hammer out your main idea. 
Sum up your idea and start writing
Now you're looking at your topic, an angle, and you've pulled up those old memories. Do your best to sum it up and conclude it with a few sentences. This is your main point, and what every paragraph should lead the reader back to. Use these sentences as a reference point while writing. 
Some students prefer to create a general outline before writing. Others produce a few key sentences and start typing. All personal statements for law school use a narrative arc with a clear beginning, middle, and end. Include:
A captivating introduction that draws the reader into your life
Body paragraphs that naturally flow towards a conclusion
A decisive conclusion that delivers a lasting impression
During the rough draft, forget about length, grammar, or other specifics. Instead, just write. Get everything out on the pages. You'll have plenty of time later to refine, clarify, and structure your personal law school statement. Once you're done, read it over, make a few edits, and walk away. 
Turn a draft into your personal law school statement 
With a rough draft in hand, assess every word to ensure your story meets your objectives. Your goal is to recreate the moment and invite the reader into your account. Mold your rough draft into a final piece by focusing on a coherent structure. 
Flow. A logical progression of ideas, with a clear arc, is essential. Your reader should glide through your personal statement naturally. 
Length. Eliminate wordy phrases, overly difficult words, and descriptions that don't support your conclusion. 
Personalization. Pay attention to subtle differences in law schools, from their communities to purpose. If you can genuinely work this into your personal statement, then do so.
Character decisions. It's okay to include other characters in your personal statement, but ultimately you want to return the focus to yourself. 
Revise and edit several times
Few applicants write a stellar personal statement the first time. Get the best results by putting your draft through a comprehensive editing and revision process. This goes beyond using your word processing spell checker. Invest in human and technical tools to ensure the best results. Take steps such as: 
Double-check that your essay meets formatting and length requirements. 
Make sure you've answered any writing prompts.
Personalize your statement to the specific school and program. 
Use a tool like Grammarly or ProWritingAid to correct grammar and style issues. 
Run your document through the Hemingway App to catch hard-to-read sentences and more.
Lastly, it's essential to get help editing your personal statement. Fresh eyes and unbiased opinions allow you to refine your narrative. Obtain assistance from law school forums, writing centers, and social media communities. Or, ask fellow students or mentors to review your essay.
Create an impressive law school personal statement
Make your application packet stand out with a genuine and captivating personal statement for law school. Although writing your essay may seem like a challenging task, once you break it down into steps, it'll be easier to develop a cohesive statement that's sure to win admission officers' attention.