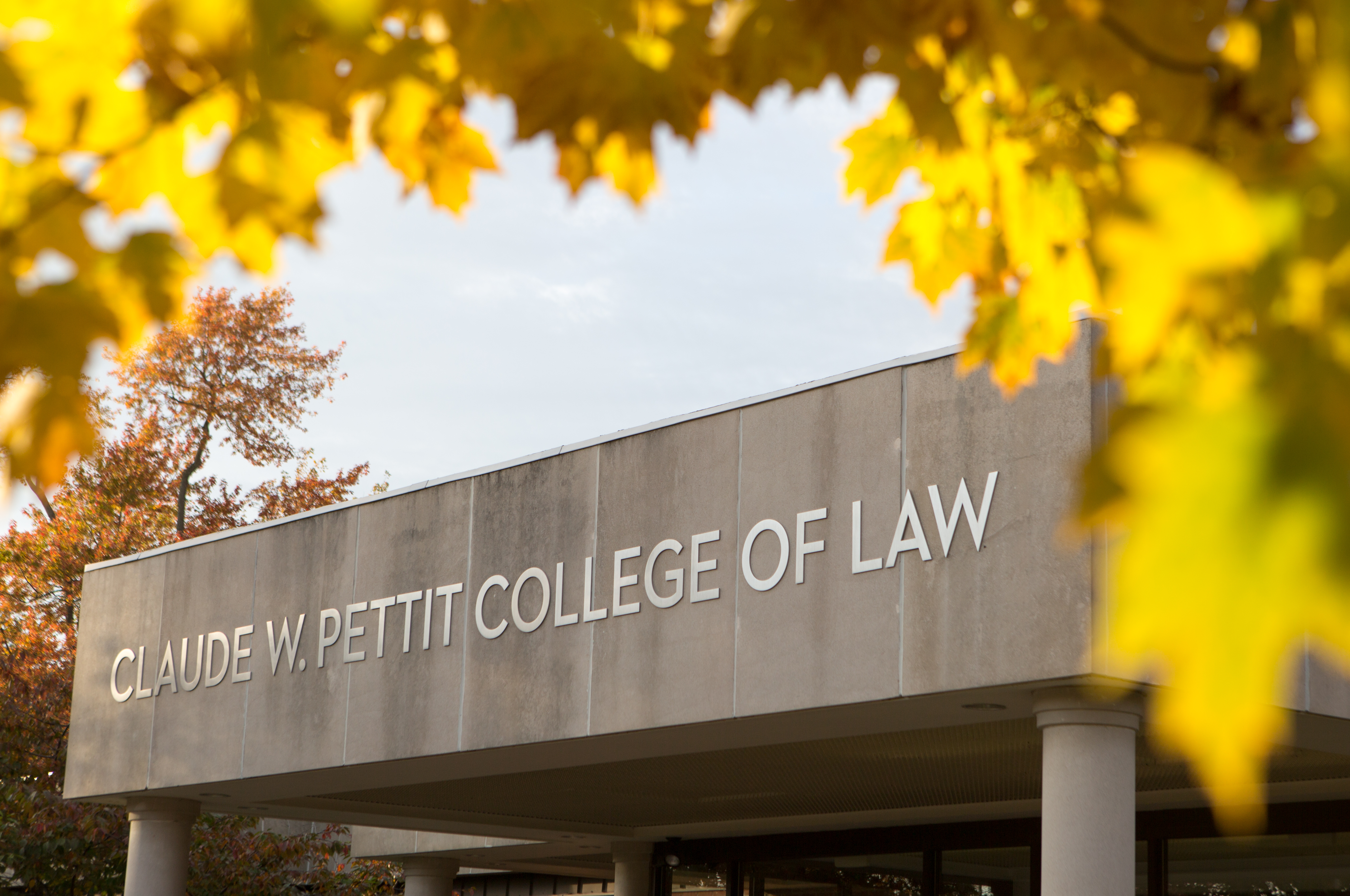 Deciding which law schools to apply to is one of the most challenging parts of the application process. With nearly 200 law schools in the United States that are accredited by the American Bar Association (ABA), you have a wide variety to choose from, and each law school has its own unique academic offerings and campus culture. As you're deciding where to apply, we hope that this article will provide you with helpful tips and advice from our admissions team.
Phase 1: Exploring law schools
If you're the first person in your family to go to law school, this whole process may feel exciting but also a bit intimidating. Thankfully, there are plenty of resources out there to help you identify good law school options that make sense for you and for your career goals. The Law School Admission Council (LSAC) provides fantastic digital resources for prospective law school applicants, providing workshops, conferences, law school forums, webinars and more to explore. You also have access to law school admissions counselors as well as your undergraduate academic advisors (especially pre-law advisors) who can provide one-on-one guidance throughout the application process. As you're creating your list of schools to apply to, you may wish to consult your pre-law advisor, an attorney or legal professional, or even a professor about which schools they think may be a good fit for you to consider. Otherwise, you can start by checking out programs in your geographic area(s) of interest.
To begin creating your list, we would recommend utilizing a spreadsheet to help organize your thoughts and to compile your research on the JD programs that you're interested in. This will also allow you the opportunity to prioritize the factors that are most important to you in choosing a school and help you identify distinguishing characteristics between them. Some factors that we'd encourage you to consider include:
Cost of attendance (tuition + housing, transportation, utilities, misc.)
Bar passage rate
Employment rate
Strength of the alumni network in the city or region where you hope to work post-graduation
Opportunities for internships, externships and clinical placements
Attrition rate
Academic specializations and available courses
School culture and personal fit
School setting
Average class size
Reputation and brand recognition of the school
Don't be afraid to look broadly when you're first exploring your law school options; by researching different schools, you'll develop a better understanding of what you're looking for. Try assigning scores and "weights" to the categories that you care most about. You may be surprised which of your options rise to the top after you've summed up your totals!
Phase 2: Finalizing your school list and beginning the application process
So you've done some research and the time has come for you to begin creating your applications in your account on the LSAC website. We'd recommend finalizing your list to 5-8 law schools, taking into account the following tips:
Put your LSAT Score and your Undergraduate GPA (UGPA) into perspective
ONU Law has a holistic approach to application review, but the LSAT and undergraduate cumulative GPA still play an important role in our decision-making process. You'll want to think carefully about how competitive your application will be and how you will compare to other students applying at that same time. Law schools will often provide LSAT and UGPA medians from the previous year to give applicants a better idea of how they compare to other candidates.
Many prospective law students struggle with putting their LSAT score into perspective, since the standard deviation of the scoring scale (from 120-180) is difficult to put into context. For example, if a law school's median 50th percentile for the LSAT is a 151 (which happens to be the national average for the exam), what would be considered a "competitive" score if your result happens to fall below the median?  A 5-9 point disparity is generally considered a "reach" for the LSAT, even if you have a strong UGPA. If your LSAT score is ten points away (or more) from a law school's median, we would strongly encourage you to consider retaking the LSAT exam before applying. There are many helpful tools and resources, including Khan Academy (which includes a free diagnostic tool, practice exams/questions and performance evaluation), testing guides, preparation courses and private tutors that can help you improve your score, but you have to be willing to put in time and dedication into your test prep - developing an effective study strategy that works for you. 
Once you have your LSAT score or an idea of what your score might be from taking a practice exam, LSAC's UGPA and LSAT Score Search can help you identify law schools where you'll be a competitive candidate. To generate results, LSAC uses logistic regression modeling and reported data from ABA-accredited law schools from the previous year, and each result also calculates a predicted "Likelihood" of admission. We would encourage you to keep in mind that, though the LSAC search tool is helpful in calculating your likelihood of admission to a law school, there is still a lot of variability depending on the quality of the rest of your application materials and the competitiveness of the applicant pool that year. Therefore, it is in your best interest to be thoughtful in how you construct your application and to put time and effort into each item you submit: your letters of recommendation, your resume, your personal statement, your LSAT Writing sample, any addenda, etc. The way that you complete your application speaks volumes about your work ethic, so be thoughtful about not making careless mistakes to ensure that you're putting your best foot forward - even for your safety schools.
Admissions Tip: For best results, we recommend applying early in the application cycle to maximize your chances of securing a seat, particularly if you're applying to a "reach" school.
Do your research
The LSAC UGPA and LSAT Score Search tool may inform you that you're a qualified candidate at several respected programs, but we encourage students to take their time while researching schools before they commit to applying - and to research thoroughly. Reviewing rankings and exploring a law school's website aren't enough to determine whether a law school is a good fit. Dive deeper by connecting with the admissions team, attending prospective student information sessions and events, reaching out to a current student or alumni through LinkedIn and visiting the schools that are at the top of your list in-person, if possible. Make notes or quantify your results using the spreadsheet we recommended above so that you can reference your thoughts later on in the application process.
Not only will researching your schools in greater detail help you in your decision-making process, but this information will be useful to you as you craft your application essays in response to questions like "Why are you interested in our law school?" Being able to talk about specific academic offerings or specializations, clinic/externship opportunities, the school culture or the alumni network will really show your admissions reader that you've taken the time to get to know their program.
Don't let rankings be the sole focus of your decision-making
It's tempting to use rankings as a way to quantify the quality of a JD program and to compare schools. However, while rankings have value, do not allow them to be the primary factor in your decision-making process. So long as a law school is ABA-accredited, you can be assured that your school will prepare you for the bar exam and for your future career as a legal practitioner. A lot of your experience in law school will rely on your ability to take advantage of the resources available to you, whether they be related to academics, extracurriculars or career/professional development. Wherever you ultimately choose to attend, be sure that you're committed to working hard in your classes (and asking for help when you need it), participating in extracurricular activities and putting effort into networking, career preparation and your internship/externship search.
Consider the geographic area(s) where you'd like to practice post-graduation
Even the most prestigious and nationally recognized schools, like Harvard, will have a higher concentration of their graduates located in one area - most often that same region where the school itself is located. Therefore, the strength of your network is often linked to where you go to school, so it's important to consider whether you can envision yourself staying in the same geographic area post-graduation. If your goal is to practice law in Ohio, for example, the nine Ohio law schools are great options to consider because all nine schools have a strong regional network in the area. 
However, another thing to consider is that the Uniform Bar Exam (UBE) has allowed law graduates greater career flexibility even if you're not particularly interested in staying close to the area where your law school is located. The UBE is a standardized version of the bar exam that allows you to transfer the score you receive on your exam to 39 other participating states, provided that your score meets or exceeds that state's minimum requirement. Ohio, as well as the surrounding states of Indiana, Pennsylvania, Kentucky, West Virginia, Michigan, and New York, all accept the UBE. The flexibility that the UBE provides comes in handy for ONU Law students in particular, as over half of our Class of 2024 is from out-of-state. So, if you really don't have any idea where you'd like to be post-graduation, that's okay too; we'd recommend keeping the UBE in mind as an option for when you take the bar exam in the future.
Have a safety school
A "safety" school is a law school where you believe, based on the strength of your application (especially taking your LSAT score and undergraduate cumulative GPA into consideration), that you are likely to receive an offer of admission. Ideally, this should be a school that you would be happy to attend if your other options did not work out. If you are committed to attending law school beginning a certain semester, we'd recommend including a safety school on your list. If you have greater flexibility and would not mind reapplying next year if you didn't get the result(s) you were hoping for, having a safety school may be less of a concern.  
One perk of safety and target (also called "match") schools is that you're often a more competitive candidate for the most generous merit scholarship awards, which can provide considerable financial support as you pursue your graduate studies. For additional information about financial aid sources and resources for law students, please see another article on our site, "Law School Admissions 101: Financial Aid."
Limit your list, and stick to it
Limiting your list will save you time throughout the application process and you can truly focus on putting your best foot forward for the law schools that are highest on your list. Realistically, you can only attend one law school, and limiting your list early can help save you from the stress of narrowing down your options later in the process. Before you hit that submit button:
- Reread your personal statement and résumé to check for grammar, spelling or punctuation errors. If you have the time, have another trusted set of eyes read over your personal statement (e.g. a professor, a parent, a significant other, a colleague/friend, someone at your campus writing center, etc).
- Make sure that you're uploading all the appropriate documents to your application, rather than an earlier draft or a document written for a different law school. 
- Present the best test score that you can offer. If there were extenuating circumstances surrounding your test date, technical difficulties or if you received a score that you don't feel reflects your potential, we'd strongly recommend retesting or, alternatively, submitting an LSAT addendum to explain your situation and why you feel that that is not an accurate representation of your abilities.
- Request letters of recommendation that truly reflect your character and your potential for academic success in a JD program. (Personally, we'd recommend at least one letter from an academic reference.)
If you're waiting on decisions and not sure what to do, don't be tempted to apply to additional schools unless you're truly interested in attending. At this stage, we'd encourage you to be patient, and we'd recommend continuing to engage with the law school communities you're looking to become part of. Attend virtual or in-person admissions events, reach out to current students to learn more about their experiences, or connect with an alumni on LinkedIn. Many individuals outside the admissions office are happy to speak with prospective students, and their authentic insights into the program may help as you are weighing your options.
Phase 3: Choosing a law school to attend
Once you've received your application results, you should have a few schools to choose from and be able to examine their offers with greater scrutiny. The final decision process will be a very personal one; each student will be prioritizing different criteria (location, finances, reputation, alumni network, school culture, among others) based on what they determine to be most important in choosing a school. At this point, we strongly encourage students to consider visiting campus and connecting with the law school community, if they haven't already. Our Class of 2024 survey identified that, for 55% of our first-year students, visiting campus, speaking with a current student or speaking with an alumni played a significant role in their decision to commit to ONU Law. 
Visit campus, ideally in-person
Visiting campus is the best way to authenticate what you've learned during your research, to connect with future faculty, staff and peers and to get a glimpse of life as a future law student at that institution. Many law schools will offer Accepted Student Day events in the spring or individual campus visits with customizable itineraries to give you a comprehensive look at their program. Visit itineraries may include meetings with an admissions representative, financial aid counselor, faculty advisor, or current student as well as a building/facilities tour. Additionally, ONU Law offers the opportunity for students to observe a first-year class or participate in a mock class during their visit, which provides great insight into the classroom experience that you can't find online. 
As you're walking the halls, interacting with students, staff and faculty and exploring the surrounding area, ask yourself whether you can envision yourself there. Are you happy? Growing? Thriving? How did your experience on campus make you feel? If you're planning to spend three years at this institution, it's important to feel comfortable in your academic environment and confident that the investment you're making - both of your finances and your time - is purposeful.
Reach out to alumni and current students
You can also connect with an alumni or a current student by either reaching out to the admissions office or to someone directly on a professional networking website like LinkedIn. If you decide to reach out to someone "cold," meaning that they're a complete stranger and you both have not been introduced by an admissions representative, make sure to keep the tone of your request polite and professional and to limit your messages to an introduction and a follow-up if you don't receive a response. Most alumni and current students are happy to answer questions about their law school and their student experience.
Check out the Career Services at the law school
If you haven't already, narrowing down the geographic area and specialty of law you hope to practice in can be very helpful in choosing a school. Sometimes these goals change throughout the application process, and it may be wise to take a second look at each program's academic offerings, clinic/externship/internship placements and alumni network to reaffirm that your career goals align with the program's strengths. Career Services professionals at law schools work with students for professional development, securing internships/externships/clinical placements, as well as finding jobs post-graduation. Feel free to reach out to their team if you have questions about placements in your area(s) of interest and to inquire about the resources they offer to facilitate your transition from student to legal professional. You may also wish to ask them questions about how they prepare students for the bar exam.
Remember that every law school will have its own advantages and disadvantages, and there is rarely a clear right or wrong answer. The vast majority of law schools will provide an excellent legal education to set you on a path to professional success. Before you make your final decision, ensure that you do your due diligence by researching, taking into account the financial commitment that you're making and thinking hard about what you hope to gain out of your law school experience. And, once you've made your decision, don't forget to submit your seat deposit by the deadline to reserve your spot in the program and to lock in any scholarship or student loans that you may have received.
Ultimately, our biggest piece of advice to students throughout the entirety of the application process is to do thorough research on your choices and make your decisions based on the factors that are most important to you. And don't be afraid to reach out to law school admissions teams, current students, faculty, staff or alumni if you ever have questions about a program; our law school communities are happy to help and excited about the potential of you becoming a member of our great profession.