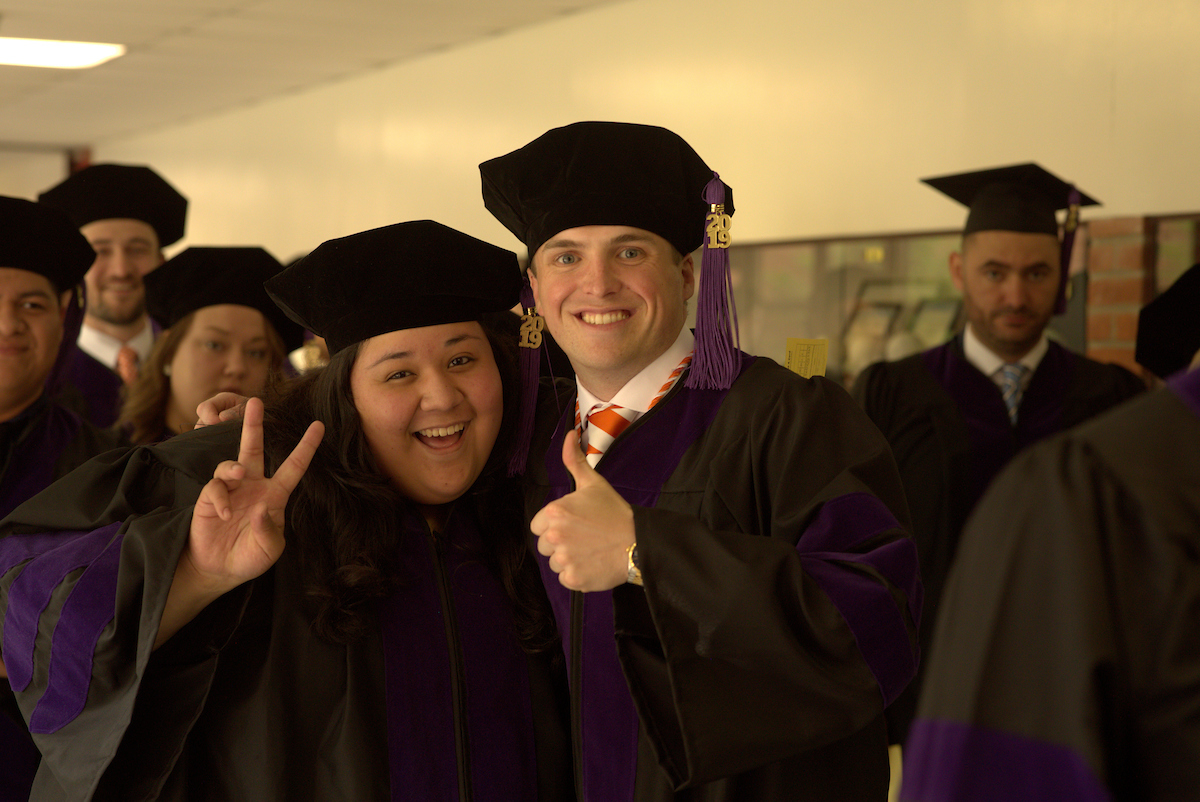 When you look at the estimated cost of attendance for law school, it's easy to get overwhelmed by all the fees and expenses. While a large price tag should not dissuade you from pursuing a career in the legal profession, we also want students to be aware of the expenses they should expect in order to make smart decisions and promote a healthy financial future. We hope that the information provided below will help you gain a better understanding of which financial resources will be available to you and how you can best direct your efforts to manage the costs of your legal education.
First, let's examine common ways that law students finance their legal education. Below are the financial aid options for ONU Law students.
Merit Scholarships
Private Scholarships
Loans
Federal Work Study Program
Post-9/11 GI Bill/Yellow Ribbon Program (US Military Veterans)
Public Service Loan Forgiveness Program
Not everyone will be eligible for or take advantage of all the options mentioned. Let's examine each option below in greater detail to see which would be available for you based on your individual circumstances.
Merit Scholarships
Merit scholarships are one of the most popular ways that students finance at least a portion of their expenses, and awards can range from partial to full-tuition depending on the institution. Merit scholarship awards recognize exceptional students who possess outstanding academic credentials, diverse backgrounds and leadership abilities that indicate the applicant's potential to excel in all aspects of the law school experience. ONU Law awards more than 2.4 million dollars in merit-based scholarships to highly qualified students each year.
To determine your eligibility for merit scholarships, a good place to start is by looking at a law school's median LSAT and GPA. If you're higher than the median in both categories, you'll be a more competitive candidate for the most prestigious scholarship awards offered by that institution.
Institutions will offer different types of merit scholarship awards depending on whether you're a first-year or transfer applicant. Most institutions reserve the bulk of their scholarship budgets for incoming first-year students (and a small portion for transfer students), but some may also offer awards to second and third-year students who demonstrate exceptional academic achievement during their first or second years of law school as well.
First-Year (L-1) Awards
Some institutions may choose to award you a specific scholarship or set of scholarships (e.g. "Dean's Scholarship") to signify your achievements, while others will present you with your award as one lump sum. Be sure to take a look at your scholarship letter to determine whether your award is an annual award (a certain amount per year) or whether your award is the total scholarship for your three years of attendance. You'll also want to determine what the requirements are to maintain your scholarship award; for ONU Law, we guarantee a student's scholarship for three years provided that the student maintains good academic standing, which, for us, is a 2.0 GPA. If you have questions, contact your school's Office of (Law) Admissions!
At ONU Law, students are automatically evaluated for scholarships when they are admitted to the College - no extra materials required. However, for some schools, especially for the most prestigious scholarship awards, you may be required to submit supplemental essay materials for consideration.
High Achiever Awards (for L-2 and L-3 students)
Students who exceed their predictors their first year and do exceptionally well have the opportunity for a possible increase in their original award offer. This type of scholarship is much less common than first year awards, so be sure to check with a law school's Office of Admissions to see whether this is a scholarship opportunity available to you!
Transfer Scholarships
ONU Law reserves funding to be awarded to students interested in transferring to ONU Law after their first year of law school. These awards are based on a holistic review of the student's application, with their performance at their current institution also taken into account.
For more guidance on scholarships and how to best position yourself to be a strong candidate, check out "How hard is it to get scholarships for law school?" As a general tip, make sure to stay involved, invest into your LSAT preparation and prioritize your academics while in undergrad!
Private Scholarships or Grants
Merit scholarships are awarded through the law school itself, but you can also find private scholarships offered by law firms, nonprofits, companies, foundations and more. These scholarships are often mission- or affinity-based, and award winners are selected by way of an essay competition. Each scholarship or grant will have its own requirements for eligibility.
While most private scholarships can only contribute smaller sums towards a student's overall costs, be on the lookout for competitive fellowships that also offer an internship experience in the summer as well! Experiential learning is one of the core aspects of a legal education, training lawyers to be practice-ready graduates who can translate the theory learned in the classroom to real-world settings.
Loans
Even if you receive a substantial merit scholarship award, most students will also need student loans to finance part of their tuition and some of the additional costs of attendance (housing, utilities, books, transportation, etc). There are two types of federal loans available to law students who are US Citizens: the Direct Unsubsidized Loan and the Direct Graduate PLUS Loan. Both federal loans are unsubsidized, meaning that the interest accrues on the loan once the loan is disbursed, and students can borrow up to the full cost of attendance for law school.
To apply for a federal student loan, you must submit your FAFSA on the Department of Education's website. Entrance counseling and the master promissory note are required components to accept your loan through the federal government; these requirements ensure that you understand the gravity of the financial commitment you are making and serve as a binding legal statement that you acknowledge the terms and conditions of your loan.
Federal Direct Stafford Loan (Unsubsidized)
ONU Law students are eligible for up to $20,500 in unsubsidized Stafford loans. Federal loans are deferred until the student graduates or falls below half-time status. The grace period is six months.
Federal Graduate PLUS Loan (Unsubsidized)
Payments on a Grad PLUS Loan typically begin after graduation and may be used to cover any remaining educational needs up to the total cost of attendance. A credit check is required for this loan.
Private Loans
Private loans from other lenders are an option as well, though we encourage students to shop around and to be conscious of interest rates. A student can borrow up to their cost of attendance minus all other financial aid sources. Interest usually begins accruing once the funds are disbursed to the student's account.
We know the loan process can be daunting, so, if you're not sure where to start, contact your school's Office of Financial Aid! Our financial aid counselors work with students one-on-one to walk them through the process of applying for and receiving federal aid in addition to other services like budgeting assistance and tuition payment plans.
Work Study
Another opportunity available to some prospective law students is federal work study, which can be included as part of a student's financial aid package. While it's not recommended that students work during their first year of law school, sometimes it's required for students so that they are able to finance their living expenses or continue supporting their families. Federal work study programs are different from part-time employment off-campus because the funding must be spent on items or services directly related to your cost of attendance.
If you qualify for work study, you can get a part-time job on campus or often in the law school itself in one of the administrative offices or in the law library. Many campuses reserve certain jobs solely for work study students, though there are usually other campus opportunities for non-qualifying students looking to earn an income. Second and third-year law students can also be eligible for positions as teaching assistants, research assistants, or admissions staff members at many institutions, which are paid positions.
A Quick Note About Working While in Law School
If you're considering working while in law school, our Admissions staff encourages students to be thoughtful about their time management and anticipate the personal and academic challenges they may face. The first year of law school is very demanding in its curriculum requirements and can be a major transition for many students, so, if you can afford to take time off of work to focus on your legal studies, that's often the best way for you to ensure your success academically.
Post-9/11 GI Bill/Yellow Ribbon Program
If you happen to be a military veteran or current service person, you may qualify for federal funding towards your JD through the U.S. Department of Veterans Affairs. Through the Post-9/11 GI Bill/Yellow Ribbon Program, it's possible for many veterans to attend a private law school tuition-free at programs like ONU Law. To find out if you're eligible for the Post-9/11 GI Bill/Yellow Ribbon Program, reach out to your local Veteran's Affairs office, or contact your Admissions Team at a law school you're interested in. There is usually a team member in the Office of Financial Aid who specializes in military benefits who would be able to work with you to make sure you have an understanding of your benefits and whether you qualify.
If you're uncertain whether the law schools you're interested in participate in the Post-9/11 GI Bill/Yellow Ribbon Program or what type of funding they offer, you can follow the link provided to look on the U.S. Department of Veterans Affairs website.
Public Service Loan Forgiveness Program
If you intend to work in the public sector (e.g. in a government organization or in a non-profit that is tax-exempt under Section 501(c)(3), you may be eligible to have your graduate student loans forgiven after 120 qualifying payments. For more information about the program, please visit the Federal Student Aid website here.
Financial Education Resources for Law Students
For more information about financial education, like creating budgets or finding private scholarships, we encourage you to explore some of the resources below.
AccessLex
For more information and resources about financing your legal education, AccessLex is a good place to start. Their website contains a law scholarship database, student loan calculator, free webinars and workshops, a helpful guide called "Financing Your Legal Education," and more!
Federal Student Aid Website
The U.S. Department of Education provides a lot of helpful resources on their website related to both applying for federal student loans as well as repayment options. These repayment plans can help you create a budget for your monthly expenses after graduation, and we highly recommend taking advantage of these resources to help you manage your finances and stay on top of deadlines.
Law School Admissions Council
The LSAC has several great resources for financial education, such as scholarship listings, webinars, loan information, and more. Be sure to check out to see whether you might be eligible for an LSAC fee waiver to help finance some of the costs associated with the application process for law school.
Next Steps After Being Admitted to a Law School
Once you've thoroughly examined all your financial aid options, the next step is to compare your law school offers. Before submitting your deposit and commiting to a school, be sure to create a budget so you'll have a better idea of how to finance the cost of your education. Within that budget, you'll want to factor in the total cost of attendance (including estimates for housing, utilities, books, fees, food, transportation, etc), minus any merit scholarships, loans, and any external grants or private scholarships you may have received. You'll also want to account for the interest fees for your student loans that accrue over time in addition to the original amount borrowed.
To set yourself up for the best financial future, consider your employment goals upon graduation and the average salary a legal professional makes in that area (both the practice area and the geographic area you're targeting). If choosing your top law school choice will put you in a stressful financial situation after you graduate, perhaps it's time to consider some of your other schools more carefully or even think about reapplying next year to spend time making your application more competitive for higher scholarship awards.
Remember Not to Sacrifice the Quality of Your Legal Education
Being a "Best Value" law school does not just mean that we are a school that offers competitive scholarship and lower tuition costs. It means that we can afford to do all of that while maintaining the integrity and efficacy of our program. You should never be looking at a law school for the sole reason of a lower price tag; instead, consider factors like clinic/externship placements, bar passage rates, job outcomes, alumni network, academic resources, faculty, ABA accreditation, and student experiences as key indicators of a program's quality.
Despite the expense, it's important to remember that law school is ultimately an investment in your future. So be aware of the total cost and be realistic about your employment goals so that you're setting yourself up for success in the long-term. If you're still questioning whether such an investment is going to ultimately be the right choice for you, we encourage you to visit our article, "Is Law School Worth the Investment?"