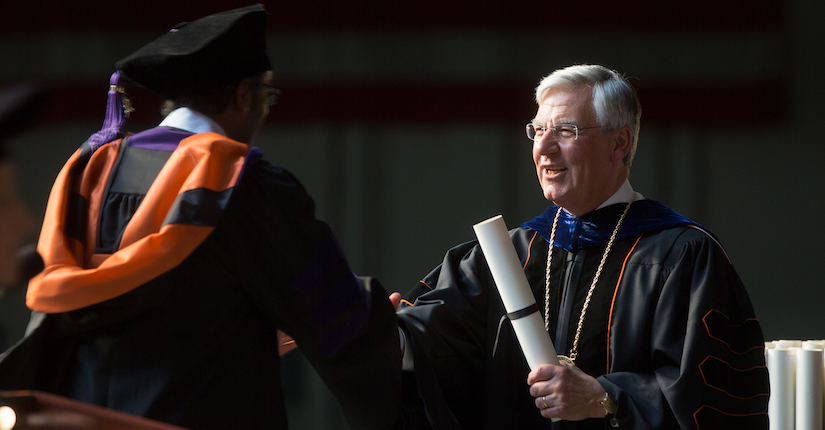 Are you torn between continuing your education or heading into the workforce? Or weighing options such as a master's degree versus Juris Doctor (JD) degree? Making decisions about your future is no easy task. There isn't one right answer for all people and situations. 
By carefully considering your options and potential outcomes, you can take a calculated approach to decision-making. Use the following information to determine if law school is worth the investment. 
Understanding the Cost of Law School
It's no secret that college expenses have risen greatly over the years. Law school is no exception. According to U.S. News, the average cost to attend public law school is "$28,046 or $41,549 for full-time students, depending on residential status, compared with an average of almost $50,000 at private schools, regardless of residential status."
Law school also requires a personal time commitment. During your first year of school, you'll often exchange time with family or friends for many hours of studying. Before deciding to go to law school, consider the time and financial investments.
Time Investment
You can expect to dedicate a significant amount of time to pursue a law degree. Students spend hours in the evenings, between classes, and on weekends prepping for class, especially during the first year of school. 
In the beginning, the subject matter and teaching style may feel unfamiliar. First-year students spend much time re-reading the same case studies or working with classmates to break down the complex subject matter. But, you'll get more efficient in your second year. 
Financial Investment 
Getting your JD degree often means you'll need to take out a school loan, apply for grants and scholarships, or find other ways to come up with the money for your education. If you already have undergraduate school loans, taking on a new loan may seem like a larger burden. 
However, the cost of your law degree will vary based on the school. For instance, ONU Law offers the lowest private law school tuition in the Great Lakes Region. Furthermore, 98% of incoming students in 2020 received some form of aid, with the average award equalling $18,659. There are many scholarship opportunities for law school available. 
Fortunately, law students see a return on their investment. The Economic Value of a Law Degree, written by Michael Simkovic and Frank McIntyre, states, "For most law school graduates, the net present value of a law degree typically exceeds its cost by hundreds of thousands of dollars."
Knowing What Your Law School Investment Yields
Now that you know the costs of law school, both on your time and finances, it's time to look at what you get back. Again, this will vary by student, college, and location. Selecting the right school means getting what you want at a price you can afford. 
Earn More Money Over Your Lifetime
Although you may start with higher debt, The Economic Value of a Law Degree finds, "The median and even 25th percentile annual earnings premiums justify enrollment." Moreover, "a law degree is associated with a 60% median increase in monthly earnings and 50% increase in median hourly wages."
Starting salaries may dissuade you from investing in law school. Nevertheless, research shows that "law degree holders' earnings grow rapidly and peak late in life," suggesting better financial outcomes than forgoing a JD degree. 
Regardless if you become a practicing lawyer or use your law degree to further your career, you'll likely earn more in exchange for the wealth of knowledge and potential contacts you bring to a corporation and position. 
Increase Your Career Opportunities
A law degree can break down barriers in the workplace and open doors to many potential opportunities. Much of what you learn in law school transfers well to the corporate world, regardless if that's at a large nonprofit or business. 
Gaining experience during law school and learning key skills such as negotiation, dispute resolution, and how to inspect a contract can help you close more deals and satisfy company executives. Choosing a law school with experiential learning is a key part of ensuring your law degree will be worth the investment. ONU Law provides high-impact training through law clinics and externship programs that allow students to attend client meetings, make oral arguments in courtrooms, write legal briefs, attend court hearings and trials, and more.
Also, take a close look at the law school's career office. Do they support students during and after law school in finding career opportunities? The Office of Career and Professional Development supports students in every part of the job search, from networking opportunities and individual counseling to online resources and alumni connections.
"ONU is really hands-on," according to Christopher Calpin, JD '18. "There was a time when I think I was in the Office of Career Services every day. They did everything they could to guide me through the summer association hiring process trying to get me a job at a firm, so I feel like they really care about you succeeding. I think you get out of it what you put in."
Interact With Influential People
Law school provides unique experiences and opportunities beyond the classroom. Moot court, externships, and competitions give you practical experience while introducing you to prominent people. Each interaction is an opportunity to make an impression and develop a relationship that can help you later. 
After all, success often stems from who you know. By nurturing these connections and staying involved with your school and alumni, you may get a heads-up on job opportunities or have a list of contacts to reach out to for assistance. The ONU Law alumni network spans 5,300+ living alumni in all 50 U.S. states and abroad, providing ample opportunities for connections. 
At ONU Law, relationships are crucial. Michael Gionta, J.D. '17, says, "The people I've met and the friends I've made are unforgettable. ONU Law helps everyone grow close throughout their experience."
Use Law Knowledge to Further Life Goals
Your future plans may include any number of things. Maybe you want to own a business, invest in a franchise, or purchase property. In each instance, you'll pay a hefty price for legal advice. 
However, law school teaches you how to advocate for yourself, whether that's negotiating a new car's price or handling an insurance claim. Moreover, a JD degree can allow you to follow passions like assisting with a cause close to your heart. 
Determining Your Return on Investment
Even with the potential for higher income or career opportunities, you have to know what will satisfy you. What do you want to get from a law degree? Knowing this beforehand and making goals to get there can help you determine if law school is worth the investment. 
A Gallup-AccessLex Institute study of Juris Doctor degree holders compared graduates' reasons for attending law school versus their appraisal of their law degree's value. Those motivated by money felt less satisfied than people driven by other factors. 
The percentage who strongly agreed that law school was worth the cost and their motives for attending law school include:
60%: To be their own boss
53%: Obtain skills relevant in a broad range of jobs
46%: The job they wanted required a law degree
44%: To make them competitive in the job market
39%: To get a high-paying job
Law Degree Income Minus the Cost of a Law School Degree
According to the U.S. Bureau of Labor Statistics, the 2019 median pay for a lawyer was $122,960 per year or $59.11 per hour in 2019. Now, if you believe your bachelor's degree will put you in a career where you'll make this amount or more, then you may question the value of a law degree. 
Consider looking at your total lifetime earnings by estimating what you'd make based on your bachelor's alone. Then, explore potential career paths with a law degree to determine what the difference is. You may find that the cost of law schools pays for itself with increased income within a few years. 
Of course, your specialty and location affect your lifetime earnings, while your lifestyle choices may result in paying less or more interest on a law degree loan. 
Job Security of a Law Degree
Automation and the outsourcing of menial tasks reduce the amount of work available for first-year law grads. Yet, legal services are difficult to automate. Complex communication skills, problem-solving capabilities, and non-routine tasks require a hands-on approach. 
Data shows that the college loan default rate is roughly a sixth of the rates for students graduating with a bachelor's degree. Michael Simkovic and Frank McIntyre say, "The data suggests that the law degree reduces the risk of distress by reducing the likelihood of unemployment, increasing labor force participation, and increasing expected earnings over the course of a lifetime." 
Learn How Law Fields and Location Affect Income
If your motivation is money, you may not be satisfied as a public defender. However, patent and intellectual property (IP) attorneys, trial lawyers, and tax attorneys all earn a higher income and are considered in-demand fields. 
Likewise, your location plays a role in your income. For instance, Mississippi's mean wages are $97,990, whereas the mean annual salary is $138,610 in Pennsylvania. 
Consider Your Motivators
If obtaining a law degree satisfies your objectives, you're likely to feel that a JD degree is worth the cost. Therefore, before making a decision, examine your career and life goals. Visualize how a law degree fits into your plan and helps you reach your desired outcomes. This will help you uncover the intangible, non-monetary benefits that make earning your law degree worth the investment. 
Is Law School Worth It? 
Although this question is something only you can answer, law schools provide lifelong learning and networking opportunities while increasing your lifetime earnings. However, Gallup-AccessLex Institute says, "Job-related assistance provided by their university is directly related to how graduates evaluate the value of their degree."
In short, selecting the right law school can deliver a higher return on your investment. High first-time bar passage rates, clinical and externship placements, and supportive advisors help you achieve your goals. At ONU Law, we're actively committed to the success of our students. 
Explore your options by scheduling a campus visit.