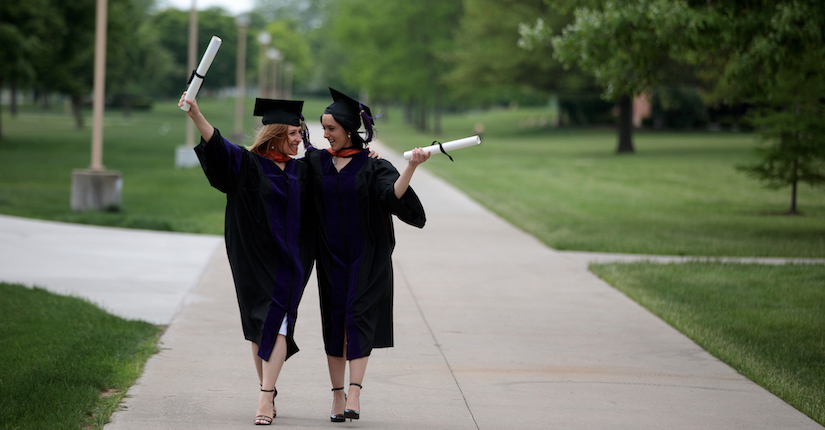 Scholarships are an important part of funding your law school education. But with so many people going to law school, competition for scholarships can be fierce. Getting a scholarship — or multiple scholarships — requires time, research, dedication, and planning. 
We've compiled this guide to help you get started with your law school scholarship search.
First, how much is law school? 
According to U.S. News & World Report, the cost of tuition and fees at a ranked law school on average in 2019-2020 was $40,244 for full-time residential students and $46,161 for out-of-state students.
However, this can vary significantly by school depending on if it's private vs. public, the location of the school, and its ranking. ONU Law is committed to providing private law school education that is accessible to incoming students. With a tuition of $30,130, ONU Law has the lowest private law school tuition in the Great Lakes Region.
Do law schools offer a full-ride scholarship? 
Some law schools offer a "full-ride," although this can mean a lot of different things. In law school, full-ride programs usually cover the full cost of tuition — not living expenses, books, etc. These full-ride scholarships are highly competitive.
For example, the William J. Brown Scholar Program at ONU Law provides full tuition and a summer internship in Washington D.C. with the National Association of State Attorneys General. The program was established in honor of a widely-respected ONU Law alumni, and is awarded to one student in each incoming class. The selection process is competitive, and the scholarship is renewable for three years. 
What type of scholarships are available? 
Need-based scholarships
Need-based scholarships are awarded by law schools based on a student's demonstrated financial need. To be eligible for need-based scholarships, you will have to complete the Free Application for Federal Student Aid (FAFSA), as well as the law school's financial aid assessment form, if applicable. 
Merit-based scholarships
Many law schools offer merit-based scholarships based on academic achievement, namely your LSAT score and undergraduate GPA. Merit-based scholarships can also be given to second- and third-year law students upon achieving academic excellence in their first year as a law student.
ONU Law awards merit-based scholarships that range from $5,000-$31,000 each year. Everything from your LSAT score and undergraduate GPA to your employment experience and extracurricular activities is considered.
Merit-based scholarships also exist beyond law schools and can come from law organizations, law firms, and other institutions.
Criteria-based scholarships
Criteria-based scholarships are offered when a student meets specific guidelines. For example, a university can offer a scholarship specifically to fund current undergraduates that wish to attend law school there. 
Criteria-based law scholarships can also come from external sources, such as a fund for people who want to study certain types of law or a law firm looking to recruit students.
Endowed scholarships
Endowed scholarships are also for students who meet certain criteria, but they are set up by a specific donor who creates the qualifications. These requirements may be for students who participate in specific activities or who are pursuing a certain field of law. 
External and local scholarships
Many organizations beyond the law school offer scholarships with a variety of qualifications and amounts. Looking for organizations in your field of law, location, or background can help narrow down your selection and help you decide which schools you should apply for. 
Where can I find law school scholarships?
Law Schools
The first place to start looking for scholarships is at the law schools you're applying to. Most law schools will consider students for need- and merit-based scholarships with their application; however, you may also need to fill out additional applications for more specialized scholarships. 
Law Associations & Organizations
There are many legal associations that offer scholarships, including the following:
Law Firms
Law firms also offer scholarships for law school. However, it is important to review the requirements of the scholarships, as some may require that you work at the law office upon graduation.
Scholarship websites
In addition to finding law school scholarships at law schools and organizations, there are many scholarship websites available for you to include in your scholarship search. 
8 Law School Scholarship Tips
There are several ways you can maximize your scholarship opportunities before and during your time as a law school student:
1. Have a test prep plan
Your LSAT score is an important factor in determining what merit-based scholarships you will be able to attain. Dedicating time to study for the LSAT, planning your admissions timeline to allow yourself to retake it if needed, and joining a test prep course are all ways you can ensure that your LSAT score is competitive. In addition, you should evaluate the median LSAT score of the law schools you're applying to in order to see where your LSAT score will make you an above-average applicant.
2. Polish your application
Every part of your law school application counts. Take care in crafting your résumé and writing your personal statement — winning a substantial scholarship is about wow-ing admissions officers and standing out. Your personal statement can often be the deciding factor between you and another student with similar academic credentials when it comes to scholarship dollars.
3. Consider early decision
Full scholarships are often given exclusively to early decision applicants. If you want to evaluate a variety of options rather than committing to one school, an early decision program isn't for you. 
4. Apply early
Applying to law school early can help you optimize your scholarship opportunities, as scholarship decisions are made on a rolling basis. You will also get more access to government aid opportunities.
5. Don't rule yourself out
Even if you think you won't get a scholarship, there's no downside to applying other than the time you'll spend on the application. Hailey Russell, Director of Law Admissions, says, "Securing a scholarship at ONU Law is actually quite an easy process. Admitted students are reviewed for merit-based aid at the time that they submit their application and notified of their award when accepted. In fact, 98% of our students in the 2020 entering class received a law scholarship to help offset the cost of attending."
6. Don't be afraid to negotiate
Negotiating your scholarship offers is fairly standard for today's admissions process. While law schools have different policies, students that are open to negotiation can send a letter expressing that they want to attend there but need a more comprehensive financial aid award package. In this letter, you should include:
Why you want to go to that school
What is stopping you (financially)
What other offers you're considering 
What other aid you're looking for
If you are going to negotiate, save your offer letters and get scholarship offers in writing in the event that you want to write a negotiation letter. 
For example, Samson Blankenship, first-year law student, shared: "When I received my acceptance, I was notified by phone from the dean that I was accepted and the amount of scholarship money I was awarded. Even when I got a larger scholarship from a different school, the admissions and deans office worked with me to increase my scholarship. The personal, diligent, and prompt help they gave me convinced me that ONU Law was the right choice."
7. Know how much you need
You should calculate exactly how much you'll need to cover the entire cost of attendance — tuition, fees, books, room and board, transportation, and personal expenses — so that you can put together your scholarship and financial aid package accordingly.
It's also important to keep in mind the difference between percentages vs. numbers when evaluating scholarship offers. 75% of the tuition vs. a $50,000 scholarship could mean completely different offers depending on the tuition, as well as the cost of living, at different law schools. 
8. Read the fine print
Pay attention to scholarship requirements and terms before applying — the scholarship may come with strings attached, such as pursuing a specific career path or working in the public sector. You have to make sure you're willing to make whatever commitment is required before applying, even if that means maintaining a minimum GPA throughout law school. 
Scholarships at ONU Law
ONU Law is dedicated to providing an exceptional legal education that you can afford. Every applicant is evaluated for need and merit-based scholarships, and our admissions team works closely with admitted students on ensuring their financial needs are met. We're available to answer any questions you may have about law school scholarships and your scholarship opportunities at ONU Law. 
Learn more about our admissions & aid.