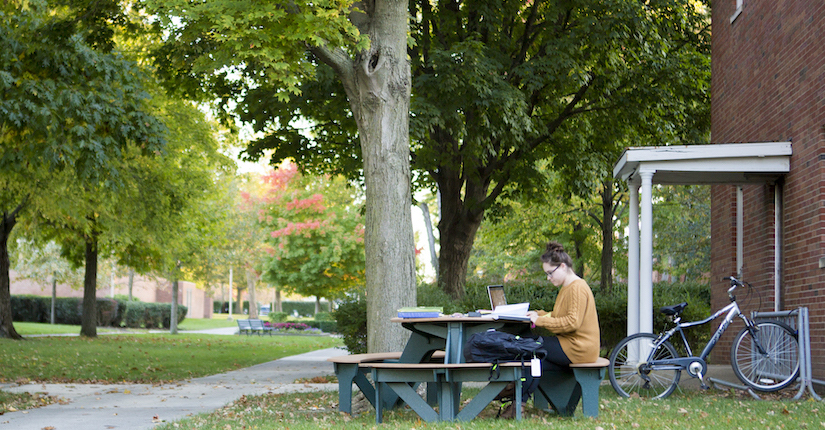 While waiting until the last minute doesn't mean you'll get denied, applying to law school early gives you several advantages. Since the Law School Admission Test (LSAT) is now offered roughly every five weeks or nine times a year, you can select the best period for you while leaving enough room in your schedule to complete the application process early.
However, college admission rules and timelines differ, so reviewing each school's requirements and schedule is essential. After all, you'll need to give yourself plenty of time to complete the LSAT and application packet. Sending your app in early often means planning your approach more than a year in advance. Explore the reasons why you should apply to law school early and how each one impacts your future as a J.D. student.
What's the difference between rolling admission and regular decision?
According to The Princeton Review, "Colleges with rolling admissions evaluate applications as they are received versus waiting to evaluate all applications after a hard deadline." Schools that offer rolling admissions accept applications throughout the year. Some of the earliest admission processes start in July and take applications through April.
Colleges make decisions upon receipt of your application until slots are full. So, applications received later in the cycle may face more competition as fewer open spaces exist. For example, Ohio Northern University takes applications on a rolling basis from September through August. ONU Law recommends that students "apply early in the cycle for the greatest consideration for admission and scholarship and grant awards."
Other schools use regular decisions, which means students can send in applications up until the deadline. The admissions officers review all applications once the deadline passes. For best results, submit your applications to schools with rolling admissions first, then complete the process at schools that use a regular decision method.
Does it matter when you apply to law school?
Applying to law school early, especially for schools that admit students on a rolling basis, gives you better chances of acceptance. But, sending a prompt application won't help if you rush through your materials. Application mistakes demonstrate a lack of attention to detail, and the sloppiness of hastily put-together forms can harm your odds of admission.
Plus, you should set aside enough time to retake the LSAT to get the score you need. Also, some prospective students prefer to wait so they can submit senior-year grades. While you may see better results and higher acceptance rates when applying early, it's equally important to give yourself enough time to submit a high-quality resume, law school personal statement, and supplemental materials.
Is it better to apply to law school early?
In most cases, sending your application months before the deadline means you'll get a decision earlier and avoid waiting for a last-minute acceptance letter in the spring. The benefits of applying early include:
You can opt for early decision programs.
Applications submitted in the fall may increase your chances of acceptance.
You'll have access to more scholarships and government aid opportunities.
Applicants face less competition with those with similar demographic, academic, and professional profiles.
Access to more housing decisions when based on a first-come, first-served basis.
Should I do early action or early decision?
Law schools may offer early action or early decision (ED) options. These two choices are not the same, so it's crucial to know what individual colleges expect for each selection. Typically, your chances of acceptance may rise slightly for meeting an early action deadline, whereas the rate is higher for the binding early decision option.
Early Decision. Typically used only for reach schools, the ED is a binding promise to attend the school if you get accepted. You'll get a quick decision and possibly better chances of getting into your dream school by going this route. However, you must be sure that you want to attend the school as you can't change your mind later.
Early Action. Accelerated or early action applications are non-binding. You get a chance to apply before the application process opens up to the general pool and often get a quicker decision by a guaranteed date.
What's considered early for law school applications?
Most law school applications are considered early when received in the first few months of the process, which is late summer or early fall. However, many people don't apply right away. They may want to take the LSAT once more during the summer months or find their summer schedule doesn't leave enough time to complete the application process.
Colleges tend to see more applications come through in the later fall months. Applications received in January or after are closer to final deadlines, where schools may have fewer open slots. Find out what your college considers early by heading to its website. For example, look for:
If the school uses rolling admissions or a regular decision method
Priority application deadlines which guarantee you'll receive a decision by a specific date
Timelines and due dates for merit scholarships or priority housing options
If you're unsure about the process or what constitutes an early application, contact the admissions office for clarification.
How long does it take for law schools to make a decision?
The best part about applying early to schools with a rolling admissions process is that you'll get your decision earlier. Most schools decide within four to six weeks after submitting your application. If you apply in early fall, you can share your good news with your family during the winter holidays. All other decisions usually arrive in the spring. You'll be notified of your status (acceptance, waitlist, or rejection) before summer.
5 reasons why you should apply to law school early
Are you still unsure if you should submit your application early? Although it's important not to rush your application process, you could enjoy significant advantages if you can apply early. Explore these top reasons why applying to law school early benefits you.
1. Avoid last-minute application errors
Although many law students do well under pressure, it still leaves room for error. As humans, we tend to underestimate the time it'll take to do a task. The phrases planning fallacy and optimism bias are often used to describe this topic.
Planning fallacy means that people fail to account for potential complications or develop their time frame based on past projects.
Optimism bias means people think that even if a task took longer in the past, they'd complete it quicker the next time around. 
Give yourself as much time as possible when applying to law school—set deadlines for each element of your application, including writing your personal statement and gathering personal recommendations. Use your extra time wisely by getting help with various components or improving your work experience. 
2. Extra opportunities to correct mistakes
From a low LSAT score to law school application mistakes, you can manage any problems that arise without worrying about a tight deadline by starting the admissions process off early. For example, if you retake your LSAT by April or August, you can avoid the rush of applications after the October LSAT exam date.
It's also important to note that some schools offer or require interviews, so applying early gives you more time to schedule, prepare for, and attend onsite or virtual meetings.
3. Know your options ahead of time
What happens if you wait until the last minute and your top three schools don't accept you? In most cases, it leaves you scrambling to complete new applications and review prerequisites before the deadline. It also reduces the time you'll have to compare or visit colleges. Instead, apply early and get your decision within a couple of months. Doing so leaves you time for:
Visiting schools. Schedule on-campus trips and get familiar with the school and area surrounding it.
Comparing colleges. Make your final decision after reviewing the ABA Standard 509 Information Report for each school.
Budgeting. An earlier decision gives you extra time to explore funding options, and you may even qualify for more scholarships. 
4. Receive more scholarships
It's best to apply for your Free Application for Federal Student Aid (FAFSA) as soon as it opens on October 1. The U.S. Department of Education says, "Some scholarships look at your FAFSA results, and some of those scholarships have early deadlines." Furthermore, aid is limited and may run out during the cycle.
Early applications may also help you qualify for more school scholarships handed out on a first-come, first-serve basis. By submitting your application early, you'll find out about your funding options and have opportunities to secure a scholarship, grant, or loan.
5. Enjoy the holidays stress-free
When you apply in September, you'll have decisions coming in around November or December. That means you may get all the information you need to decide before Christmas! You can tell family and friends the good news and enjoy the holidays without stressing about your pending application.
Prepare to apply to law school early
Put your best application forward, and get a timely decision by preparing your documents months ahead of time. You'll want to contact professors or work supervisors for possible recommendations and leave enough time to get extra eyes on your admission materials. Although an early application won't guarantee you admission or quicker results, there's a good chance that your September application will earn you a decision by December.