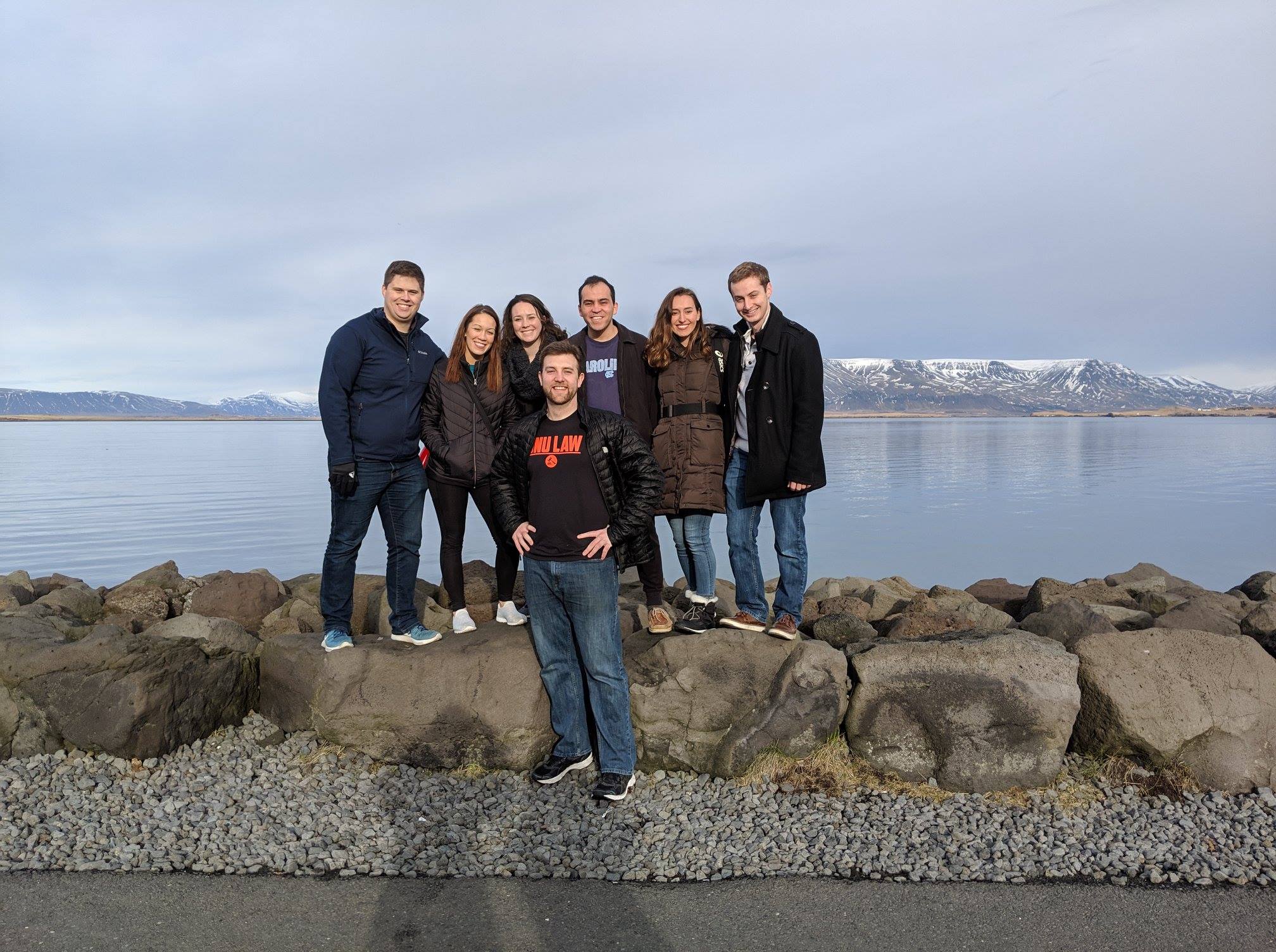 Student organizations play a vital role in creating a sense of community and enriching your experience in law school.  Find your niche in one of our 20+ student organizations at ONU Law!
ONU Law Student Organizations: How to Get Involved
ONU Law offers small class sizes, practical skills development, engaging courses, and best of all, a close-knit community. One of the ways we foster that sense of community is by giving  students the chance to join, participate and lead student organizations in areas across legal disciplines. With over twenty organizations to choose from, it's easy to find a place to make connections and spark your passion.
Why Participate in Student Organizations? 
At ONU Law, life is focused, but fun. We encourage you to get involved, explore, make friends and pursue different interests. There are many benefits to participating in law student organizations.
Find Your Passion
Joining student organizations helps you gain experience in different areas and determine what you're most interested in. For example, joining the Public Interest Law Association may help you realize what it takes to pursue public interest law in your career and help you decide if that's the career path you're interested in taking. 
Grow Your Network
In addition, student organizations can help you grow your professional network, not only among law students, but also with visiting guest speakers and alumni. You'll meet like-minded people who can provide you with useful career connections in the future. Networking is key in the legal profession, so starting to build relationships early while you're in law school will provide you with a leg up when it's time to search for your first job.
Attend Events and Programming
Student organizations host programming and events that range from pure fun to educational and informative. For example, the Black Law Students Association hosted the ONU Law 2021 Diversity Forum, which discussed censorship and its effect on freedom of speech, specifically "cancel culture," and the First Amendment. A month before that event, the ONU Law Student Bar Association hosted a trivia night. There are a variety of events to choose from that can enrich your experience in many different ways. 
"The events these organizations sponsor offer additional opportunities for engagement," according to Ryan Davis, L-3. "For example, each year the Public Interest Law Association puts on an expansive auction, allowing the law school community to bid on dozens of items donated from Ohio Northern's army of dedicated alumni. The money raised from the auction goes directly towards scholarships for ONU Law students pursuing a career in public service."
De-Stress From Law Studies
It's important to study and learn in law school, but it's also important to take breaks and connect with your fellow students. Student organizations put on events that allow people to de-stress and have fun. 
"One of my favorite events here on campus that most everybody goes to, and that's why I like it, because everyone comes together at once, is Barrister's Ball," said Maggie Kimmel, JD '20. "It's a time for students and faculty to come together, and there's dinner, there's dancing, there's photo booths — it's great." 
"My best experience has been the PAD football game," said Sofia McDaniel, JD '21. "Many of the 2L girls bought hoodies with our team name on them. We took a break from studying to play against the upperclassmen and have a BBQ afterwards. It was a fun way to get together and be outside and active." 
"There's no hiding it — law school can be stressful — and I think that these student organizations are a great outlet for some of that stress," said Evan Joseph, JD '20. "They're great for social activities. They're great for also expanding your horizons and the scope of your interests in a certain type of law, and you can utilize those connections throughout your law school experience but also after." 
Many Opportunities to Choose From
There are many organizations to choose from. Not only can you join multiple organizations during your time as a law student — you can also start your own. 
"I have had the opportunity to become a part of various student organizations including the Black Law Student Association, Sports & Entertainment Law Association and Phi Alpha Delta Law Fraternity, but what is even more exciting is that I have had the opportunity to create a Civil Rights Law Review with the help of my peers and support from the Dean and faculty," said KT Martin, L-3.
Student Organizations
There are organizations for many interests and areas at ONU Law, and the list is always growing as students start new ones.
Agricultural Law Society

Black Law Students Association

Christian Legal Society

Environmental Law Society

Federalist Society

Icelandic Legal Exchange Program

Association for Immigration and Refugee Reform

International Law Society

J. Reuben Clark Law Society

Legal Association of Women

Legal Ethics and Technology Association

Phi Alpha Delta International Fraternity

Public Interest Law Association

Student Animal Legal Defense Fund

Student Bar Association

Law School Veterans Association

Sports and Entertainment Law Association
Each organization has an on-campus faculty advisor and support, allowing students to achieve their goals.
Additional Opportunities
In addition to student organizations, there are other opportunities that can help you grow and connect on campus. 
Study Abroad and Exchange Programs
There are several study abroad programs that allow you to gain experience and reach outside of your comfort zone, including Iceland, London and South America. 
"With the Icelandic Legal Exchange Program, we have them come over here for about a week in October, and then we go over in the spring to basically exchange cultural ideas, as well as learn their legal system," said Evan Joseph, JD '20.
Study abroad allows you to make connections they wouldn't normally have the opportunity to make and broadens your cultural perspective.
Law Review
The student-run Ohio Northern University Law Review is a prestigious journal that publishes articles covering a wide range of legal issues. Joining the journal provides hands-on experience in editing and managing an academic publication. 
Moot Court 
You can also become a member of Moot Court and participate in trial competitions throughout the country. You'll gain valuable trial advocacy skills and experience working under pressure. 
How to Get the Most Out of Joining Student Organizations
When joining student organizations, there are many ways to make the most of your experience. 
Start in Your First Year
While L-1 comes with a lot of change and stress, it's important to make time to join a few student organizations. It's easy to get involved with student organizations during your first year as a law student at ONU, according to Ryan Davis, L-3. 
"As a first-year student, you will be presented with numerous opportunities to help shape the direction of the organizations you join or even start new student organizations from the ground up." 
Try out multiple organizations to see which ones will end up being the best fit for you before you commit to joining them. Then, join one or two your first year, and commit to helping out with some easier tasks so that you can get involved without taking up too much of your time as you adjust to law school. This allows you to get your feet wet without drowning. 
Expand Your Involvement After L-1
After your 1L year, you can join more groups or start a new group if what you're interested in isn't currently offered at ONU Law. 
In addition, you should pursue a leadership position in your favorite organization. This not only looks great on your resume, but is also a bigger way for you to make an impact on the community. Being more involved allows you to have a greater impact on and say in the events the organization hosts, what speakers are invited and what programming is scheduled. 
"The small class sizes at Ohio Northern allow for leadership opportunities that simply don't exist in larger law schools," said Ryan Davis, 3L.
Enrich Your Experience at ONU Law
Participating and leading in student organizations at ONU Law provides many benefits during your time at law school and beyond. 
"No matter which area of the law captivates you, the student organizations at the ONU Law provide invaluable benefits that will enrich your time in law school and carry you forward in your legal career," said Ryan Davis, L-3. 
Learn more about student life at ONU.