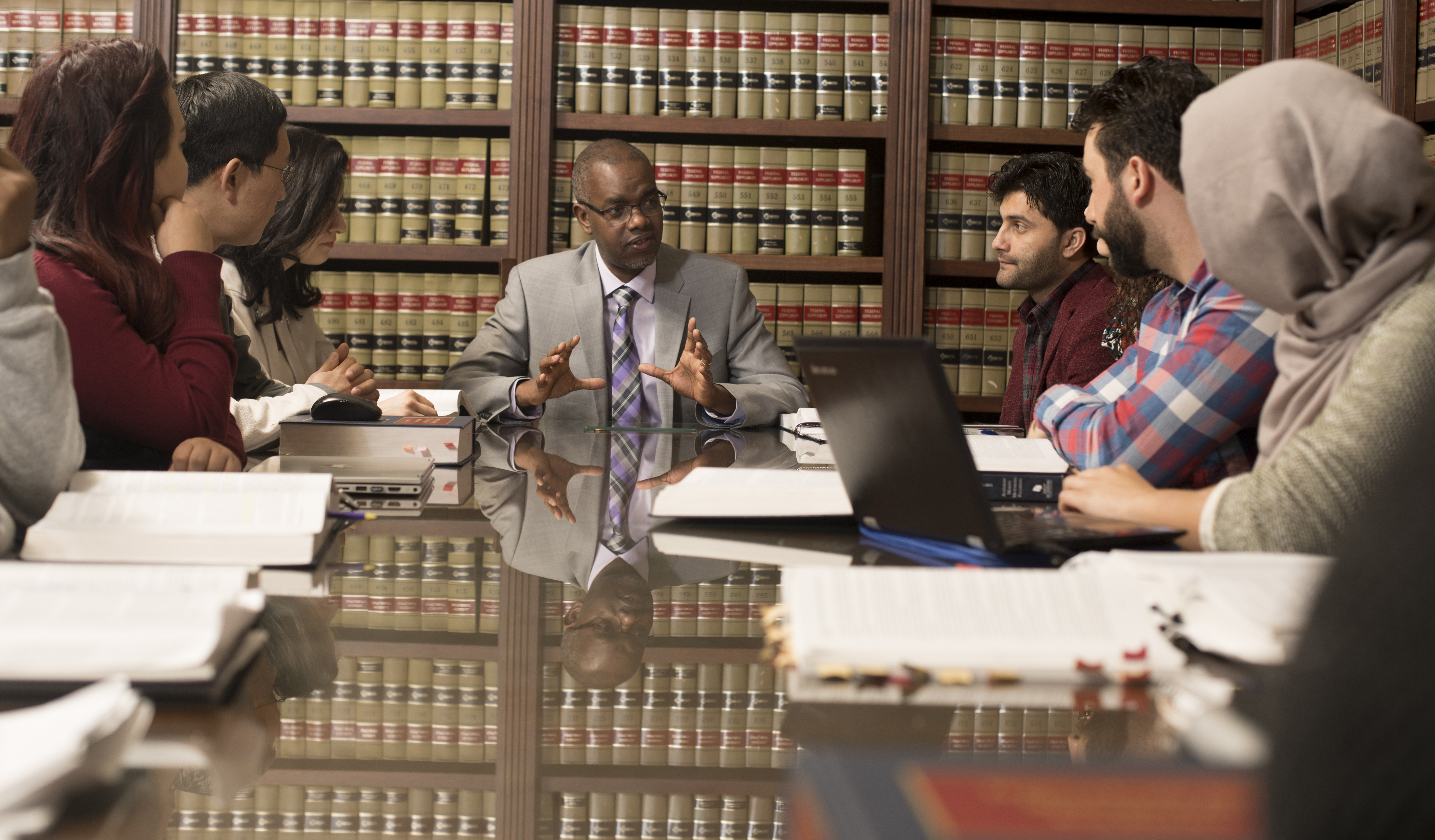 Becoming a lawyer is a combination of theory and practice.
While you might not know specifically what happens in law school, you probably know that law school is the place where students come to learn how to be lawyers. However, translating the specifics of "law" and "legal practice" into an academic curriculum and skill set can be difficult without a frame of reference. Below, we've provided a list of the main skills and concepts you have the opportunity to learn in law school.
1. How to apply legal principles in different situations
The foundation of legal practice involves a working knowledge of procedure and an ability to analyze the facts of a particular case. Attorneys will often rely on precedent, or similar cases that have been brought to court in the past, to make informed decisions on how to frame their arguments and determine reasonable outcomes.
How can law school teach this? You will be immersed in the bulk of your doctrinal knowledge right from your first year in law school. Coursework like Civil Procedure, Public Law, Criminal Law, Contracts, Property and Torts*, are your traditional first-year classes that are designed to introduce you to the basics of the legal system and its common principles. You will expand upon these subjects later in your L-2** and L-3 years.
* Torts is a first-year law class where students learn about civil cases that cause a claimant to suffer loss or harm, resulting in legal liability. It can include intentional infliction of emotional distress, negligence, financial losses, injuries, invasion of privacy, and many other things.
** L-1 is a first-year law student.  Subsequent years are designated in shorthand as L-2 and L-3.
2. How to construct an argument and articulate your ideas, aloud and in writing
Clear communication is essential for a good attorney. You need to be able to speak and write on behalf of your clients. You also need to have a strong understanding of "legalese" to act as a translator for the clients you represent.  
How can law school teach this? Your classes in law school are often taught using the Socratic Method, which involves a lot of discussion-based learning. A popular element of the Socratic Method is "cold-calling," which is where a professor will select a student at random, regardless whether or not they volunteered, to answer a question. Cold-calling can be intimidating for new students but is a great way to practice speaking spontaneously and to develop critical-thinking skills.  
Related Extracurricular Activities: If you're particularly interested in oral advocacy, the Moot Court Program provides a fantastic opportunity to work on your public speaking in simulated courtroom settings. Law Review is another student organization where you will gain experience developing strong writing, editing, and research skills through the process of compiling a legal journal for publication.
3. How to build rapport with clients/colleagues and negotiate
As essential as it is to be able to communicate effectively with clients, judges, colleagues and other legal professionals, interpersonal skills can sometimes be even more important. Establishing trust is important so clients can be assured that their attorney has their best interests in mind. And, as their legal counsel, you must use your judgement to advise them of the best course of action.
How can law school teach this? One important way that law students learn how to interact with clients is through a legal clinic or externship. Experiential learning is an important component of your legal studies. Through experiences working with real clients and collaborating with colleagues and classmates, students learn professional etiquette under the guidance of real attorneys and legal professionals.
4. How to utilize legal databases to reference previous cases
It is impossible for each attorney to memorize every contract and every case that has ever existed. Undoubtedly, there will be moments when attorneys are forced to perform research and they need to be trained how to navigate these resources efficiently.   
How can law school teach this? Legal Research & Writing is a course integrated into your first-year curriculum that will teach you the foundations of legal writing and navigating print and digital resources (like Westlaw and LexisNexis).
5. How to network within the legal community
You'll begin building your professional network on your first day of classes. Your peers, professors and law school staff are all your future colleagues and can be invaluable resources to help you on your way to landing your first externship or your dream job.
How can law school help? The Office of Career and Professional Development will work with you from your very first semester in law school to help you set career goals, present a polished resume and cover letter, and connect with alumni in your area of interest.
While we've discussed a lot of the primary takeaways from your legal education, you may still want to dive in deeper into ONU academics to discover what the classroom experience looks like or what types of course offerings offer that necessary practical training to make your transition from law student to legal professional a successful one. But, no matter where you go with your Juris Doctor (JD) when you graduate from ONU, you can be confident that you will be well-prepared to adapt to the legal challenges you will face in an ever-changing world.