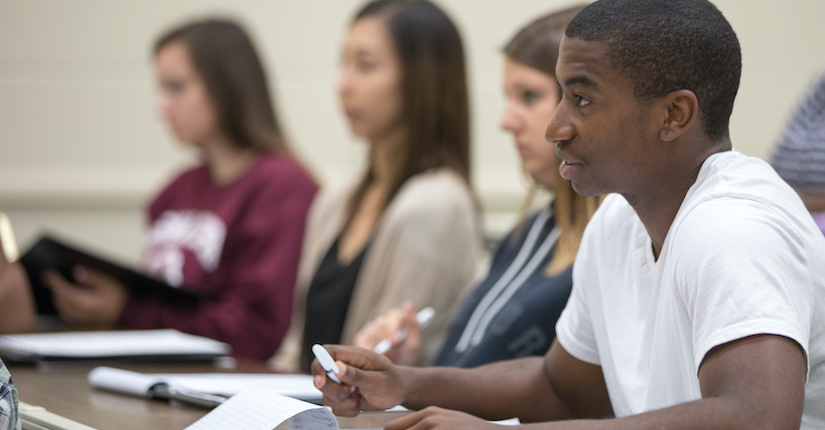 You already know law school is challenging and fast-paced. Chances are you're prepared to tackle your law school classes with gusto. But, you may have questions about the amount of study time you'll need outside of class or wonder if you can fade into the background during a lecture. Learn what law school classes are really like by exploring answers to these questions and more. 
What Is the Method of Instruction?
Law school classes aim to immerse students in both doctrine and practice, allowing students to develop legal and analytical skills. For instance, law school courses zero in on your application of knowledge and long-term memory. Professors often use the case method, sometimes in combination with the Socratic teaching method (see below for more on these). Nearly everything you learn in law school is relevant in future courses. 
In contrast, undergraduate schools focus on memorization and critical thinking skills. Professors rely on didactic teaching methods such as lectures or instructional courses. Some classes and concepts may not apply to your major. 
Moreover, law schools provide experiential learning experiences, including law clinics, externships, moot court, and skills courses. Gaining experience during law school allows you to gain practical skills and the confidence to tackle tough cases in real life. 
The Case Method 
The Case Method is a well-known law school teaching practice. This approach makes students look at judicial opinions resulting in legal rules. During class, law professors may involve everyone in discussions about why and how judges made decisions. These discussions are frequently conducted using the Socratic method.
The Socratic Method
The Socratic Method can be unnerving. Professors may cold-call you, ask you to apply a specific legal rule or adapt your answer based on new facts, and press you to defend your answer. Law schools employ this active-learning method to bolster students' public speaking skills and to encourage critical thinking by helping students identify the most compelling arguments on both sides of legal questions. 
After all, with fact-dependent material, a slight change in a legal situation may result in different outcomes or a need for a distinct approach. Knowing how to adapt your argument based on legal rules alongside theories and presumptions prepares you to practice law. 
What Class Sizes Can I Expect?
Although most law schools use similar teaching methods, class sizes can differ dramatically. For example, at ONU Law, the 2020-2021 incoming class size is 61 students. Smaller class sizes may provide more individualized attention and opportunities to a higher number of students. 
What Are Learning Outcomes? 
The American Bar Association (ABA), under Standard 302, requires all law schools to develop a set of learning outcomes. Law schools interpret the following ABA minimum competencies to form school-specific outcomes: 
Knowledge and understanding of substantive and procedural law 
Legal analysis and reasoning, legal research, problem-solving, and written and oral communication in the legal context
Exercise of proper professional and ethical responsibilities to clients and the legal system 
Other professional skills needed for competent and ethical participation as a member of the legal profession
ONU Law Learning Outcomes
ONU Law equips students to practice law by giving them the foundation required to understand and analyze difficult issues. Moreover, students learn how to apply their skills and talents in various situations to advocate for their clients. There are six learning outcomes at ONU Law that require students to demonstrate proficiency in:
Substantive and procedural law
Legal research
Legal analysis and problem-solving
Effective written and oral communications
Proper professional and ethical responsibilities to the clients and the legal system
Legal practice skills 
What Are Assignments Like in Law School? 
Like everything in law school, assignments are meant to instill your understanding of the rule of law and teach you how to draw your conclusions based on the facts and precedents. Accordingly, homework tends to focus on reading casebooks and statutes to learn legal doctrines.
As part of your assignment, you'll be expected to read and comprehend individual court cases and notes from the author or editor. Assignments may range from 40 pages to 100 pages of reading per class per week. 
How Much Preparation Do I Need Before Class? 
In short, a lot. Unlike in undergraduate school, law students spend countless hours preparing for classroom instruction. Along with reading around 100 pages a week per class, you'll want to review your notes and create outlines. Plus, many law students find they need to read the same material a few times to grasp it fully. 
Many students get involved in study groups to discuss case briefs and build useful outlines to understand complex concepts better. A key thing to remember is that it's very hard to catch up if you fall behind. Everything you read is essential to your next day's class and for all future courses. However, your class prep time will get easier after the first year of law school, as you'll have a better grasp of the legal terminology, study requirements, and necessary lawyering skills.  
How Are Law Classes Graded? 
Although some classes, such as legal research and writing, may grade students on oral presentations and writing projects, most law courses do not. Instead, your final exam determines your grade. These exams differ by class but often use an essay format. 
Students must read various stories or fact patterns, then analyze the information and develop an essay outline. Next, students form essay answers or a written analysis showing an understanding of the law and the ability to apply it to the facts at hand. In these cases, the student is the judge or counsel charged with determining the case's outcome or arguments.
While some teachers may offer extra credit based on class participation or knock you down points for lack of preparation, scoring well on exams is what determines your grade. Moreover, during your first year of law school, you can expect exams to be graded on a strict grading curve, with few students receiving an A.
Can You Choose Your Law School Courses? 
During your first year, it's crucial to learn and adjust to the expectations of law school. To get you ready to practice, you need to start with the basics. Most law schools develop their curricula to ensure that students achieve the  competencies mandated by the American Bar Association and are well-positioned to succeed on the bar exam. This means you likely won't have a lot of choice in the classes you take, at least not at the beginning. Later in your law school career you'll be able to select more elective courses. 
Schools like ONU Law also offer certificate tracks. These allow you to tailor your courses to your specific interests. For example, you can choose to concentrate on criminal, corporate, or tax law, among others, at ONU Law. 
Skills-Based Classes
After your first year at ONU Law, you also need to complete a minimum of seven hours of instruction in skills courses. There are clinics, workshops, externships, and classes that aim to prepare you to practice law. You'll learn how to:
Interview and counsel clients
Advocate on your client's behalf
Negotiate
Draft legal documents
Navigate complex workflows
Collaborate with legal teams
Take into account your legal strategy's impact on clients 
Adhere to legal deadlines
Dual Degree Programs
Some schools offer students a combination of a Juris Doctor degree and a master's degree fitting with their undergraduate degree. For instance, students who complete ONU Law's JD/MSA program receive a Master of Science in Accounting and a Juris Doctor degree. Furthermore, this three-year program earns you enough credits to sit for the certified public accountant (CPA) exam. 
Where Can Law Students Get Help? 
The fast-paced teaching methods and exam styles can leave law students feeling anxious or concerned about their grades, especially during the first year. Law schools offer students various levels of support. 
Before applying to law school, review the types of assistance offered to students. For instance, ONU Law offers a robust Academic Success program. This program encourages students throughout their journey from classwork to bar exam preparation. ONU Law also provides:
Career and professional development support: Get access to personalized counseling, use a job-search software platform, receive networking opportunities, and order professional business cards. 
Summer Starter Program: Designed for students with lower LSAT scores, the Summer Starter Program is eight weeks long, provides two first-year classes and earns you eight credit hours. You get one-on-one instruction and automatic enrollment into the fall class upon completion. Learn more about the Summer Starter program and whom it's for on our admissions blog.
The Taggart Law Library: Along with electronic research tools, you'll find more than 463,000 volumes of state, federal, and international legal materials all within a quiet area with workstations and open seating. 
Health and wellness resources: ONU Law cares about the entire student, not just the academic portion. The college provides numerous wellness options, including counseling, an ONU health center, dining services, spirituality health services, and fitness activities.
Discover Law School Classes at ONU Law
Yes, getting your JD degree won't be easy. Then again, you didn't expect it to be. Schools like ONU Law do more than give you failing or passing grades. They immerse you in lawyering experiences and surround you with capable mentors and alumni to ensure you're prepared to take the next step. And with an 86% first-time bar passage rate in Ohio during the 2020 pandemic, students continue to excel regardless of obstacles. Discover your future by signing up to receive information about ONU Law and upcoming events.