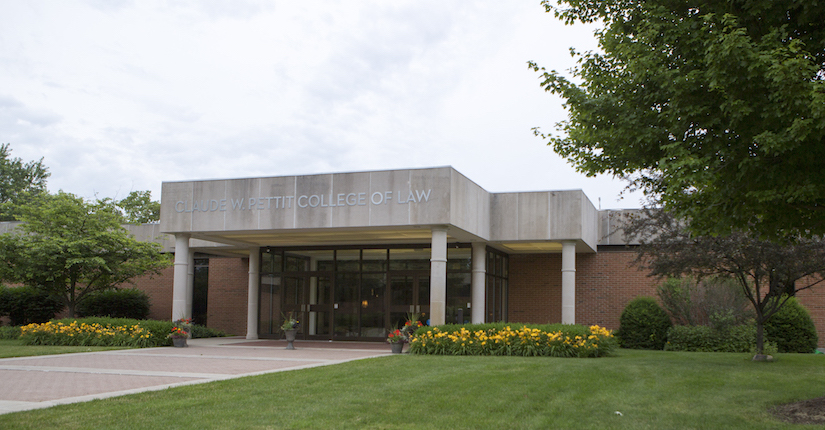 Getting a good score on the LSAT can feel like the end all be all when it comes to law school admissions. 
At ONU Law, however, we recognize that there are other ways of determining if an applicant has what it takes to succeed in law school. Our Summer Starter Program is perfect for those students who feel like their academic potential isn't reflected in their LSAT score.
What is the Summer Starter Program? 
The Summer Starter program is an 8-week program consisting of two first-year classes (8 credit hours), such as Civil Procedure and Legal Analysis, that will ease you into law school and build confidence. In this rigorous program, you'll grow your abilities in class preparation, test preparation, and study skills at weekly individual sessions with academic support personnel. You'll also have frequent examinations and evaluations of your test results that help you track your progress and find areas of improvement. 
Upon completing the program, you'll have earned 8 hours of JD credit that can give you a head start on your legal education. In fact, some students who take a full course load and summer classes are able to graduate at the end of the fall semester in their third year. After you complete the program, you're automatically enrolled in the fall entering class.
Who is the Summer Starter Program for? 
The Summer Starter program is designed for students who have excelled as undergraduates but received a lower LSAT score. 
"As a summer starter, I was given the opportunity to demonstrate my ability to succeed in law school, despite a lower LSAT score," says Allison Kesler, L-3. "Other law schools wouldn't consider my application, but ONU was willing to take a chance on me, and I am forever grateful." 
Is the Summer Starter Program a qualifier program? 
No — all students admitted into the Summer Starter Program become a member of the entering fall class. However, Summer Starter students have until the end of spring semester to establish or maintain good academic standing. 
What are the benefits of the Summer Starter Program? 
The Summer Starter Program provides students with the opportunity to get a jumpstart on their law school skills and knowledge by touching upon every facet of the law school experience. Benefits of the Summer Starter Program include: 
Small class sizes and access to faculty
Automatic fall entry
Weekly exams to acclimate you prior to fall entry
Weekly evaluations with academic support director
Weekly teaching assistant (TA) sessions for additional review
Knowledge of outlining and note-taking
Familiarity with Socratic method
"The Summer Starter Program benefitted me because it gave me practice in reading cases and experience in taking law exams with necessary feedback," says Rebecca J. Karol, JD '13. "Either one of those are extremely valuable on their own, but having both made all the difference!"
Since they establish a solid foundation of academic skills in the Summer Starter program, our Summer Starter students are set up for academic success throughout their studies. 
"I find it very rewarding to see SSP students develop the confidence and skills necessary to be leaders in their law school classes, and beyond," says Professor Allison Mittendorf, Director of Legal Research & Writing. "In fact, many students from our SSP program graduate at the top of their law school classes."
Summer Starter students also serve in leadership roles in student organizations, compete on national and international moot court teams, and act as peer mentors. 
What is the application process like for the Summer Starter program? 
No separate application for the Summer Starter Program is required. Instead, students should submit the general fall application from early September until the middle of May. With their application, students are encouraged to include a statement of interest in the program. If you're interested in the Summer Starter program, you should also apply early because once the spots are filled, interviews are no longer granted. 
Our admissions team reads through every application to determine whether or not an applicant is a good fit for the Summer Starter Program. If you qualify, you'll receive an email invitation to interview. The in-person interview is required to be considered for the program. Each year, we interview about 75 students to fill the 25 available seats.
What is the interview process like? 
In the in-person interview, you'll meet with a law admissions counselor and interview with two members of the Admissions Committee and the dean of the College of Law. You will also receive a complete tour of the law building and have lunch or coffee with a former Summer Starter student.
"I decided to participate in the Summer Starter Program because after my interview I knew that the school was the best fit for me, especially the Summer Starter Program, because the faculty care about their students and don't treat them like they are a statistic," says Amanda Hudson, L-1. "The Summer Starter Program also gave me the opportunity to adjust to law school and the course load before the busy fall semester."
Where do students live during the Summer Starter program?
Students can choose to live in on-campus housing and stay on-campus after the program's completed, or they can move off-campus for the rest of their time at ONU Law.
How much does the Summer Starter Program cost? 
The 2020 Summer Starter Program tuition is $9,753. Should you choose to live on-campus, on-campus housing for summer is $910. Summer Starter students will be charged $40,703 for their entire first year of law school with ONU's reduced tuition, which is comparable to most private (and even public) law schools without the benefits of the Summer Starter program. 
Financial aid is also available to Summer Starter students. All applicants are evaluated for grants and merit-based scholarships. 
Get a Jumpstart on Law School With the Summer Starter Program
Does the ONU Law Summer Starter Program seem like a good fit for you? We're proud to offer this unique opportunity to students whose outstanding undergraduate performance indicates that they have the academic potential to succeed in law school. 
"I most definitely believe that the Summer Starter Program has set me up for success in my future legal career," says Amanda Hudson. "The program perfected my study habits, introduced me to the new world of legal writing, and prepared me for the workload that law school presents."
Apply for the Summer Starter program by submitting ONU Law's free online application.