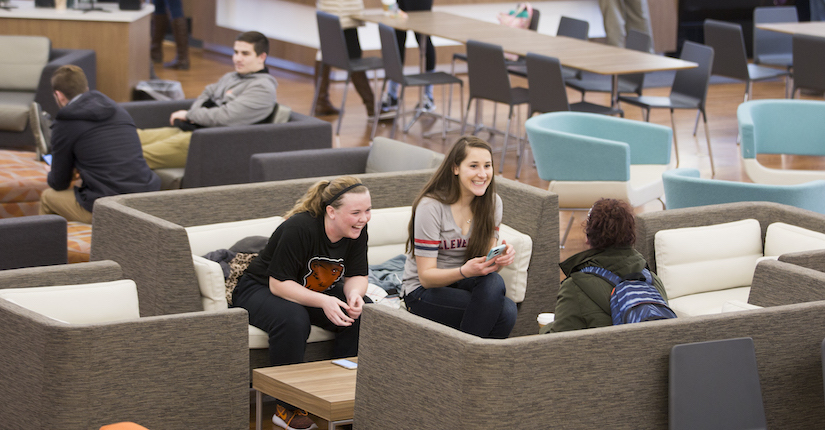 When you're an undergraduate student with your sights set on a J.D. in the future, what major you choose can feel like a huge part of whether or not you'll get into law school.
Spoiler alert: there are a lot more important factors than your pre-law major for whether or not you get into law school. 
However, here are some steps you can take and things to consider to set yourself up for law school success.
Do law schools really care about your major? 
Unlike medical school, which requires certain prerequisite courses, law school doesn't require that you major in anything specific or take certain classes before applying. Your LSAT score and your GPA are the key determining factors in law school admissions. 
The American Bar Association (ABA) states that they do not recommend any specific major for undergraduates or coursework to prepare for law school. 
"You may choose to major in subjects that are considered to be traditional preparation for law school, such as history, English, philosophy, political science, economics or business," their website says, "or you may focus your undergraduate studies in areas as diverse as art, music, science and mathematics, computer science, engineering, nursing or education."
Still, even though you don't have to choose a specific major, what you decide to pursue can still be a factor in your law school admissions process. 
How should you choose your pre-law major?
Not having to choose a certain major to get into law school doesn't mean that the major itself doesn't matter at all. Instead of selecting what you think will impress the law schools, choose a major that you're passionate about.  Admissions wants to see students take challenging classes that can help prepare them for law school. They don't want to see you choose something that is a simple GPA boost — they will consider the difficulty of your courses when looking over your grades as part of your whole application package.
"As admissions counselors, we always recommend students pursue a major that is of interest to them," says Hailey Russell, Director of Law Admissions at ONU. "Students naturally do better in courses that pique their interest. Higher engagement tends to mean better grades, and your undergraduate GPA plays a large role in the law school admissions process."
In addition, finding opportunities to cultivate your research and writing skills will prepare you for law school and demonstrate your commitment to law school success. The ABA recommends you focus on growing in the following areas through your coursework, extracurricular activities and life experiences: 
Problem solving
Critical reading
Writing and editing
Oral communication and listening
Research
Organization and management
Public service and promotion of justice
Relationship-building and collaboration
Background knowledge
Exposure to the law
What does this look like in practice? Taking a wide variety of courses regardless of your major, including traditional liberal arts classes like social sciences, humanities, physical sciences and mathematics, as well as participating in activities that foster your public speaking and presentation skills, can show that you are focusing on these areas. 
What are the most popular majors of law school applicants? 
If you're not sure what major is right for you, a quick look at the most popular pre-law majors might help. According to the LSAC report for 2020-2021 enrollment, these were the top 10 most popular majors.
Top 10 most popular pre-law majors
Political Science
Political science is a very popular pre-law major because politics is heavily interrelated with legislation. The study of political behavior, government systems, and how the judicial system works are all very useful in law school. Students in this major also explore other country's legal systems and gain an understanding of how laws are created and executed.
Median LSAT: 154
Median UGPA: 3.47
Psychology 
Psychology is one of the top five most popular undergraduate majors in general, according to the National Center for Education Statistics, so it makes sense that it is a popular choice among pre-law majors. Psychology also provides students with an understanding of concepts like stereotyping, prejudice, discrimination, cognitive dissonance, and other theories and issues that are useful to future lawyers. 
Median LSAT: 153
Median UGPA: 3.43
Criminal Justice
Criminal justice is a natural fit for law school for those who are interested in pursuing a career in criminal law. In this major, students learn about the corrections system, court proceedings, and other parts of the legal system. 
Median LSAT: 147
Median UGPA: 3.32
English
English is one of the majors that has been historically associated with law school due to the reading, writing and critical thinking required in an English degree. English students have to be able to conduct research, craft an argument, and defend their position in writing, all of which are skills future lawyers need as well. 
Median LSAT: 156
Median UGPA: 3.51
Economics
Economics is a useful major for those who want a blend of quantitative and qualitative courses, and also for students who wish to study tax law and financial regulations in law school. 
Median LSAT:  160
Median UGPA: 3.54
History
Studying history provides future law students with context for legislation, as well as an understanding of how important legal systems and precedents were created. History majors also have to conduct research, write papers, and comprehend difficult texts, skills that are useful in law school.
Median LSAT: 158
Median UGPA: 3.53
Arts & Humanities - Other
In general, arts & humanities majors can help students prepare for law school due to the reading, writing, and critical thinking involved with the various coursework. Since law schools tend to prefer students with a variety of courses, having a liberal arts degree provides students with the opportunity to take a lot of different classes. 
Median LSAT: 156
Median UGPA: 3.52
 Philosophy
In a philosophy major, students must discuss logic and reasoning, learn about ethics, and examine moral and political issues, all of which align with law school. In addition, what you learn in a philosophy major can help prepare you for the logic tests on the LSAT.
Median LSAT: 159
Median UGPA: 3.50
Sociology
Similar to Arts & Humanities majors, a sociology major involves a lot of writing and critical thinking, while also incorporating some quantitative and qualitative reasoning, all of which are helpful in preparing for law school. 
Median LSAT: 152
Median UGPA: 3.40
Communications
Communications majors have to do a lot of reading, writing and research, as well as public speaking and negotiation, all of which are important areas to develop for law school success. Organizational management, crisis communication, critical thinking, and conflict management are also useful aspects of a communications major for law school. 
Median LSAT: 152
Median UGPA: 3.39
What majors have the highest rates of acceptance? 
While the most popular majors all have some commonalities, the majors with the largest percentage of applicants admitted vary greatly. These range from American Civilization and Inter-American Relations to Biophysics and Marine Engineering. One trend that basically holds true is that majors that are more rare seem to have higher acceptance rates compared to more common majors, however, that could also be because the numbers are simply smaller. 
Also, research shows that STEM majors attain the highest scores on the LSAT. Since your LSAT score is an important factor in your application, as well as for getting law school scholarships, considering which majors will best prepare you for the LSAT could be another factor in your decision. However, you should also be doing LSAT prep on your own in the form of a study guide, in-person tutoring, or online class, so there are plenty of ways to prepare in addition to your college coursework. 
Is pre-law a major? 
While some colleges may offer a pre-law major, this isn't the norm. 
A pre-law curriculum may include a range of classes in the humanities and social sciences, such as history, philosophy and political science. If your undergraduate school offers a pre-law major, selecting it won't make you a shoe-in for law school. Again, you're better off choosing a major that will challenge you and excite you, and then take a well-rounded course selection that will grow your reading, writing and critical thinking skills.
Should you choose to double major for law school? 
If you are seriously interested in two different areas, a double major can allow you to dive into two subjects and show that you are up for the challenge, writes Gerald Bradshaw in the Chicago Tribune. 
"If you are serious about law school, a few clients suggested you go one more step and take a double major. If you enjoy history, for example, why not add a second major such as economics? Economics requires a strong quantitative component while history will require a lot of writing. Both skills are highly valued in the job market and by potential law schools. Even if you decide to work after graduation and attend law school at a later date, what you gain by taking harder classes will pay off when you take the Law School Admission Test (LSAT)," says Bradshaw, an international college admissions consultant with Bradshaw College Consulting. "A double major, or even a single major with a strong concentration in a secondary subject, will make you that much more competitive. But be cautious. Some majors are easier than others to combine. For example, engineering requires so many prerequisites that it might not leave room for a second major or even a minor area of concentration." 
While a double major might not be for everyone, the point is, once again, to challenge yourself in your undergraduate studies.
4 ways prepare for law school in any undergraduate major
In whatever major you choose, here are some important tips to keep in mind throughout your undergraduate career: 
Choose your courses wisely
Your courses are an important part of your law school admissions package. Take courses that challenge you and show your range of academic talents.
Focus on your GPA
Make sure you dedicate enough time to do well in each class so that your overall GPA remains high. GPA and LSAT score remain the two key factors in your application. By choosing a major that excites you, you can excel in courses that you want to learn about. 
Study for the LSAT
Speaking of LSAT scores, make sure you have the time to study for the LSAT, including taking an LSAT class. Khan Academy, for example, offers an official LSAT prep course that provides a personalized study plan and instant feedback. While courses like logic and philosophy can help with the LSAT, dedicating specific time to LSAT prep is the best way to get a good score on the test.
Build relationships with professors
Throughout your undergraduate studies, make sure you get to know your professors, especially in subject areas that interest you. Not only is this useful for getting letters of recommendation down the line, but also the professors can help foster the skills and knowledge you will need for law school. 
There are a lot of other ways you can prepare yourself for law school success, whether you're in college or a working professional. For more law school admissions tips, check out our Admissions Blog.