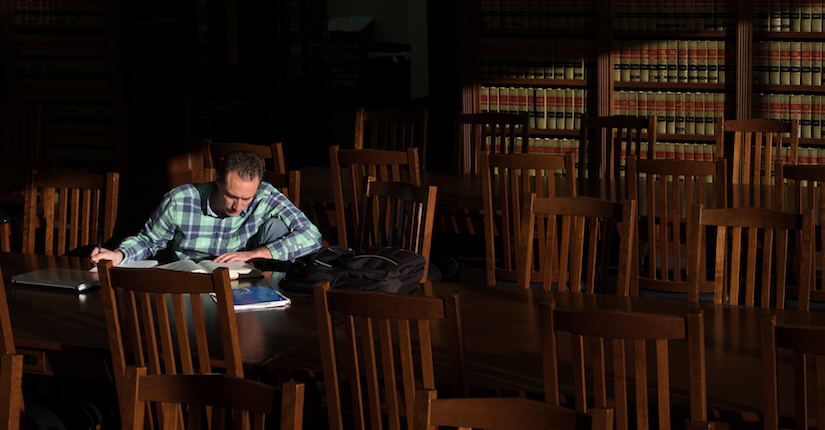 Once you've decided to attend law school, you'll have plenty of decisions to make and boxes to check off. However, your hard work pays off upon graduation, with U.S. News reporting JD graduates earn a median salary of $75,000 from private firms, although compensation ranges from $50,000 to $190,000.
By making a plan and starting early, you can easily navigate the law school admissions process and get into your chosen school. 
Pre-Law School Considerations
People from all backgrounds and educational experiences make good candidates for law school. Since the ABA doesn't require or suggest specific undergraduate majors, it's best to select an area of study you're passionate about. 
During your undergraduate education, you can ask for assistance from a pre-law advisor. An advisor helps you pick classes suitable for a legal education and may also help with the law school application process. 
Typical Law School Requirements and Prerequisites
Do you have questions about law school admissions requirements? Use ONU's Law School Admissions 101 guide to determine what steps you should take. Along with helpful tips for building your real-world experience, you'll find answers to pressing questions like: 
What GPA is required for law school?
Are there prerequisite courses for law school?
Do you need to study pre-law to go to law school?
What should be included in the law school personal statement?
Do I have to take the LSAT to get into law school?
What should you not write in a personal statement for law school?
Why does the law school personal statement matter?
How to Understand LSAT Basics
The Law School Admission Test (LSAT) is something nearly every potential law student worries about. And rightly so, considering LSAT scores are a crucial factor in admissions. Even small improvements to your score can make you more desirable to admissions officers. 
However, LSAT scoring can be tricky to understand at first. Learn what LSAT percentiles mean, look at the average first-time test taker scores, and how your score factors into scholarships by reading What's a Good LSAT Score. 
Along with detailed information about LSAT scoring, you'll also find a link to the Law School Admission Council (LSAC) calculator to determine the likelihood of admission to ABA-accredited law schools. 
Pass the Law School Admission Test (LSAT)
Pre-law students often ask two questions: "How can I raise my LSAT score by ten points?" and "What's the hardest section of the LSAT?" But, there are many other things to consider before you take your LSAT. For example, acceptance rates for LSAT scores differ by the college, so it's essential to evaluate your options before setting a goal for yourself. 
Furthermore, some schools, like ONU Law, offer summer programs to assist students with lower scores. Get your LSAT questions answered in our resource-packed guide that tells you what LSAT score you need to get into law school. 
Along with answers to frequently asked questions, you'll find out how to get a high LSAT score using a variety of free or low-cost resources. Although the test is challenging, plenty of tools exist to help you score higher regardless if it's your first or second time taking the LSAT.
Explore Potential Law Schools
Many JD programs offer similar courses, so it's important to find schools that are the right fit for you. Plus, you shouldn't tie your hopes onto one school. Instead, develop a list of possible colleges, including some that nearly guarantee acceptance and others considered reach schools. 
To make your list, you can use the LSAC law school finder tool. You input your undergraduate GPA and LSAT score to receive a list of potential schools. Add filters for region, states, or keywords to personalize your results. 
You can also review the law school rankings from U.S. News. You can filter your results by school size, test scores, tuition, or location to get a list of colleges ranked by:
Quality assessment: Scores by lawyers, judges, and peers
Selectivity: Median LSAT and GRE scores, undergraduate GPA, and acceptance rates
Placement success: Employment rates for graduates at graduation and ten months after, and the bar passage rate 
Faculty resources: Expenditures per student, student-faculty ratio, and library resources
Once you find a list of potential schools, then it's time to dig deeper into student life at the school and in the surrounding community. Although you'll be busy studying, many law students take time to explore their local community, and some even purchase a home in the area upon graduation.
Along with visiting different towns and schools, talk to students and faculty members. Each offers a unique perspective that may help you make a choice. 
Behind the Scenes at Law School
A great way to learn about a school is by taking advantage of open houses on-site or virtually. Many colleges, including ONU, offer daily campus visits so prospective students can get a real feel for the environment. 
For colleges like Ohio Northern University Pettit College of Law, the graduate experience extends beyond the campus. It provides a sense of community in a distraction-free place within hours of big-city shopping, dining, and late-night options. 
But, don't take our word for it! Get an inside look at life in Ada, Ohio, by reading what students and faculty say about the ONU experience. 
Apply to Law School
Do you know what matters most in law school admissions? Or what looks good on a law school application? Perhaps, you're wondering if you should apply to law school early. Once you get to the application stage, you'll have plenty of questions about your next steps. 
Although the admissions process varies by college, most require students to use LSAC's Credential Assembly Service (CAS). By registering with CAS, you can quickly send out application materials and transcripts to various schools. After identifying your potential colleges, go through their websites to find information about: 
Online registration dates
Priority registration days
Waitlist dates
Add or drop deadlines
Informational session dates
With these dates in mind, it's time to get started on your future by applying to several law schools. Use the following comprehensive guides to learn what to expect and how to present yourself in the best light possible. 
Learn About the Law School Admissions Process 
ONU's How to Apply to Law School guide gives you a step by step look at the application and admissions process, including a monthly timeline example. While reading this informative article, you'll learn:
What to do before you apply to law school 
How to apply to ONU's fall and summer admissions
How to apply as an international or transfer student
What admissions officers consider during the admissions process
Your obligations upon applying to law school
You'll also get seven tips for a smoother application and admission process, such as suggestions for financial, life, and time management preparation. 
Discover How Early Applications Benefit You
Applying early to law school may give you an advantage, especially at schools that accept students on a rolling basis. However, early applications also have access to more scholarship or housing options. 
Explore the article Why Should You Apply to Law School Early to uncover answers to questions such as:
What's the difference between rolling admission and regular decision?
Does it matter when you apply to law school?
Should I do early action or early decision?
What's considered early for law school applications?
How long does it take for law schools to make a decision?
Demystify the Law School Personal Statement 
Your law school personal statement is an excellent way to demonstrate your capabilities while showing admissions officers what you bring to their community. Each college offers guidelines for writing your statement, but there are a few steps that all students take. 
Develop a strong document that wins over hearts and minds using our in-depth guide: How to Write a Great Law School Personal Statement. ONU gives you seven easy-to-follow steps to complete your essay. 
Avoid Common Law School Application Mistakes
While admissions officers realize students are human and mistakes happen, you're held to higher standards as a law student. Officers expect your application to demonstrate professionalism, and any errors should be corrected. 
Use our guide, Common Law School Application Mistakes and How to Avoid Them, to reduce mistakes and increase your chance of acceptance.
Move Through Law School Admissions With Ease
Learn more about how to get into law school by speaking with an ONU Law admissions counselor. Our team helps you explore your options, schedule a visit, or discover what Ada, Ohio, has to offer. Please send us an email to get a conversation started.